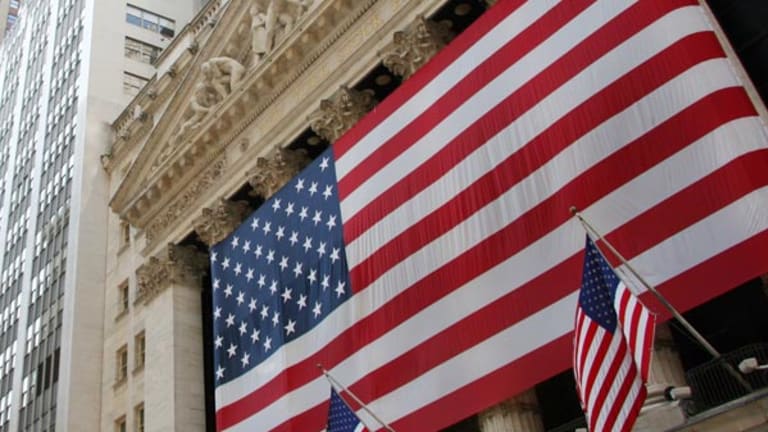 Banks are Black Friday's Biggest Losers
This will be the last Black Friday that big banks are able to make a killing on interchange fees.
NEW YORK (
) - This is a bittersweet Black Friday for the banking industry.
While retailers flex their competitive muscle and customers race for bargains, it will be the last Black Friday that banks are able to make a killing on interchange fees. Next year, major debit-card issuers will be watching millions of dollars in lost revenue slide by, into the pockets of merchants.
Banks can thank Sen. Richard Durbin (D., Ill.) for making this big American shopping holiday rather dreary.
The legislator is responsible for sticking one of the most costly provisions of financial-reform into the final bill. The so-called Durbin amendment tasks the
Federal Reserve
with limiting interchange fees for debit-card transactions to a level that's "reasonable and proportional" to their costs.
The rule was a gift to merchants large and small. Retail giants like
Walmart
(WMT)
,
Target
(TGT)
,
Macys
(M)
,
JC Penney
(JCP)
and
Kohl's
(KSS)
are likely to retain billions of dollars a year in interchange payments. Smaller mom-and-pop shops - who have long complained about customers swiping a card for a minor purchase - will legally be able to require a $10 minimum purchase for card transactions and charge customers more for using a card rather than cash.
It has also led to accusations that Durbin simply came up with the measure for political gain and campaign financing. Walmart, for instance, lobbied hard for the rule, which will save the retail giant hundreds of millions in fees each year.
After the Durbin amendment gained bipartisan support, Walmart decided to donate $20 million to Chicago-area charities and promised to open "several dozen" new stores in Durbin's home state. Durbin has defended the merits of the rule, while Walmart has said its generosity was unrelated to it.
In any case, the definition of "reasonable and proportional" is still being hammered out by the Fed. The regulator will issue a final determination in April, which must be implemented by the third quarter of next year.
Big banks are already bracing for billions of dollars' worth of lost revenue once the changes go into effect. The impact on Black Friday alone appears to be dramatic.
Today's sales are expected to hit $11.68 billion, according to research firm IBISWorld - a healthy portion of which will occur via plastic. Banks are estimated to collect about $2 in fees for every $100 spent on a debit card. Using a low-ball estimate, one could assume that 25% of Black Friday purchases are made on debit cards. That would represent $2.92 billion in debit card-transactions and $58.4 million in interchange revenue for big banks this year.
If the impact of the Fed's rule constrains their ability to charge merchant fees by just 25%, that's $14.6 million in lost revenue on a single day. If merchant fees end up being cut by a more dramatic 50%, banks could lose $9.1 billion a year in revenue each year, according to an analysis by CardHub.com.
Estimates from the country's largest debit-card issuer,
Bank of America
(BAC)
, indicate even more pain in 2011. Management has outlined a dramatic $22 billion goodwill writedown related to the Durbin rule and expects fee caps to slash $5 billion in revenue each year from its card business.
"If you look at the rule making flexibility of the Fed, it's actually pretty narrow," CEO Brian Moynihan said, in explaining the bank's doomsday assumptions. "They have some definitional opportunities there, but as we've assessed it, they don't have a lot of wiggle room in terms of being able to modify what's written in the amendment."
Executives across the industry appear to be similarly distressed. A survey by Grant Thornton last month indicated that 71% of bankers were concerned about the eventual impact of the Durbin amendment - far less than the 3% worried about the so-called Volcker rule or the 4% worried about impending regulation of the derivatives market.
In an effort to block the changes from happening, another debit-card issuer,
TCF Financial
(TCB)
, has filed a lawsuit against the Federal Reserve. TCF is a much smaller player than Bank of America - ranking 14 among debit-card issuers - but derives a much greater portion of its earnings from interchange fees. TCF gets about 16% of its earnings from those interchange fees, according to an analysis by FBR Capital Markets, vs. an average of 5.6% among top debit-card issuers.
TCF management argues that the Durbin amendment unlawfully limits its ability to recover costs of operation, then unfairly places that cost burden on depositors, rather than retailers. Additionally, the bank argues that because the rule applies only to banks with more than $10 billion in assets, it distorts the market, putting smaller regional banks at a competitive advantage.
Chairman and CEO Bill Cooper has gone so far as to suggest that Durbin's amendment came only because he's in the pocket of the retail industry.
"Durbin simply got tapped by a lot of lobbyists -- merchant lobbyists to do this thing," Cooper said at an event on Nov. 16. "He said it on the Senate floor and this was one industry gouging another in connection with a huge lobbying effort... there is no justification why this should happen, period; and the implication of that all is that
Walmart
(WMT)
makes $500 million or $1 billion more and I charge my customer for this service."
Durbin has fired back, accusing TCF of "fundamentally misunderstand
ing" the law.
"Congress approved this language by a wide bipartisan margin in reaction to the frustrations of millions of merchants and consumers who were getting nickled and dimed by the anticompetitive interchange system set up by big banks and credit card companies - including TCF," Durbin said in a statement. "I look forward to this provision's day in court and am confident that our language will be found to be fair and Constitutional."
A hearing on TCF's request for a preliminary injunction was initially scheduled for Nov. 24. If granted, the injunction would prevent the Fed from moving forward at all on rulemaking until the court reaches a decision on the legality of its authority to curb interchange fees. Even if an initial court found in the Fed's favor, such a decision could drag out over years in appeals court.
Fed lawyers filed an "emergency motion" asking a federal judge to delay any action until April 21, arguing that there's "nothing to examine" until its final rule has been issued. U.S. District Judge Lawrence Piersol effectively denied the government's request, giving the Fed until Dec. 20 to file its opposition to TCF's claims. He rescheduled the hearing to Jan. 12.
FBR analyst Edward Mills expects the Fed to release a draft rule on interchange fees by year-end. A key concern of big card issuers appears to be over how the Fed defines the terms "incremental" and "fraud." The Durbin rule requires the Fed to set guidelines around banks "incremental" costs of payment processing, as well as the cost of providing "fraud" protection.
"The broader the Federal Reserve defines these terms, the more issuers will likely be able to collect in interchange fees," says Mills. "While this battle is brewing, there is little information to indicate how the Fed will rule and there is the potential to be surprised either to the upside or downside."
While Bank of America has been making headlines with gargantuan numbers and TCF has been fighting it out in court, other large debit-card players seem to be sitting on the sidelines, waiting to see how all the regulatory drama shakes out.
Wells Fargo
(WFC)
has barely brushed upon interchange fees in discussing the new regulatory environment and
JPMorgan Chase
(JPM)
management hasn't been any more specific about Durbin-related revenue loss.
With his typical candor, JPMorgan CEO Jamie Dimon said the retail bank would find a way to recoup that money by repricing other services: "If you're a restaurant and you can't charge for the soda, you're going to charge more for the burger."
Rounding out the top-five debit-card issuers are
U.S. Bancorp
(USB)
and
PNC Financial Services
(PNC)
. PNC leadership has only said that the bank will lose "a portion" of its debit-interchange revenue. U.S. Bancorp management has been equally vague - saying it's "unknown" how revenue was vulnerable - though CEO Richard Davis has taken quite a different tack from Bank of America or TCF in describing the eventual outcome.
Davis said he was "highly confident" that the Fed would set regulatory standards that appropriately accounted for fraud protection and the cost of doing business. Unlike lawmakers, Davis said he believes Fed standard-setters will "make sure the merchants don't overplay their hand" in the new rights they've been awarded.
"I for one am quite emboldened by the fact that now we've moved from the political to the regulatory environment," Davis said in July. "...I'm not typically Pollyanna, but I think it's going to be a fairly measured decision and the Fed will take the time that needs to be taken to decide what the right level is."
Debit-card interchange fees range from 0.25% for debit transactions that are PIN-verified to 1% for those that are processed like a credit-card payment, with a signature. As big banks work to ease the brunt of Durbin, they're likely to add fees to other services, like checking accounts or credit cards, or simply charge customers a monthly fee for using debit. Consumers are then likely to change their banking and buying behavior, opting for products with the lowest-cost.
All of that will take time. Moynihan characterized the task of adjusting Bank of America's business model as a "relentless pursuit" perhaps through 2012.
"This is not a snap your fingers, it happens overnight," Moynihan said. "This will take time."
It's yet to be seen whether Bank of America has overstated the impact of the Durbin amendment; whether TCF is overstating Durbin's inability to make such a law in the first place; whether Davis is overstating the Fed's King Solomon-like tendencies; and whether the industry will be able to earn as much on burgers as it had been earning on soda.
As it stands, though, this Black Friday appears be the last hoorah for bombastic interchange fees. In 2011, banks are likely to be charging for ketchup packets, too.
-- Written by Lauren Tara LaCapra in New York
.
>To contact the writer of this article, click here:
Lauren Tara LaCapra
.
>To follow the writer on Twitter, go to
http://twitter.com/laurenlacapra
.
>To submit a news tip, send an email to:
.
Disclosure: TheStreet's editorial policy prohibits staff editors, reporters and analysts from holding positions in any individual stocks.