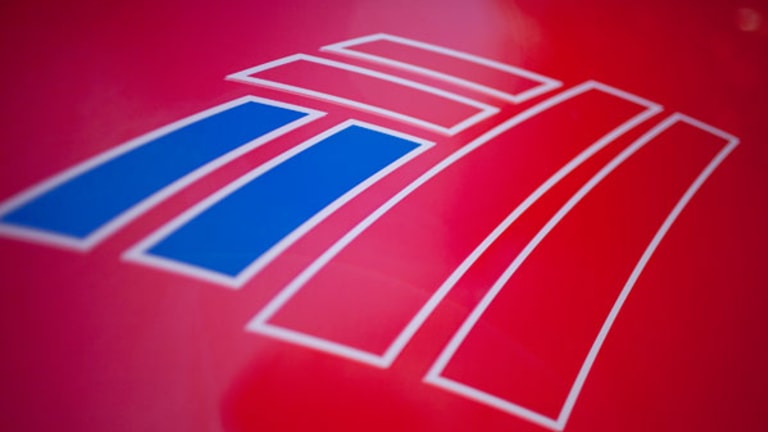 Bank of America's Reserves Face Fresh Skepticism
Bank of America could be under-reserved for mortgage putbacks by $16 to $22 billion, according to legal and accounting experts.
NEW YORK (
) --
Bank of America
(BAC) - Get Free Report
is somewhere between $16 and $22 billion short on its reserves for mortgage backed securities (MBS) litigation, according to legal and accounting experts hosted on a recent conference call by CLSA analyst Mike Mayo.
At issue is a proposed $8.5 billion settlement between the bank and 22 institutions, including
Goldman Sachs
(GS) - Get Free Report
,
BlackRock
(BLK) - Get Free Report
and
PIMCO
over claims on $108 billion in mortgage backed securities. The eight-cents-on-the-dollar deal faces objections from
AIG
(AIG) - Get Free Report
, three Federal Home Loan Banks and States Attorneys General of New York and Delaware.
The $8.5 billion figure is the work of RRMS, a three-person consulting firm in Midtown Manhattan, hired by
Bank of New York Mellon
(BK) - Get Free Report
, the trustee that is supposed to be responsible for protecting the interests of bondholders.
According to a transcript of the call hosted by Mayo, the analyst said he was "shocked that such a small firm with such a short time in existence in an out-of-the-way area (Diamond District in NYC) would be responsible for deriving such an important number."
Mayo added that the office is "in the part of town where pre-Giuliani
you would certainly not go at night, and maybe be even careful during the day."
Mayo encouraged the investors on the call to visit RRMS's offices, which I did (see the video embedded here if you're reading this story on
TheStreet.com
or otherwise by Googling "This 3 Person Office Could Save Bank of America $100B"). I also met Brian Lin -- a 15-year Wall Street and veteran who has worked at Lehman Brothers, Merrill Lynch and Nomura Securities -- and his two colleagues, Allen Gutterman and Vincent Spoto.
"It makes no sense to me if you judge a person's ability by their office space," Lin told me. "I don't know what background he comes from, but I come from a humble background, so I feel safe -- especially in this area of town."
Lin's work faced extensive questions from Isaac Gradman, the legal expert brought in by Mayo on the conference call. Gradman and Mayo mentioned Lin by name a few times during the call, and
he has been subjected to similar scrutiny in the past
.
Lin declined to respond to Gradman, saying that his client, BNY Mellon, has asked him to leave the matter for the courts to decide. Spokesmen for Bank of America and BNY Mellon declined to comment.
In reaching his $8.5 billion number for the settlement, Gradman wanted to know why Lin started with $76 billion rather than the $108 billion worth of securities at issue in the lawsuit. He also argues Lin relied on a set of better-quality loans than he should have to figure out the likely loss rate that would be experienced by the $108 billion in securities at issue in this case.
Another important question raised by Gradman is whether the (MBS) investors had to prove their losses on the securities were the result of fraudulent or otherwise problematic mortgages by Countrywide Financial, which Bank of America acquired in 2008. Increasingly, judges have been determining that such proof is not necessary, says Gradman, citing a recent decision by U.S. Southern District of New York judge Jed Rakoff in a
involving
Assured Guaranty
(AGO) - Get Free Report
and
Flagstar Bancorp
(FBC) - Get Free Report
.
"The Rakoff decision sort of, in my mind, puts the nail in the coffin in this issue," Gradman said.
Drawing on these and a couple of other arguments, Gradman and an accounting expert on the call, Bob Willens, concluded Bank of America needs to set aside another $16 to $22 billion in reserves against what could prove to be substantially more exposure to MBS liability.
Those additional mortgage putback reserves may not be enough if the $8.5 billion settlement is ultimately rejected by New York State Supreme Court Justice Barbara Kapnick, according to Gradman.
"If she rejects the settlement, then all bets are off. You have that 108 or now maybe higher number of losses in those pools, and you know, you would have various actions from different bondholders at that point, to recover their losses. And so it's anyone's guess as to what the amount of reserves that B of A would have to put up would be, but it certainly would be higher than eight cents on the dollar," Gradman said.
--
Written by Dan Freed in New York
.
Disclosure: TheStreet's editorial policy prohibits staff editors, reporters and analysts from holding positions in any individual stocks.