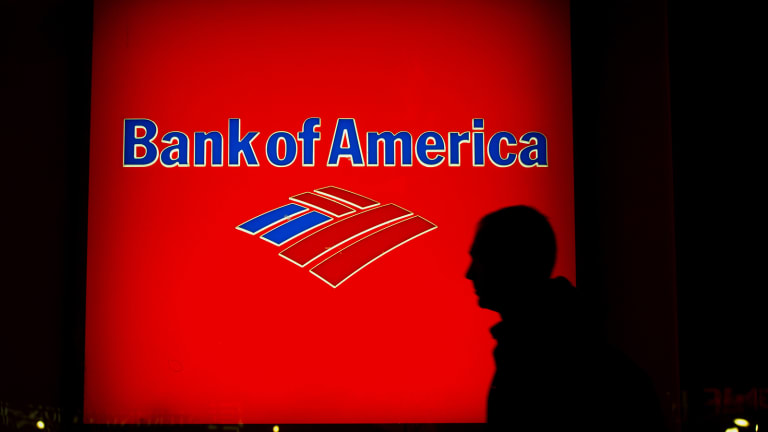 Bank of America Rips on Earnings Beat, But Analysts See Even More Gains Ahead
Many analysts expect the $29 stock to rise into the mid to upper $30.
Bank of America (BAC) came up big with its second-quarter earnings report.
"It looks like banks are now showing their confidence," said Argus Research's Stephen Biggar, who reiterated a $35 price goal for the name.
Biggar said Bank of America's earnings report, released before the bell, showed impressive growth in both commercial and consumer loans, indicating that the world's second-biggest lender feels the economy will continue to grow.
He said the stock's jump reflects investor expectations of additional strong quarters ahead given anticipated hikes to U.S. interest rates. Biggar said as many as six quarter-point increases to the Federal Reserve's Fed Funds rates through 2020 should help push up BAC's profits in areas like automotive and credit-card loans.
Bank of America reported Monday that loans and leases grew 3% year over year during the second-quarter to $355 billion, driven by 5% growth in commercial and 6% in consumer lending. Average yields for commercial loans also increased to 3.80% from 3.19% a year earlier, increasing margins for the bank.
Morgan Stanley analyst Betsy Graseck wrote in a note that Bank of America is also on target to meet cost=cutting goals. Second-quarter expenses of $13.28 million were in line with BAC's $53 billion full-year expense target, she said.
While a proposed $500 million in tech investment over the next few quarters could throw cost-saving efforts off target, Graseck has a $37 price target for the stock.
The shares popped 4.31% Monday to $29.78.
More Analysis of Bank of America on Our Premium Site Real Money