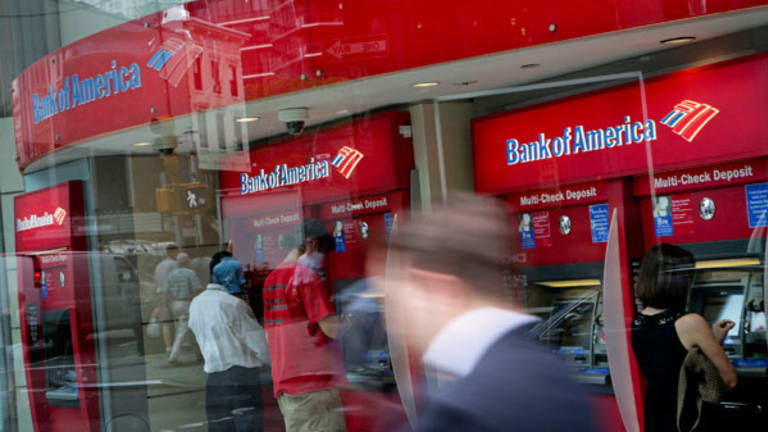 Bank of America Settlement Will Again Bypass Hardest Hit States
States such as Florida and Nevada that were hardest hit by the mortgage crisis will again miss out on cash payments in an expected settlement for more than $16 billion.
NEW YORK (TheStreet) -- Bank of America's (BAC) - Get Bank of America Corp Report much-anticipated settlement for more than $16 billion with state and federal authorities will be announced next week at the earliest, with states including New York, Illinois and California again getting cash payments to settle individual claims as they did in earlier deals with Citigroup (C) - Get Citigroup Inc. Reportlast month and JPMorgan Chase (JPM) - Get JPMorgan Chase & Co. (JPM) Reportin November, say at least two sources with knowledge of the negotiations.

WATCH: More market update videos on TheStreet TV
Two other states received cash payouts settling individual claims they brought against Citigroup and JPMorgan: Delaware and Massachusetts. It was unclear at the time of publication whether either will see payouts in the Bank of America settlement. At least two other states that did not get payouts in either the Citigroup or JPMorgan settlements will receive cash to settle claims they brought against Bank of America, according to one source.
New York, Illinois and California will receive cash settlements from Bank of America assuming the settlement is finalized. Sources say the list of other states receiving cash will not include either Florida or Nevada, by many measures the states hardest hit by the mortgage crisis. Representatives from the attorneys general offices in those states did not respond to requests for comment on the Bank of America settlement, but they previously told TheStreet they have fewer legal tools to bring mortgage securities fraud cases against the banks than other states, particularly New York, with its powerful Martin Act. 
As The Wall Street Journal first reported Wednesday and has been confirmed to TheStreet, the Bank of America deal will include $9 billion in cash, with the remaining $7 billion to $8 billion in consumer relief. Much of the consumer relief portion will be in the form of credits the bank will receive for modifying mortgages. For example, a $50,000 principal write-down would result in a $50,000 credit for Bank of America toward its consumer relief obligation.
Negotiations are still ongoing over certain details, such as how the consumer relief will be divided, says one source. The Citigroup settlement, for example, was different from the JPMorgan agreement in that it required the bank to make "donations to organizations assisting communities in redevelopment and affordable rental housing for low-income families in high-cost areas," according to a U.S. Justice Department press release. Those donations do not appear to have been cash donations.
The leading candidates among states that may be settling individual claims against Bank of America next week, aside from the five mentioned previously, are Maryland, Connecticut, Kentucky, West Virginia, New Jersey and Missouri. Those states' names appeared on a document indicating the are all members of the Residential Mortgage Backed Securities (RMBS) Working Group, which is negotiating with Bank of America on behalf of the government.
The RMBS Working Group was established by President Obama in 2012 as a collaboration between numerous state and federal authorities. Led by the U.S. Justice Department, the group is working on at least a dozen other cases including the potential Bank of America settlement. Morgan Stanley (MS) - Get Morgan Stanley (MS) Report and Goldman Sachs (GS) - Get Goldman Sachs Group, Inc. (GS) Report have both disclosed they are being investigated by the group.
Disclosure: TheStreet's editorial policy prohibits staff editors, reporters and analysts from holding positions in any individual stocks.