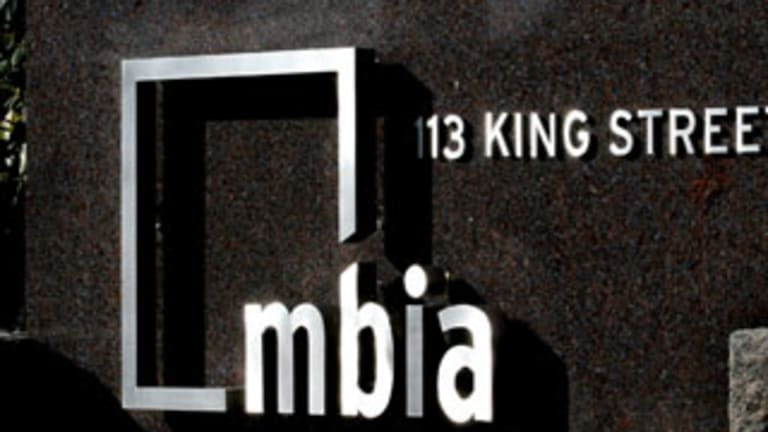 Bank of America Pain Should Be MBIA Gain: Street Whispers
Bank of America's latest gambit has hit MBIA shares, but one analyst sees no threat to the insurer.
NEW YORK (
) --
Bank of America
(BAC) - Get Bank of America Corp Report
continues to confound analysts as it proceeds with its legal battle against bond insurer
MBIA
, though the bank's latest gambit doesn't represent a serious threat to MBIA, according to at least one analyst following the saga.
Bank of America unveiled its latest surprise late Tuesday, when it proceeded with its offer to buy back MBIA bonds due in 2034 that pay a 5.7% coupon, despite the fact that conditions of the offer,
announced Nov. 13
, had not been met.
"The most common response of
MBIA investors," to Bank of America's offer "was confusion," wrote BTIG analyst Mark Palmer in a note published Thursday.
Bank of America originally offered to buy those and other bonds in a bid to block MBIA from amending them to prevent a potential default from causing a "cross default," in other MBIA bonds, triggering an acceleration of payments due from the cash-strapped company. MBIA has argued Bank of America is trying to drag out legal disputes with MBIA to force the insurer into an unfavorable settlement over disputed mortgages. Thus, the threat of a cross-default would have increased the pressure on MBIA.
However, MBIA announced Nov. 26 it had succeeded in amending the bonds, meaning it had apparently averted the danger of the cross-default. Bank of America's offer had been contingent on certain events, including MBIA failing to amend the bonds, but on Tuesday the bank waived all the conditions of its offer.
Palmer offered several possible explanations for Bank of America's latest move. One possibility, he argued, is that the bank may believe MBIA's purchase of the bonds was "somehow improperly executed," or that the insurer was "somehow untruthful" when it announced that it had purchased sufficient bonds to proceed with its amendment. He called those views "far-fetched."
Another possibility is that Bank of America wants to block possible future amendments by MBIA, or that it hopes that by adding various exposures to MBIA, it will "muddle the math" to keep Bank of America's adversaries in similar cases from figuring out how much it pays out in an eventual settlement. Palmer argues Bank of America employed a similar strategy in reaching a settlement with a separate insurer, Syncora, in July.
Regardless, Palmer continues to recommend MBIA shares, which lost 2.09% Thursday to close at $8.45.
"We believe any weakness in MBIA shares today driven by
Bank of America's decision to continue with its cash tender offer is unwarranted," he wrote, adding the shares' current price fails to reflect "the significant benefit that MBIA gained" through the successful amendment of its bonds "or the mounting leverage that the bond insurer has amassed as the litigation moves toward the point that it could cause real pain" to Bank of America.
An MBIA spokesman declined to comment, while Bank of America spokesmen did not respond to email messages.
--
Written by Dan Freed in New York
.
Disclosure: TheStreet's editorial policy prohibits staff editors, reporters and analysts from holding positions in any individual stocks.