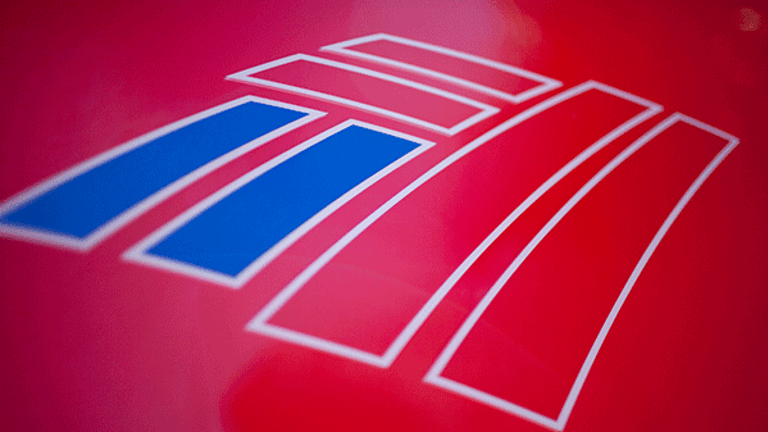 Bank of America Just Topped Warren Buffett's Dividend Benchmark
The Oracle of Omaha isn't the only investor likely to benefit from Federal Reserve stress-test results, but his gains will be measured in the billions.
It's the milestone Warren Buffett has been waiting for: Bank of America Corp.  (BAC) - Get Report just won the Federal Reserve's approval to boosted its annual dividend to 48 cents a share.
A 60% increase from last year, the new payout will enable the billionaire investor's Berkshire Hathaway Inc. (BRK.A) - Get Report to earn $36 million a year more from the Charlotte, N.C.-based lender's common stock than he receives on $5 billion in preferred shares bought five years ago.
That August 2011 purchase came with a warrant allowing Omaha, Neb.based Berkshire to snap up 700 million shares of common stock -- worth $16.7 billion at today's prices -- for just $5 billion. Basically, by swapping the preferred stake, if it chooses. Buffett noted in his February letter to investors that he would probably exercise the option once Bank of America raised its annual dividend to 44 cents.
Doing so, and then some, is a major accomplishment for the company, which slashed its yearly dividend from a 2008 peak of $2.56 to just four cents amid a financial crisis that ultimately forced Bank of America and other lenders to take billions of dollars in government bailouts.
CEO Brian Moynihan, who also won authorization to repurchase $12 billion in stock, joins executives at most of the major Wall Street firms who are boosting investor payouts closer to 100% of net earnings after spending nearly a decade building sufficient capital buffers to satisfy the Fed.
At Bank of America, the higher dividend alone amounts to 32% of net income, nearly double the ratio a year earlier. 
Rivals Wells Fargo & Co. (WFC) - Get Report , Citigroup (C) - Get Report , JPMorgan Chase & CO. (JPM) - Get Report and Morgan Stanley (MS) - Get Report , also announced increases after the Fed released the results of its annual tests on Wednesday, June 28. The exams -- the second piece of a two-part evaluation -- measure lender strength during a hypothetical recession if the banks went forward with proposed payout plans.
EXCLUSIVE LOOK INSIDE: Citigroup and Wells Fargo are holdings in Jim Cramer's Action Alerts PLUS charitable trust portfolio. Want to be alerted before Cramer and the AAP team buy or sell the stocks? Learn more now.
The reviews were established as the government worked to guard the U.S. economy against a repeat of the 2008 crisis, when the collapse of a bubble in the country's $15 trillion mortgage market pushed investment bank Lehman Brothers into bankruptcy and froze global credit markets. U.S. stock markets lost roughly half their value, and unemployment spiked to 10% in the aftermath.
Today, "the public can see the capital positions of the major banks are very much stronger," Fed Chair Janet Yellen said during a presentation in London this week. "Would I say there would never be another financial crisis? Probably that would be going too far. I do think we're much safer, and it probably won't be in our lifetime."
The results of this year's stress tests reflect that assessment, with almost all of the 34 systemically important banks, those with $50 billion or more in assets, meeting the Fed's standards.
JPMorgan, the largest U.S. lender, plans to boost its quarterly dividend 12% to 56 cents a share in the three months through September while repurchasing as much as $19.4 billion of its stock.
"Given the financial strength of the company and the significant capital and liquidity advances we have made over the last several years, we are pleased to further increase capital returns," CEO Jamie Dimon said in a statement.
Morgan Stanley, which was part of a predecessor to the current JPMorgan before the Great Depression of the 1930s, is raising its quarterly dividend 25% to 25 cents and may buy back as much as $5 billion of its stock through June 2018.
It's the fifth straight year the bank has increased its payout, said CEO James Gorman, which "underscores the strength of Morgan Stanley's capital position and the significant changes we have made to our business model and risk profile."
Citigroup said it would boost its quarterly dividend to 32 cents a share and buy back as much as $15.6 billion in the next 12 months, achieving a combined payout of $18.9 billion. San Francisco-based Wells Fargo increased its dividend 2.6% to 39 cents a share and announced a repurchase program of as much as $11.5 billion.
Capital One Financial  (COF) - Get Report , the only lender to receive a formal criticism from the Federal Reserve -- for failing to properly account for potential risk in one of its biggest businesses rather than falling short of any capital requirements -- is keeping its dividend at 40 cents a share.
In a report, the Fed said that Capital One's senior management were "not in a position to provide the firm's board of directors with a reliable assessment upon which to determine the reasonableness of the capital plan."
The lender's stock fell 2.3% to $81.05 after the close of regular trading in New York, as CEO Richard Fairbank promised to address the regulator's concerns "in a timely manner." Capital One plans to repurchase as much as $1.75 billion of its shares in the next 12 months.
Ally Financial Inc. (ALLY) - Get Report , which until recently had been barred from buybacks or dividends, won the central bank's approval for a dividend of 4 cents a share and a 9% increase in its repurchase program. The company can buy back as much as $760 million of its stock over the next 12 months.
CIT Group (CIT) - Get Report , which underwent the test publicly for the first time, said it would pay a quarterly cash dividend of up to 16 cents a share and buy as much as $225 million of its own stock.
Read More Trending Articles:
Walgreens and Rite-Aid Just Laughed in the Face of Regulators, Strike One Clever New Deal
We Sent a Millennial to a Decaying Kmart Store and Couldn't Believe the Horrors She Discovered
This Is Why It's Party Time for America's Biggest Banks: Market Recon