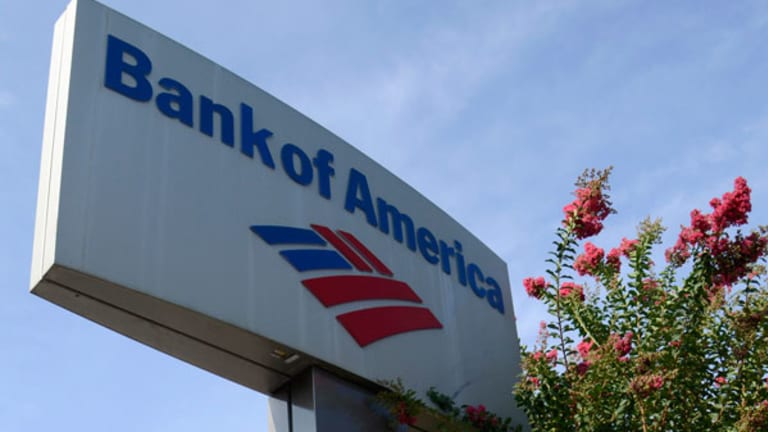 Bank of America Investors Grill CFO at Dinner
Worries persist over a critical $8.5 billion mortgage backed securities settlement.
NEW YORK (
)--
Bank of America
(BAC) - Get Free Report
CFO Bruce Thompson faced questions from investors this week over a recent ruling that some believe may persuade a judge to reject an $8.5 billion settlement the bank reached with 22 institutional investors over mortgage backed securities liability.
The settlement, reached in 2011, covers $108 billion in mortgage backed securities (MBS). The investors argue that the underlying mortgage loans didn't live up to their original billing. Even though several of the world's largest financial institutions signed on to the deal, including
Goldman Sachs
(GS) - Get Free Report
, PIMCO,
BlackRock
(BLK) - Get Free Report
and the Federal Reserve Bank of New York, many others, including
AIG
(AIG) - Get Free Report
have objected.
The State Attorneys General of New York and Delaware and three Federal Home Loan banks have also opposed the deal. New York State Supreme Court Judge Barbara Kapnick is hearing the case.
If Kapnick rejects the settlement, some believe it could expose Bank of America to considerably more liability. A pair of experts on a
recent conference call held by CLSA analyst Mike Mayo
argued Bank of America is some $16-22 billion under-reserved, given what they believe is considerable risk Kapnick will throw the settlement out.
That risk was increased by a recent decision by Judge Jed Rakoff of the United States Southern District of New York involving
Flagstar Bancorp
(FBC) - Get Free Report
and
Assured Guaranty
(FBC) - Get Free Report
, according to Mayo and Isaac Gradman, a legal expert he brought in to speak to his investor clients.
At a dinner with Bank of America CFO Thompson this week, "there was considerable investor interest," in whether the deal will stand, according to a report published Thursday from Citigroup analyst Keith Horowitz.
Horowitz did not report on the substance of the exchanges with investors, though he does not appear to share their concern over the issue.
He believes there are "key differences" between the Flagstar case and Bank of America's.
First, Flagstar had "provided explicit borrower
representations against fraud," while Countrywide Financial, which underwrote the mortgages being contested in the Bank of America settlement, did not, Horowitz wrote on Thursday.
Further, according to Horowitz, the court must find that
Bank of New York Mellon
(BK) - Get Free Report
, which approved the settlement in its role as the trustee for the MBS holders, "did not act appropriately as a fiduciary." Horowitz believes this will be difficult to prove "given the intensity of settlement negotiations and that
BNY Mellon made an effort to ensure all affected Trusts were included in the settlement, going above and beyond the general 25% of each tranche required from the pooling & servicing agreements."
--
Written by Dan Freed in New York
.
Disclosure: TheStreet's editorial policy prohibits staff editors, reporters and analysts from holding positions in any individual stocks.