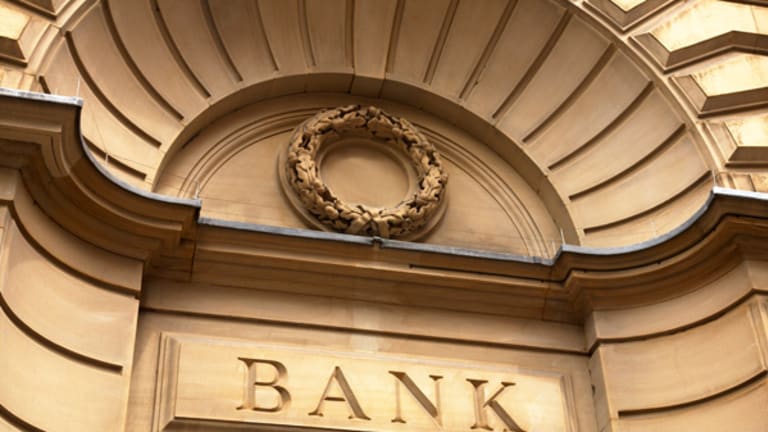 Bank of America Inks Whopping $10.3 Billion Mortgage Settlement (Update 2)
Bank of America finally settles its long-simmering mortgage putback dispute with Fannie Mae.
Updated with afternoon market action, comments from Guggenheim Securities analyst Marty Mosby and Atlantic Equities analyst Richard Staite, The separate settlement with the OCC and the Federal Reserve and more information about Bank of America's sale of mortgage servicing rights.
NEW YORK (
) --
Bank of America
(BAC) - Get Report
has finally settled with
Fannie Mae
(FNMA)
in a big money deal that will wipe out nearly all of its fourth-quarter profits.
After resisting the government-sponsored mortgage giant's mortgage loan repurchase demands all through 2012 and seeing its mortgage operations partially crippled as a result, Bank of America on Monday announced an agreement covering $1.4 trillion in loans sold to Fannie Mae through 2008.
Bank of America will pay Fannie $3.6 billion in cash and pay roughly $6.75 billion to repurchase about 30,000 mortgage loans, which is to be covered by existing mortgage putback reserves, along with "an additional $2.5 billion (pretax) in representations and warranties provision recorded in the fourth quarter of 2012."
Bank of America's shares were down a nickel in afternoon trading, to $12.06.
The bank agreed to "settle substantially all of Fannie Mae's outstanding and future claims for compensatory fees arising out of past foreclosure delays," which is "expected to be covered by existing reserves and an additional provision of $260 million (pretax) recorded in the fourth quarter of 2012."
The settlement will lower Bank of America's fourth-quarter pretax earnings by $2.7 billion, and the company also said that its fourth-quarter results would be "negatively impacted by approximately $2.5 billion (pretax) for the independent foreclosure reviews, litigation (primarily mortgage-related), and other mortgage-related matters."
The Independent Foreclosure Review was part of a previous mortgage foreclosure settlement between Bank of America, other large mortgage servicers, including
Citigroup
(C) - Get Report
,
JPMorgan Chase
(JPM) - Get Report
,
Wells Fargo
(WFC) - Get Report
,
U.S. Bancorp
(USB) - Get Report
and
PNC Financial Services Group
(PNC) - Get Report
, with the
Federal Reserve
and the Office of the Comptroller of the Currency. The regulators on Monday announced that the foreclosure review had ended, and that the servicers subject to the foreclosure settlement would make
in cash payments and other assistance to borrowers victimized by servicing errors. Borrowers could receive up to $125,000 each.
Factoring in a $1.3 billion tax benefit from the recognition of foreign tax credits, a benefit from the sale of mortgage servicing rights and "approximately $700 million of pretax negative debit valuation adjustments (DVA) and fair value option (FVO) adjustments related to the continued improvement in the company's credit spreads," the company expects "earnings per share to be modestly positive for the fourth-quarter of 2012."
Fannie Mae and its sister company
Freddie Mac
(FMCC)
were taken under government conservatorship in September 2008. Fannie said in a filing that the $10.3 billion payment by Bank of America and associated agreements address "substantially all of our outstanding repurchase requests made to Bank of America. As of September 30, 2012, $10.8 billion, or 67%, of our $16.2 billion in outstanding repurchase requests to all our mortgage seller/servicers, as measured by unpaid principal balance, had been made to Bank of America. Accordingly, the amount of our outstanding repurchase requests will decrease substantially in the first quarter of 2013 as a result of the resolution agreement."
The huge settlement with Fannie Mae doesn't end Bank of America's mortgage putback saga, however, the company said it "expects to reduce the range of possible loss above existing accruals for both GSE and non-GSE representations and warranties exposures to up to $4.0 billion at December 31, 2012, compared to up to $6.0 billion at September 30, 2012."
In its announcement on Monday, Bank of America also said that Fannie Mae, along with Freddie Mac and
Ginnie Mae
had agreed with Bank of America's plan to sell servicing rights on 2 million residential mortgage loans, with an unpaid balance of $306 billion. About 232,000 of the loans for which servicing rights will be transferred, are past due 60 days or more.
The company said that the transfer of mortgage servicing rights will "occur in stages over the course of 2013," and that the transfers were expected to "have a benefit over the book value of the mortgage servicing rights of approximately $650 million," with about one half of the benefit being booked in the fourth quarter.
Walter Investment Management
(WAC)
on Monday
announced
that it had agreed to acquire servicing rights for about 650,000 loans with unpaid balances totaling $93 billion from Bank of America for $519 million, with the transfers taking place during the first and second quarters.
Also on Monday,
Nationstar Mortgage
(NSM)
announced an agreement to buy servicing rights for 1.3 million mortgage loans with unpaid balances totaling $215 billion, for $1.3 billion.
Bank of America said nothing about its expected cost savings from the sale of mortgage servicing rights, but there was a silver lining in the press release, underlining the housing recovery in the United States: "Prior to the above transactions, the number of loans classified as 60+ day delinquencies was approximately 775,000 loans as of December 31, 2012, down from 936,000 loans at September 30, 2012."
CEO Brian Moynihan said in a statement that the company was working to "sharpen our focus on serving our three customer groups and helping to move the economy forward," and that the agreements with Fannie Mae "are a significant step in resolving our remaining legacy mortgage issues, further streamlining and simplifying the company and reducing expenses over time."
Guggenheim Securities analyst Marty says that with today's announced deal with Fannie Mae, Bank of America "can clean the slate" and "start looking" to resume the sale of newly originated mortgage loans to Fannie Mae. Discussing Bank of America's sale of mortgage servicing rights, Mosby says that "what they are trying to do get to the point where a lot of these legacy issues are resolved," with the bulk of the company's mortgage mess springing from its purchase of Countrywide Financial in 2008. "We are not quite there yet, but this is a step in the right direction."
Mosby points out that Bank of America isn't really losing $6.75 billion on the mortgage repurchases, because the company is getting those loans back from Fannie, and "typically you take a 50% loss" on troubled loans of that type.
When discussing the anticipated expense savings from the decline in mortgage workout costs following the transfer of the servicing rights, Mosby says "we don't really think that kicks in until the back end of 20013 and into 2014."
Mosby rates Bank of America a "Buy," with a $14 price target, and estimates the company will earn 95 cents a share this year, with earnings increasing to $1.01 a share in 2014. The analyst says that "the market is getting more comfortable pushing the stock price up to its tangible book value," which was 13.48 a share as of Sept. 30, according to the company. "We anticipated that they would be able to cover future losses with earnings, rather than capital, which is why we had our target priced pegged to tangible book value."
Atlantic Equities analyst Richard Staite on Monday said in a note that Bank of America's announcements were "positive," and that "in particular we believe the sale of delinquent MSRs is positive as it will accelerate the reduction in abnormal Legacy Asset Servicing costs thus boosting ongoing pre-provision
for loan losses profitability.""Underlying pre-provision profit fell to about $25bn in Q3 2012 but we believe could rebound to over $40bn in the long term helped by lower LAS costs," Staite said, adding that "this would imply EPS of nearer $1.80 giving considerable upside over current estimates if BAC can bring costs under control."
Staite rates Bank of America "Overweight," with a $12 price target, estimating the company will earn $1.23 a share this year, with earnings increasing to $1.53 a share in 2014.
RELATED STORIES:
Big Banks Cut $8.5 Billion Foreclosure Settlement Check
Citigroup Shakes Up Execs in Post-Pandit Putsch
Bank of America Ordered to Unseal Documents in MBIA Case
Citigroup Is Your Best Bank Stock Play Through 2015: Deutsche Bank
5 Bank Stocks That Can't Stop Posting Profits
10 Cheapest Bank Stocks for 2013
Banks Have 99 Problems But Liquidity Ain't One
--
Written by Philip van Doorn in Jupiter, Fla.
>Contact by
.