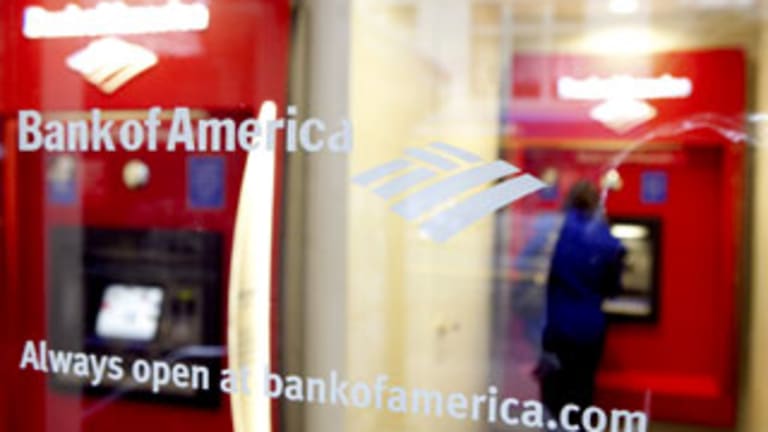 Publish date:
Bank of America Hunts for Lost Revenue
Bank of America's earnings report shows the firm is still grappling with the costs of financial reform and economic downturn with few avenues for revenue growth in the near term.
Bank of America's earnings report shows the firm is still grappling with the costs of financial reform and economic downturn with few avenues for revenue growth in the near term.
CHARLOTTE, N.C. (
) --
Bank of America
(BAC) - Get Report
lost money in the third quarter because of financial reform but otherwise would have beat Wall Street's earnings expectations by a wide margin.
It's also implementing a strategy to recoup lost fee revenue, and prominently displayed those plans in its earnings press release on Tuesday. Bank of America will use a "relationship enhancement strategy" that urges consumers to bring in more business and either utilize cost-efficient services -- like ATMs and online banking -- or pay for services that require assistance from human employees.
That's the story management would like to present, but it's not clear that investors will be wooed. Bank of America's underlying results show the challenges of finding revenue in the still-struggling economy. Much like the other big banks that have already reported third-quarter results, a good chunk of its earnings beat came from releasing reserves.
Bank of America reported a net loss of $7.3 billion, or 77 cents per share. Excluding a large write-down to reflect the impact of the Dodd-Frank reform measure on its card business, the bank would have earned $3.1 billion, or 27 cents per share - topping the average analyst expectation of 16 cents per share, according to
Thomson-Reuters
, by a stretch.
But net revenue declined by 8.4% on a quarterly basis and missed analysts' expectations by $450 million. The decline reflected business challenges as well as a flattened yield curve that's made it hard for banks to earn money, even with deposit rates and the
Federal Reserve
interest rate target at nearly zero. Net interest income, which reflects the difference between BofA's borrowing rate and lending rate, dropped by $465 million. Fee revenue, meanwhile, dropped by nearly $2 billion.
In most business lines revenue fell, due to weak loan demand in the consumer and commercial businesses, as well as investor timidity in wealth management. The couple of divisions in which revenue climbed were less profitable, reflecting increased spending on loan losses in the mortgage division and building out the BofA-Merrill Lynch investment banking franchise.
Overall, it's clear that Bank of America is now grappling with the implementation of financial reform. It's less clear how -- or when -- it will be able to make up for lost revenue.
The firm's card business lost $9.9 billion, reflecting two issues related to the Dodd-Frank reform measure. Bank of America posted a goodwill impairment charge of $10.4 billion, which came in higher than the $7 billion to $10 billion range management had earlier predicted for the third quarter. Revenue dropped 21% because of that bill, as well as the C.A.R.D. Act, which limits the fees big banks can charge consumers or merchants.
The mortgage business posted a loss of $344 million, even though credit metrics improved and revenue climbed. That's because Bank of America has had to invest a lot of money overhauling processes and hiring thousands of employees for "loss mitigation" -- in other words, loan workouts -- or outright foreclosure proceedings.
Much like
JPMorgan Chase
(JPM) - Get Report
, which reported results last week, Bank of America's capital markets, investment banking and commercial banking divisions found it tough to grow. Investors are still wary of the markets. Corporate America doesn't need more loans or financial services, it mostly wants to refinance into cheaper debt.
Perhaps the one bright light within Bank of America's quarterly results was a continued trend of improving credit quality. Combined with the federal government's cheap-money policies, BofA was able to add more layers of steel onto its "fortress balance sheet."
The bank's provision for credit losses now stands at $5.4 billion -- down $2.7 billion from just three months ago and less than half the size it was a year ago. Its charge-off ratio has fallen to 3.07% from nearly 4% last quarter and 4.13% in the third quarter of 2009. Nonperforming loans now represent 3.71% of Bank of America's overall loan portfolio, down marginally on a quarterly and annual basis as well.
Partly as a result, the firm's Tier 1 common equity ratio now stands at 8.45%, up 44 basis points from the June quarter and 120 basis points from a year ago. Bank of America's tangible book value per share is now $12.91 -- 4.6% below where the stock closed on Monday.
In short, Bank of America has plenty of capital, but is still struggling to find ways to use it profitably while combating economic and regulatory headwinds. The bank said it will start testing "new offerings" for consumers in December and other "new products" early next year. But it's unclear whether consumers want or need any of those offerings or how much new revenue they will deliver.
The case for Bank of America's stock in the near term is one of valuation. Its shares were down as much as 3% in premarket action just after its earnings report came out, but recouped losses to rise 7 cents to $12.41 in recent trading.
-- Written by Lauren Tara LaCapra in New York
.
>To contact the writer of this article, click here:
Lauren Tara LaCapra
.
>To follow the writer on Twitter, go to
http://twitter.com/laurenlacapra
.
>To submit a news tip, send an email to:
.
Disclosure: TheStreet's editorial policy prohibits staff editors, reporters and analysts from holding positions in any individual stocks.