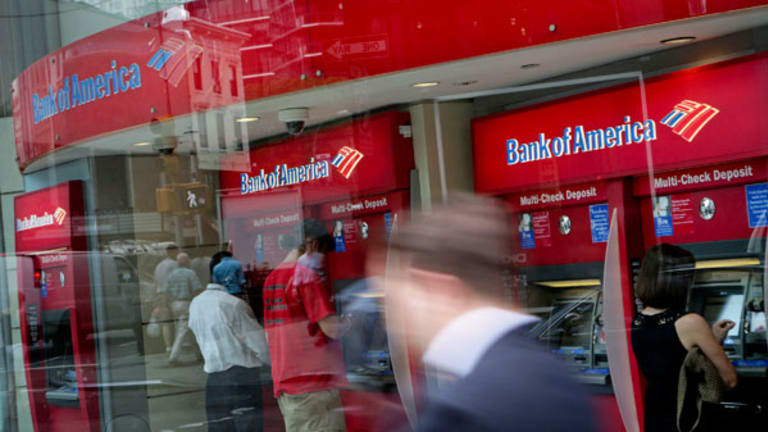 Bank of America Gets Surprise Boost From Distress in Money Markets
Who needs the Fed? Interest rates are already rising, and Bank of America is reaping a windfall.
Just last month, Bank of America (BAC)  CEO Brian Moynihan assured stockholders that his company didn't need rising interest rates to increase profits.
Yet some rates are already spiking, and investors couldn't be more thrilled.
Since the end of June, the three-month London interbank offered rate, or Libor, has surged by roughly 25%. That's a big boon to lenders like Charlotte, North Carolina-based Bank of America, since Libor is used to set the interest levels collected on many floating-rate commercial loans.
The sudden increase has gotten analysts at brokerage firms like Morgan Stanley (MS) and Deutsche BankDB chattering about the prospects for fatter lending margins, after nearly eight years during which the U.S. Federal Reserve has held benchmark rates close to zero. Bank of America's shares are up 15% this quarter, three times as much as U.S. financial-company stocks on average.
"Bank of America is definitely benefiting from this," said Dick Bove, an analyst at Rafferty Capital Markets. "Instead of people running around speculating about rates being lower for longer, they should be saying, 'Hey, look at what the hell happened to Libor.'"
Despair had spread among many bank investors earlier in the year, when the Fed signaled it would delay expected rate hikes amid doubts about the health of the global economy. Yields on 10-year U.S. Treasuries -- used to set pricing on many fixed-rate loans such as 30-year mortgages -- remain mired around 1.5%, close to an all-time low.
But now Libor rates are rising without any help from the Fed. Bank of America's own research analysts published a report Wednesday attributing the climb to new Securities and Exchange Commission money-market regulations that are set to take effect in mid-October.
Under those rules, so-called prime money-market funds -- those that don't invest strictly in U.S. government securities -- must start reporting the value of their assets on a daily basis; under the current regime, they can simply report a stable price of $1 per share. The changes are intended to address a flaw exposed by the financial crisis in 2008, when one such vehicle, the Reserve Primary Fund, couldn't meet redemptions at $1 a share because of losses on Lehman Brothers debt securities.
In advance of the new rules, many savers are shifting to government-only money-market funds, reducing the amount of money that prime funds have to lend to corporate borrowers such as banks; the total amount could reach $800 billion, according to the Bank of America researchers. The movement in turn has driven up Libor rates, since more corporate borrowers now must compete for short-term loans in global money markets.
Among the largest U.S. lenders, Bank of America stands to benefit the most from the climb in Libor rates, based on its mix of floating- and fixed-rate loans, Morgan Stanley wrote in an Aug. 15 report. Citigroup (C)  and Wells Fargo (WFC)  will also benefit, but not as much, according to the report. JPMorgan Chase (JPM)  might actually suffer from the rise in Libor, Morgan Stanley said.
"If rates rise, we would expect net interest income to grow," Moynihan said on a July 18 conference call, even as he announced a plan to slash $5 billion in annual costs by 2018 to deal with stagnant interest rates.
A Bank of America spokesman declined to comment further.
According to the lender's most-recent quarterly report, a one percentage-point increase in short-term rates should translate to $3.1 billion of additional interest revenue over the next year. 
It's a bet that's paying off right now, with Libor up 0.17 percentage point since the end of June. Of course, it could have gone the other way, and some analysts fear Bank of America is simply gambling on rates.
"It's not good for the long-term franchise value," said David Hendler, principal at Viola Risk Advisors in Montebello, New York. "Investors don't buy banks to be an interest-rate hedge fund."