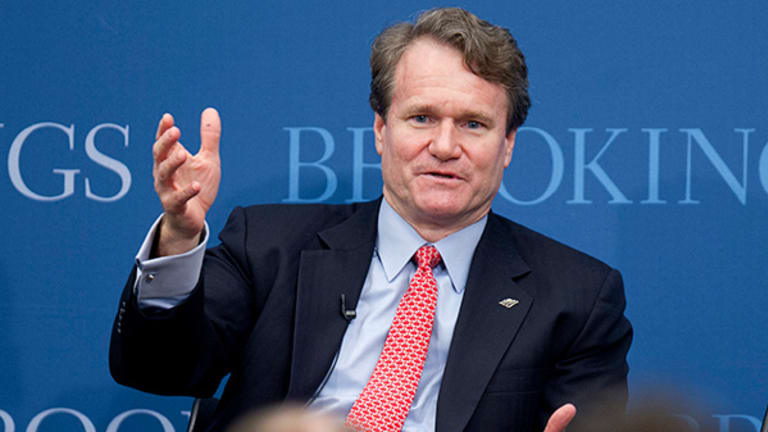 Bank of America CEO Brian Moynihan: Fed Rate Increases to 'Have a Big Impact on Us'
Bank of America is in good shape as it continues to cut costs and looks forward to three expected rate increases in 2017.
Shares of Bank of America (BAC) - Get Bank of America Corp Report are up about 30% since the election of President-elect Donald Trump, but the company still has a long way to go when it comes to cost cutting, CEO Brian Moynihan said on CNBC's "Squawk Box" on Tuesday morning. The interview was broadcast from the World Economic Forum in Davos, Switzerland.
Bank of America's stock has seen a boost since early November because of efforts within the company to reduce costs and improve client and customer relations, the expectation for the Fed to increase rates in 2017, as well as the expectation for growth in the sector, he explained. 
"Those all have a big impact to us," Moynihan said. "So you take improving operating performance, the past legacy issues way behind you, and on top of that, the prospect for rates going up."
Last Friday, the company reported an earnings beat for the 2016 fourth quarter and said it expected net interest income to go up significantly. It also wants to cut expenses to $53 billion by the end of the year. 
Bank of America has already cut expenses by implementing technology, making paper items electronic and shedding 60 businesses, the CEO pointed out. 
"We did a lot of other things. But a lot of it was just down to real hard work," he said. "We still spend $5 billion moving cash and checks around our company so we've got a lot of room to go."