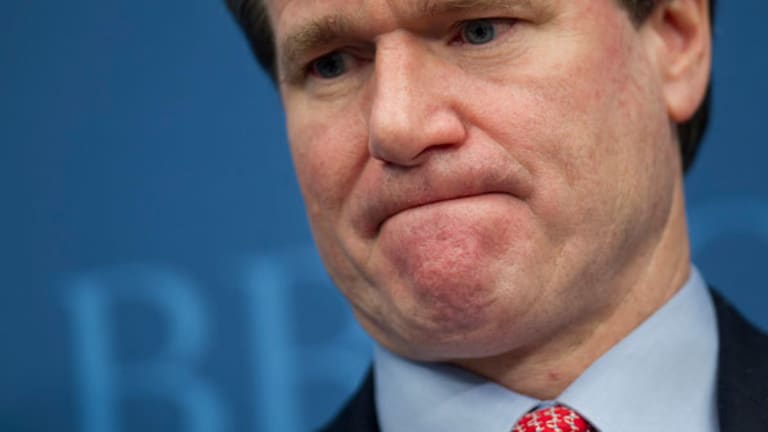 Bank of America CEO: $8 Billion Subprime Settlement Is 'Like a Bad Hour for Us'
The bank needs to wrap up its 'pennies-on-the-dollar' subprime settlement.
The bank needs to wrap up its 'pennies-on-the-dollar' subprime settlement.
NEW YORK (
) --
Bank of America
(BAC) - Get Report
's proposed $8.5 billion subprime mortgage settlement agreement with several large institutions, reached in June 2011, is just a "bad hour," for the giant bank, according to recent testimony by CEO Brian Moynihan.
Moynihan's testimony is part of a long-running legal battle with insurer
MBIA
(MBI) - Get Report
over liability for problem mortgages underwritten by Countrywide Financial, which Bank of America acquired in 2008. MBIA insured bonds that were backed by the Countrywide mortgages.
Analysts such as MKM Partners analyst Harry Fong expect Bank of America to eventually settle with MBIA for $3 billion, but Fong argues the real elephant is the courtroom is the June 2011 $8.5 billion settlement agreement between Bank of America and several large institutions, including PIMCO,
BlackRock
(BLK) - Get Report
,
MetLife
(MET) - Get Report
,
Goldman Sachs
(GS) - Get Report
and the Federal Reserve Bank of New York.
During Thursday's court proceeding, according to a research note Fong published Friday, MBIA's attorneys showed a video of earlier testimony they'd taken from Bank of America CEO Brian Moynihan. In the video, the attorneys asked where the bank had found the money to pay the cost of the settlement.
Moynihan replied that he did not know.
"When pressed, he claimed it was justified that he did not know," Fong wrote, "as Bank of America has more than $400 billion in assets, and $8.0 billion was 'like a bad hour for us.'"
In Friday's report, Fong argues Bank of America got off for "pennies on the dollar," in the June 2011 settlement, but that a $3 billion deal with MBIA would jeopardize the June 2011 one, which has been challenged by various regulators and investors.
According to Fong, the $8.5 billion June 2011 settlement covers bonds originally sold for more than $400 billion, losses on which "are approaching $100 billion and "some observers believe...could ultimately reach $200 billion."
Fong, who officially covers MBIA and not Bank of America, argues Bank of America will need to resolve the $8.5 billion case within three months. Failing that, it risks having New York State Supreme Court Justice Eileen Bransten rule that it is liable for Countrywide's actions, meaning its costs on the $8.5 billion settlement could go up dramatically. After that point, he expects Bank of America to reach a settlement with MBIA, the key to his $18 12-month price target on MBIA shares, which were worth $8.28 in mid-afternoon trading Friday.
Bank of America, which reached an $11.6 billion agreement with
Fannie Mae
(FNMA)
over mortgage bonds, still faces untold billions in costs. While that doesn't sound like much for a bank that makes $8 billion an hour, Moynihan--unfortunately for him--was joking.
An email message to Bank of America spokesmen wasn't returned.
--
Written by Dan Freed in New York
.
Disclosure: TheStreet's editorial policy prohibits staff editors, reporters and analysts from holding positions in any individual stocks.