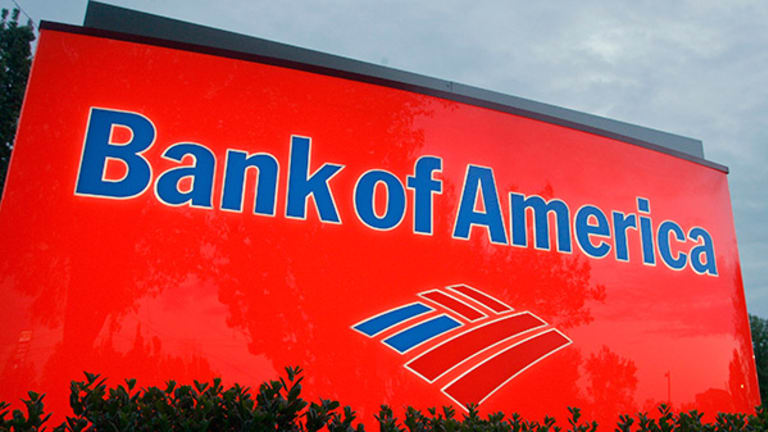 Bank of America and Comerica: 2 Bank Stocks to Buy Now
The financial services sector has been volatile lately. If you're looking for robust bank stocks to add balance to your portfolio, check out these two stable contenders.
There's been a lot of turmoil in the banking sector lately. We'd like to turn your attention to a couple of bank stocks that merit your consideration.
Bank of America's (BAC) valuations make it attractive. Meanwhile, Comerica (CMA) , which is cutting costs and could again be on sale, is a compelling growth proposition.
Let's take a look at two investments that should provide outsized growth with limited downside.
1. Bank of America
With a price-to-book ratio of 0.66, Bank of America is undervalued compared with peers Morgan Stanley (0.85), JPMorgan Chase (1.05) and Wells Fargo (1.37).
Wells Fargo is a holding in Jim Cramer's Action Alerts PLUS Charitable Trust Portfolio. See how Cramer rates the stock here. Want to be alerted before Cramer buys or sells WFC? Learn more now.
Bank of America is a great long-term opportunity to play the higher-rates story. (Once the Federal Reserve startsto raise interest rates more, banks will benefit.) Given the environment of prolonged low rates and stagnant growth, a few bank stocks are trading well below their true value. This is a great time to add to positions because sentiment is still relatively bad.
So far this year, Bank of America's stock has lost 7%, even as JPMorgan Chase has been flat and Morgan Stanley has lost less than 3%.
As a result, even seasoned analysts are taking notice. For instance, Deutsche Bank now prefers Bank of America over JPMorgan Chase, citing more opportunities for cost-cutting, lower consumer credit risk and relative valuations.
Historically, JPMorgan has been able to execute better, but Bank of America carries sizeable room to improve if activist investors come in.
Analysts at Oppenheimer have also listed Bank of America as a preferred pick. If you go by the median price target from analysts who cover the stock, Bank of America shares should rise 9% from current levels in the next 12 months.
2. Comerica
Comerica is a financial services company, targeting segments such as business banking, retail banking and wealth management.
This company, with a market capitalization of $8.16 billion, has had a quiet year, driven by concerns related to exposure to the oil and gas industry.
Investors are beginning to understand, however, that Comerica is a smart, stable bet in a risky sector. The stock didn't move in 2014 and then dropped in 2015 when oil & gas troubles were at their peak. Comerica has been proactive in keeping additional capital to cover itself from energy troubles, however.
Analysts expect Comerica to post 40% growth in adjusted earnings per share in 2017, a pace twice that of the banking industry (21%).
Comerica CEO Ralph Babb is also taking measures to cut costs like trimming the company's workforce by 9% by the end of 2018.
Though a sale of the bank hasn't happened as yet, we expect fresh steps to attract buyers soon. The bank has emerged relatively unscathed from the troubles in which it found itself, and nonperforming assets appear to have peaked.
With a price-to-book ratio of 1.04, Comerica shares are a good opportunity to make solid profits amid an uncertain market. The stock is cheaper on that basis than shares of BBT, M&T Bank and Signature Bank.
You should buy Comerica for long-term growth, even as it handles its near-term challenges.
---
How many times have you heard someone on CNBC say, "I actually think the economy is fine here in the United States. Buy stocks!"? If you're like many Americans, you've probably heard it more than once. But just because they're saying it, doesn't make it true. Because I can tell you with absolute certainty it's not. America is in deep trouble. And the crisis looming on the horizon has the potential to make 2008-2009 look like child's play. The window to protect yourself is rapidly closing. I'll show you how here.
This article is commentary by an independent contributor. At the time of publication, the author held no positions in the stocks mentioned.