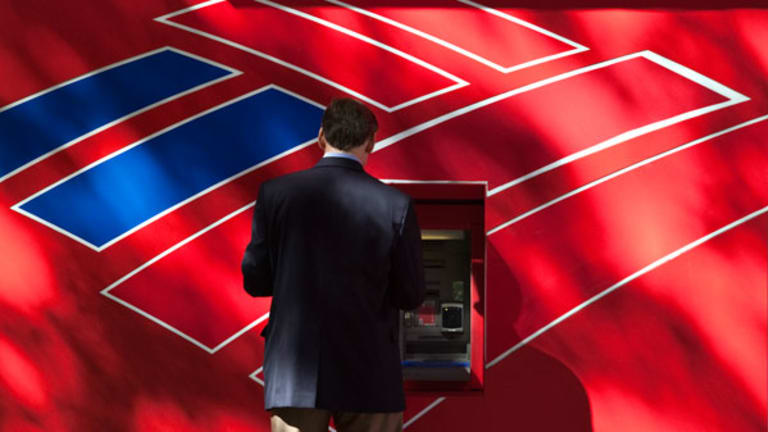 Bank of America: A Loser for All Seasons
Whether the market has been up or down in 2013, Bank of America shares have lagged.
Whether the market has been up or down in 2013, Bank of America shares have lagged.
NEW YORK (
) --
Bank of America
(BAC) - Get Report
has underperformed its peers in periods where the broader market has fallen and in periods it has risen so far in 2013, suggesting a shift in how investors view the stock.
Bank of America was one of the worst performers among global U.S.-based banks coming out of the subprime mortgage crisis, due to its heavy exposure to Countrywide Financial, the largest underwriter of mortgages that turned sour. Bank of America shares lost nearly 68% from the start of 2008 through the end of 2010, worse than
Morgan Stanley
(MS) - Get Report
,
Goldman Sachs
(GS) - Get Report
,
JPMorgan Chase
(JPM) - Get Report
and
Wells Fargo
(WFC) - Get Report
. Only
Citigroup
(C) - Get Report
performed worse.
However, after the U.S. Treasury exited its Citigroup stake and concerns about
Bank of America's industry-leading exposure to subprime mortgage litigation
moved to the fore, Citi began to outperform Bank of America.
From Sept.1 2010 through the end of 2011, a particularly rough period for big U.S. bank stocks, Bank of America shares lost 56% vs. a 27% loss for Citigroup.
When the tide turned, however, in 2012, Bank of America led the way by a large margin. Its shares more than doubled that year.
In 2013, however, Bank of America shares have been less predictable in their performance. From the start of the year through May 21, as the
S&P 500
rose 17% and was bested by Goldman, Morgan Stanley, JPMorgan, Citi and Wells, Bank of America lagged slightly, rising 15.75%. However, from May 22 through Friday, Bank of America shares lost 2.97%, slightly worse than the S&P and better only than Citigroup (-5.20%) and Goldman Sachs (-4.20%). In other words, Bank of America is suddenly a laggard in good times and bad.
Most analysts believe Bank of America has put its mortgage-related legal troubles behind it.
Still, many have expressed concerns about the bank's ability to find revenues given that it had to sell so many assets in order to shore up its balance sheet against mortgage-related losses.
"We believe the challenge of reducing expenses while maintaining revenues will keep shares range-bound in the near term," wrote FBR Capital Markets analyst Paul Miller in an April 18 report following the bank's first-quarter earnings release.
However, Richard Bove, analyst at Rafferty Capital Markets, doesn't share this concern.
"The company has over a trillion dollars' worth of deposits. Those deposits are growing, not shrinking, and that's the ultimate source of revenues for a bank," Bove said in a phone interview Monday. He also cites strong performance in the bank's Merrill Lynch securities unit.
"Bank of America should not have any revenue problems if the economy contributes the way I think it will in the second half of this year," Bove says. He recommends shares of Bank of America, along with Citi, Goldman Sachs, Morgan Stanley, JPMorgan and Wells.
While Bove says he doesn't have an official preference among his buy recommendations, if he did it would be Bank of America, since it trades at the biggest discount to book value out of the group.
Bank of America trades at 64% of book, according to
Bloomberg
data, compared to 77% for Citi, 78% for Morgan Stanley, 101% for JPMorgan, 102% for Goldman and 148% for Wells.
"All these companies ultimately revert to the mean -- the mean being book value, so
Bank of America will get to book value and therefore I think it's the most attractive in the group," he says.
Bank of America shares were up 1.79% late Monday morning, slightly better than Wells, Goldman and JPMorgan, but slightly worse than Morgan Stanley and Citi.
--
Written by Dan Freed in New York
.
Disclosure: TheStreet's editorial policy prohibits staff editors, reporters and analysts from holding positions in any individual stocks.