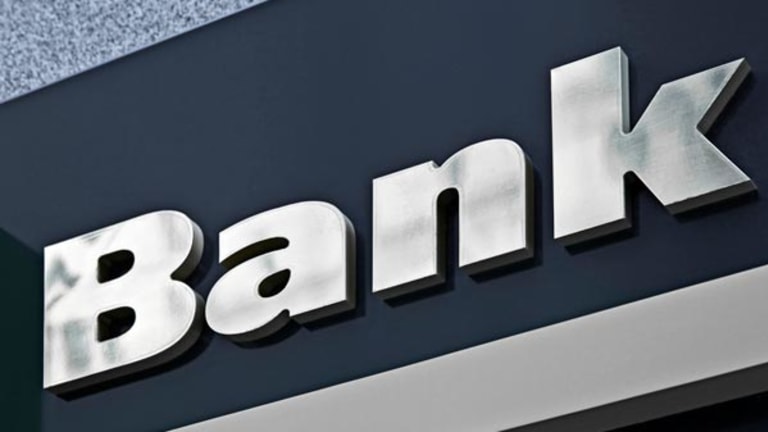 Bank Consolidation Will Center on This U.S. City
Smaller players may finally bow out this year as larger rivals look to gain market share.
NEW YORK (
) -- The consolidation of the U.S. banking industry is gaining steam, and Chicago may be the ripest major market for takeovers, according to KBW analyst Christopher McGratty.
Thousands of small banks are trying to scrape together decent profits amid low interest rates and weak loan demand.
There were about 7,150 banks in the U.S. as of Dec. 31, declining from 9,321 at the end of 2007, according to data provided by Thomson Reuters Bank insight. There were 465 bank failures during that period, and many more banks were forced to sell because of low credit quality and an inability to raise sufficient capital to remain independent.
Still, the health of the banking industry has clearly improved, as the dramatic slowdown in bank failures and the rally in bank stocks have shown. There have been only three bank failures this year, following 51 closures during 2012. The peak was 2010, when 157 institutions were shuttered by regulators.
But all is not well for thousands of community banks, facing low interest rates on which it's hard to make a profit, weak loan demand and expensive, ballooning regulations.
According to the FDIC's most recent data, aggregate industry profitability has rebounded, with a return on assets of 1.02% for the first three quarters of 2012, and a return on equity of 9.02%. Those figures have improved steadily since 2009, when the industry had an aggregate operating loss.
But industry figures can be deceiving because they are so heavily weighted to the largest banks. According to preliminary year-end data supplied by Thomson Reuters Bank Insight, there were 1,215 banks with returns on average assets (ROA) below 0.25% during 2012, while 1,317 had returns on average equity (ROE) of less than 2.5%. Those are weak returns, and smaller banks' boards tend to be dominated by local investors, who eventually will feel the need to cash out of lower-paying investments and seek greener pastures.
Potential buyers' improved earnings and capital levels may also spur industry consolidation. Looking at the FDIC's aggregate data, the industry's core capital ratio -- or Tier 1 leverage ratio -- was 9.28% as of Sept. 30, increasing from 7.97% five years earlier.
KBW analyst Christopher McGratty, in a report Wednesday, said earnings pressure on banks "are real and will likely continue, especially if we stay on the path of low rates and slow economic growth. However, with greater confidence in bank balance sheets today, we view the current environment as nearly ideal for a pickup in consolidation."
"Looking ahead, estimating the ultimate number of banks that will be consolidated over the next cycle is an often-asked, but nearly impossible, question to answer," McGratty wrote. "However, with virtually no new bank charters granted in 2011 or 2012 (versus median of about 150 annually from 1990-2008), a more recent but seemingly structural move toward fewer and smaller branches, and continued headwinds impacting group profitability, all signs seem to be pointing toward fewer banks in the coming years."
KBW's data for the 10 largest metropolitan statistical areas (MSAs) indicate that Charlotte, N.C., is the "most consolidated," with
Bank of America
(BAC) - Get Free Report
owning an 80% market share of deposits, while
Wells Fargo
(WFC) - Get Free Report
has a 13% share, from its purchase of Wachovia in 2008.
In order to rank the MSAs by level of consolidation, KBW calculated the market-share percentage for the biggest 10 banks in each area. According to this approach, Miami is the "least consolidated," with the biggest 10 players controlling 68% of deposits, followed by Chicago, where the 10 leading players have a 69% share, and Boston, where the largest 10 area players have a 75% market share.
McGratty said "we find Chicago to be more competitive and less profitable compared to other major markets -- neither of which are likely to abate -- but both of which support greater M&A activity."
The Chicago Market
There are 565 banks in Illinois, running a close second among states to Texas, with 579 banks. For Illinois, "this dynamic
was originally the result of historical limitations on branch banking (i.e., unit banking laws) that were only loosened within the past 45 years and entirely eliminated only within the past decade," according to McGratty. The analyst added that "9% of all domestic banks call Illinois home although this market only accounts for 4% of total domestic deposits."
The three main players in the Chicago area all bought the bulk of their market share, according to KBW.
JPMorgan Chase
(JPM) - Get Free Report
has the top market share in the region, with 22.5% of deposits as of June 30, having acquired Bank One (along with its CEO, James Dimon) in 2004.
Bank of Montreal
(BMO) - Get Free Report
is in second place, with 11.6% of deposits, having acquired Harris Bank in 1984, Amcore in 2010 and Marshall & Ilsley in 2011. Bank of America is in third, with 7.3% of deposits, after acquiring LaSalle in 2007. Northern Trust of Chicago has the fourth-place share in the local market, at 7.1%.
McGratty also pointed out that "50% of the companies with a top-10 deposit market share in 2000 and 30% in 2007 are no longer independent."
All these statistics underscore just how ripe Chicago is for consolidation. McGratty also said that after the top four players in the region, "there is a fairly sizeable drop-off ... which we see as an opportunity for other banks."
When considering who the area buyers might be, McGratty said "we do not see either JPMorgan or Bank of America as active consolidators this time around," but Bank of Montreal's management "has indicated interest in continuing to add distribution channels to drive more market-share gains in downtown Chicago via organic or acquired growth, as well as filling in its suburban Chicago footprint." The analyst also listed
PNC Financial Services Group
(PNC) - Get Free Report
and
Fifth Third Bancorp
(FITB) - Get Free Report
among "the most likely buyers in Chicago."
According to KBW, "scarcity value is particularly high for the most liquid, locally based," small and mid-cap Chicago banks:
MB Financial
Shares of MB Financial closed at $23.78 Friday, returning 20% this year, following a 16% gain in 2012. The shares trade for 1.6 times tangible book value, and for 13.1 times the consensus 2014 earnings estimate of $1.82 a share, among analysts polled by Thomson Reuters. The consensus 2013 EPS estimate is $1.75.
Based on a quarterly payout of $0.10, the shares have a dividend yield of 1.68%.
The company earned $90.4 million, or $1.60 a share, in 2012, improving from $33.7 million, or 52 cents, in 2011. The main factor in the earnings increase was lower credit costs. During 2011, MB Financial's provision for credit losses totaled $120.8 million. During 2012, the company actually transferred $8.9 million from loan loss reserves.
The company reported a 2012 ROA of 0.95% and a return on average common equity of 7.05%. The return on average tangible common equity was 10.87%.
McGratty said that "for investors looking to play an M&A rebound in Chicago, outperform-rated MBFI is our preferred vehicle."
After purchasing six failed institutions from the FDIC in 2009 and 2010, "more recently MBFI has taken a pause from bank M&A and recent management commentary suggests that incremental assisted transactions are less likely," McGratty wrote. "In fact, the company switched gears in the fourth quarter of 2012 when it acquired Celtic Leasing in a transaction that is expected to augment its fee-income platform going forward."
With the company getting close to the $10 billion asset threshold, after which it will face a greater regulatory burden, "there has been considerable speculation about independence at MBFI," according to McGratty. "Management is fairly vocal about its fiduciary responsibility to shareholders and we believe there would be considerable interest in the bank should the board elect to pursue a sale," he wrote.
KBW's price target for MB Financial's shares is $26. McGratty said "we could certainly envision a takeout value above these levels should a partnership with a larger regional bank occur."
-- Written by Philip van Doorn in Jupiter, Fla.
>Contact by
.
Philip W. van Doorn is a member of TheStreet's banking and finance team, commenting on industry and regulatory trends. He previously served as the senior analyst for TheStreet.com Ratings, responsible for assigning financial strength ratings to banks and savings and loan institutions. Mr. van Doorn previously served as a loan operations officer at Riverside National Bank in Fort Pierce, Fla., and as a credit analyst at the Federal Home Loan Bank of New York, where he monitored banks in New York, New Jersey and Puerto Rico. Mr. van Doorn has additional experience in the mutual fund and computer software industries. He holds a bachelor of science in business administration from Long Island University.