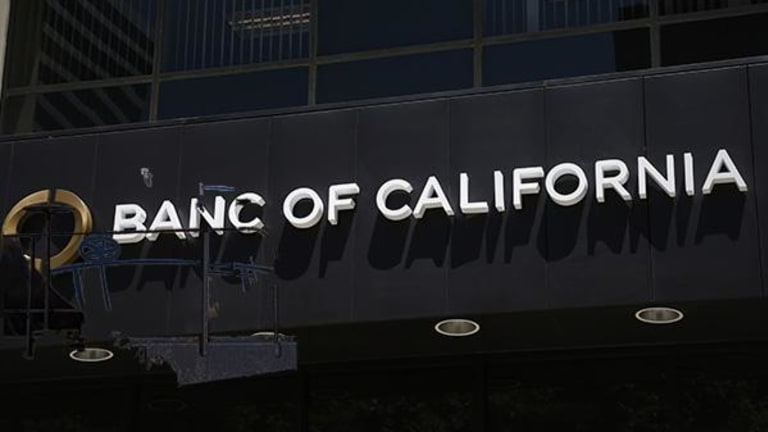 Banc of California Surges as Activist Joins Board While Scandal Clears
Banc of California stock had been under pressure since October, when a blog post alleged the company had improper ties to a financier who pleaded guilty to fraud
Banc of California (BANC) - Get Banc of California Incorporated Report , whose CEO resigned amid a regulatory probe, is poised for its biggest weekly gain since last fall after an independent review found no improper ties to a notorious securities fraudster and two major investors were given board seats.
The stock, which has climbed 20% so far this week to $19.60, is up 74% from October, when a Seeking Alpha blog post claimed the Irvine, Calif.-based company was linked to Jason Galanis.
Galanis, the son of New York financier John "Yanni" Galanis who was sentenced to 27 years in prison in the late 1980s, pleaded guilty in July, along with his father, to manipulating the market for shares of Gerova Financial before the Bermuda-based insurer's 2012 bankruptcy. Jason Galanis was 46 at the time, and his father was 73.
"We are pleased to have this investigation behind us," Board Chairman Robert Sznewajs said in a statement Thursday. "We've taken steps in recent weeks to improve governance and enhance our board, and we are committed to continuing this effort."
While Banc of California dismissed the claims about Galanis in October, the company later conceded that its initial statements inaccurately described the original review of the matter as being started by its board rather than management and that both the involvement of independent directors and the degree of contact with regulators had been overstated.
Additionally, the company said, shareholders were not told at first that the law firm originally reviewing the complaints had previously represented both Banc of California and, separately, then-CEO Steven Sugarman.
The board subsequently retained an independent law firm, Wilmer Hale, which submitted a final report this week finding Galanis had no "indirect or direct control or undue influence" over the company. 
While the Securities and Exchange Commission is still reviewing Banc of California's original disclosures, the report helps "move the company in a positive direction," Jacquelynne Bohlen, an analyst with brokerage Keefe, Bruyette & Woods, said in a note to clients Friday. "Though additional improvements are needed and uncertainties remain, we believe positive resolutions move the company toward a higher valuation."
Banc of California, which continues to search for Sugarman's successor, said Friday it had named W. Kirk Wycoff, the founder of stockholder Patriot Financial Partners, to its board. Patriot has a 6.2% stake in the company, according to a regulatory filing. 
That followed the Tuesday appointment of Richard Lashley, the co-founder of Morristown, N.J.-based PL Capital, an activist investor that had raised concerns about the board's oversight of related-party transactions under Sugarman. 
A major point of contention involved a reported $100 million paid for the naming rights on a stadium for a Los Angeles soccer team whose owners included Sugarman's brother.
Lashley wrote in October that examination of the soccer stadium naming rights should be an investigative committee's highest priority.
Still unresolved is a push by Legion Partners Asset Management and a large public pension fund to install two dissident directors at the bank.
Legion and the California State Teachers' Retirement System, or CalSTRS, said in a regulatory filing Tuesday that they are nominating Roger Ballou, a director at Univest, and Marjorie Bowen, a director of ShoreTel who previously was a banker at Houlihan Lokey.
The filling, which offered few specifics on the reasons for the move, said the two investors have problems with Banc of California's governance and related-party transactions that they described as "largely unchecked" by the board.
The bank, which topped Wall Street's profit estimates for the last three months of 2016, said Jan. 30 that neither Sugarman's departure nor the probe of the Galanis claims had any effect on its financial performance.