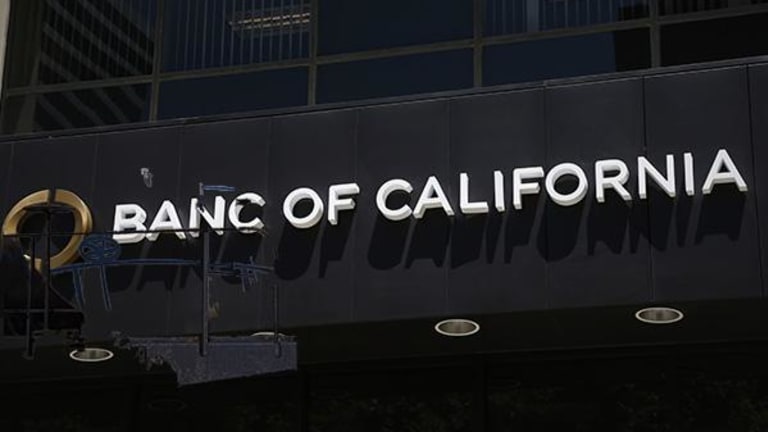 Banc of California Faces Proxy Fight by Activist Allied With CalSTRS
The California bank's CEO stepped down last month amid a probe by the Securities and Exchange Commission
Activist investor Legion Partners Asset Management and a large public pension fund are seeking to install two dissident directors at Banc of California (BANC) - Get Banc of California Incorporated Report , whose CEO resigned amid a regulatory probe sparked by claims the company had ties to financiers with a history of fraud.
Legion and the California State Teachers' Retirement System, or CalSTRS, said in a regulatory filing Tuesday that they are nominating Roger Ballou, a director at Univest, and Marjorie Bowen, a director of ShoreTel who previously was a banker at Houlihan Lokey, to the company's seven-member board.
The filling, which offered few specifics on the reasons for the move, said the two investors have problems with Banc of California's governance and related-party transactions that they described as "largely unchecked" by the board.
In an added twist, the proxy contest comes as another activist fund, bank specialist PL Capital's Richard Lashley, may be in negotiations with Banc of California to obtain two board seats for his own candidates, according to people familiar with the situation.
The board is expected to have two vacancies soon and three seats up for election at its next shareholders meeting, which could take place as early as May.
PL Capital raised a series of concerns in October about board oversight of related-party transactions. A major point of contention involves a reported $100 million paid for the naming rights on a Los Angeles soccer team's stadium while the brother of then-CEO, Steven Sugarman, was a minority investor in the organization.
At the time, Lashley wrote that examination of the soccer stadium naming rights should be an investigative committee's highest priority.
The Irvine, Calif.-based company is also grappling with a class-action shareholder lawsuit and allegations, made in a Seeking Alpha blog post last fall, that the company had improper ties to Jason Galanis. 
Galanis, the son of New York financier John "Yanni" Galanis who was sentenced to 27 years in prison in the late 1980s, pleaded guilty in July, along with his father, to manipulating the market for shares of Gerova Financial between 2009 and 2011. Jason Galanis was 46 at the time, and his father was 73.
Gerova, a Bermuda-based insurer, filed for bankruptcy in 2012.
Sugarman stepped down as CEO of Banc of California last month amid an SEC probe into the company's original response to the Seeking Alpha claims.
The bank, which topped Wall Street's profit estimates for the last three months of 2016, said Jan. 30 that Sugarman's departure and an outside probe of the claims regarding Jason Galanis have had no effect on its financial performance.
Banc of California concedes, however, that comments last fall inaccurately described its initial review of the alleged ties to Galanis as being started by its board rather than management and that company disclosures overstated both how closely independent directors were involved and the degree of the company's contact with regulatory agencies.
Additionally, the company said, shareholders were not told at first that the law firm originally reviewing the complaints had previously represented both Banc of California and, separately, CEO Sugarman.
A later review by Wilmer Hale, a law firm with no previous ties to the company, found no evidence to support the claims regarding Galanis, the company's general counsel, John Grosvenor, told analysts on an earnings call last month.
Nonetheless, Banc of California recently received proxy advisory firm Institutional Shareholder Services' worst governance ranking, according to a report obtained by TheStreet.
Grosvenor has said the bank's board is committed to strengthening its oversight and has already split the roles of CEO and chairman as well as created two separate committees to handle compensation and corporate governance.
Legion, which began its campaign last month, said in an earlier filing that Banc of California should consider a variety of strategic options such as putting itself up for sale.
The investor's partnership with CalSTRS should help it overcome any concerns from institutional investors that the activist is pushing tactics that would yield a short-term gain at the expense of long-term performance.
CalSTRS' structure requires that it remain a long-term investor -- a majority of its $196.4 billion in assets under management is allocated to indexed investments across the spectrum of publicly traded U.S. companies.