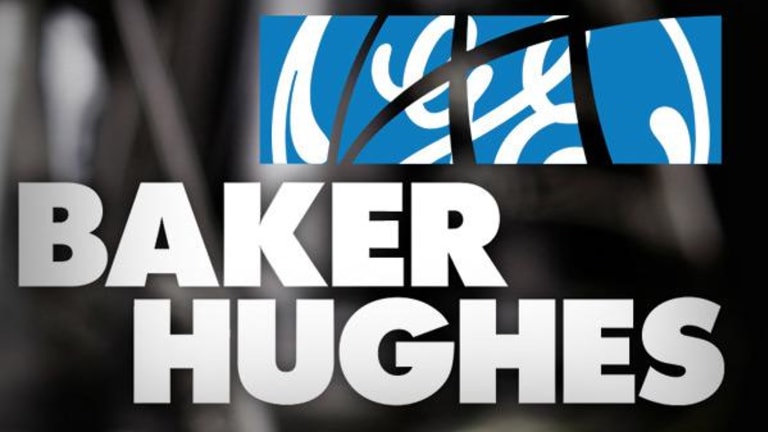 Baker Hughes Ends Chapter, Completes Deal With GE
Here's a look back at the history of Baker Hughes, which began trading on the NYSE in 1987 after the merger of Hughes Tool Co. and Baker International Corp.
When markets close Monday, July 3, Baker Hughes (BHI) , one of the world's largest oilfield services and equipment companies will cease trading on the NYSE under the ticker symbol BHI -- a symbol it has held since 1987.
On Friday, June 30, the company's shareholders voted to approve its merger with General Electric's (GE) - Get Free Report oil and gas unit, marking the final step in the merger's lengthy closing process. The companies said Monday they had closed the deal, and on Wednesday, July 5, the newly combined Baker Hughes and GE Oil & Gas will trade under the symbol BHGE. 
Under the terms of the $7.4 billion deal, which was announced in October, current Baker Hughes shareholders will own 37.5% of the new company, while GE will own 62.5%.
Monday marks an end of a major chapter for Baker Hughes, which was formed in 1987 with the merger of Baker International Corp. and Hughes Tool Co. Both Baker International and Hughes Tool were founded more than 100 years ago. 
In 1907, Reuben C. "Carl" Baker developed a casing shoe -- a device to ensure the uninterrupted flow of oil through a well -- that modernized cable tool drilling, while in 1909, Howard R. Hughes Sr. introduced the first roller cutter bit that dramatically improved the rotary drilling process, according to Baker Hughes' website. 
Hughes Sr. formed Sharp-Hughes Tool Company with longtime business partner Walter Benona Sharp to manufacture and market the bit. Following her husband's death in 1912, Sharp's widow Estelle Sharp sold her 50% share in the company to Hughes Sr. in 1914. The company was renamed Hughes Tool Co. on Feb. 3, 1915.
Howard Hughes Jr. inherited the business in 1924 following the death of his father. Under the direction of Hughes Jr., which used the company to fund various other endeavors including airlines, radio and even casinos for a time, Hughes Tool Co. went public in 1972.
But after floundering through the mid-1980s during an industry downturn, the company was faced with an offer from Baker International, the only of its rivals who had managed to innovate around Hughes's patented O-ring rock-bit seal rather than copying it.
Baker International began as Baker Oil Tools Inc., which went public in 1961 under Theodore Sutter, an executive who took control of the company after founder Carl Baker retired in 1956. The company changed its name in 1976 under the direction of E.H. "Hubie" Clark Jr., who is said to have developed Baker into a global powerhouse.
On April 1, 1987, a newly combined Baker Hughes began trading on the NYSE under the ticker symbol BHI with an opening price of $18.63 a share. Baker Hughes' shares closed Friday's trading day at $54.51 apiece. 
In the years since 1987, Baker Hughes, through various acquisitions and organic expansion, has grown into the third largest oilfield services provider in the world in sales and market cap, behind only Schlumberger (SLB) - Get Free Report and Halliburton (HAL) - Get Free Report .
It even tried to combine with Halliburton in a $28 billion that was ultimately shut down by regulators. Under GE, Baker Hughes is expected to be dwarfed only by Schlumberger. 
Now, not only will a combined Baker Hughes and GE Oil & Gas give the two greater scale, it may mark the beginning of a new chapter in oilfield services where data reigns king. 
"We view the deal as positive for the industry, particularly as it pertains to the opex and preventative maintenance side of the equation," Wood Mackenzie's E&P research director Jonathan Garrett said in an emailed statement to TheStreet. "In the last few years, the industry has taken great strides to make drilling and well completion more cost-effective and productive, BHGE will likely move the sector towards embracing Big Data in production optimization."
Garrett pointed out that there are a sizeable number of conventional oil and gas wells in the ground today that are expected to flow for about 30 years or more, and in order for this to happen great attention and investment needs to be paid to maintaining these wells and performing workovers when required.
"The engineers at GE are top-notch at installing sensors and data gathering equipment in order to allow software to make operations more efficient and predict when certain components need to be serviced or might soon encounter a problem," he wrote. "The ramifications for cost reductions are huge as prevention is cheaper than remedy. Baker Hughes brings deep oilfield expertise as one of the top three in the space."