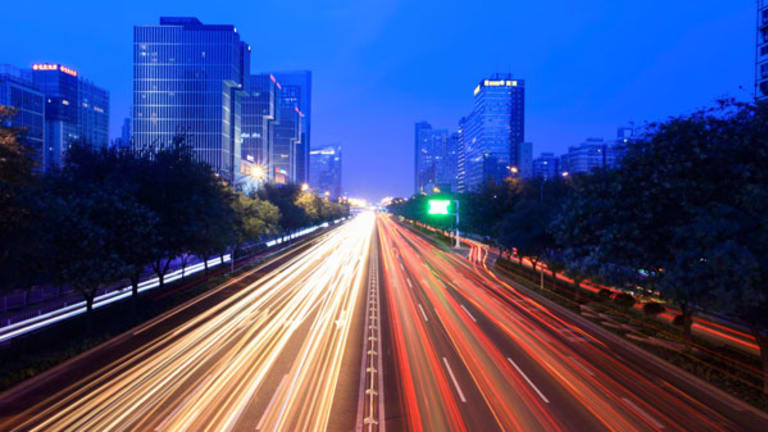 Baker Hughes Could Break Out
The BJ Services deal has opened up one key technology that was lacking inside Baker Hughes: pressure pumping.
Editor's note: When the article below originally posted on Sept. 2, Dan Dicker disagreed with how the stock market was pricing Baker Hughes. He said it would go higher. On Sept. 2, Baker Hughes shares closed at $35.01. On Oct. 7, Baker Hughes' shares stood at $43.67.
The recent picture for
Baker Hughes
(BHI)
, the oil service company, gets objectively bleaker all the time.
In those key moments when things don't seem able to get worse, I have found some of the best opportunities to trade. I think we're near one of those moments now with Baker Hughes.
On Monday, Baker Hughes acquired another smaller oil service company,
BJ Services
(BJS)
, for a total of $5.5 billion. The market saw this deal poorly, sending Baker Hughes stock down close to 10% to $34.45.
Buy Baker Hughes
Baker Hughes has seen lots of difficulties before this merger, both from competitors as well as from the general state of the oil service market.
BHI, with its $10.5 billion market cap, has always been the third wheel in oil service compared with titans
Schlumberger
(SLB) - Get Schlumberger NV Report
, and
Halliburton
(HAL) - Get Halliburton Company Report
, which sport $65 billion and $21 billion market caps, respectively.
In the fastest-growing international sector for oil service, Baker Hughes has been falling behind those other two monster companies, particularly in the area of integrated project contracts, where a company can be hired to oversee new oil development projects from start to finish.
While Baker Hughes has been lagging, the oil service industry in general has taken it on the chin. Rig counts have fallen dramatically from last year because of the recession, even as oil has crept upwards of $70 a barrel. There's just not a lot of new business to be had, and the competition for what's out there is fierce.
The numbers have reflected the tough times BHI has seen; in the latest quarter, reported profit margins have slipped to 3.72% this year from a whopping 13.78% in the second quarter in 2008. And so have the numbers in the stock price: BHI, which traded consistently between $75 and $95 a share between 2006 and 2008, has languished this year between $25 and $40, despite consistently increasing its dividend over the years.
But it's often when the skies look darkest that some of the best opportunities are found. Baker Hughes strikes me as one of those opportunities.
The BJ Services deal has opened up one key technology that was lacking inside BHI: pressure pumping. Pressure pumping is the injection of water or gas into a well to release more oil than it otherwise would. Baker Hughes had little exposure in this area.
Although pressure pumping is only cost-effective in an environment of higher energy prices than we have now, BHI has bought when the price for BJ services was historically low.
BJ Services
has also developed its own integrated projects program, which Baker Hughes can now integrate into its own business. Bottom line is, I think the market has been wrong to sell BHI off of this news. I don't think Baker Hughes overpaid for BJ Services, and I like this deal.
And BHI represents a far better value than its competitors in the oil service sector right now merely based on the numbers. It sports a 9.3 price-to-earnings ratio, while SLB and HAL carry far pricier multiples of 16.1 and 19.4, respectively.
And finally, if you're betting on the return of high gas and oil prices or even the return of historically reasonable prices for natural gas, you're going to get a big move sectorwide in oil service. Inside that group, you'll not get a better bang for your buck than with BHI. Any growth in the sector will highlight the relatively cheap price of Baker Hughes stock compared to the others and BHI should outperform.
It's darkest before the dawn, but BHI looks ready to emerge from the clouds.
At the time of publication, Dicker was long Baker Hughes, but positions can change at any time.
Dan Dicker has been a floor trader at the New York Mercantile Exchange with more than 20 years' experience. He is a licensed commodities trade adviser. Dan's recognized energy market expertise includes active trading in crude oil, natural gas, unleaded gasoline and heating oil futures contracts; fundamental analysis including supply and demand statistics (DOE, EIA), CFTC trade reportage, volume and open interest; technical analysis including trend analysis, stochastics, Bollinger Bands, Elliot Wave theory, bar and tick charting and Japanese candlesticks; and trading expertise in outright, intermarket and intramarket spreads and cracks.
Dan also designed and supervised the introduction of the new Nymex PJM electricity futures contract, launched in April 2003, which cleared more than 600,000 contracts last year alone. Its launch has been the basis of Nymex's resurgence in the clearing of power market contracts over the last three years.
Dan Dicker has appeared as an energy analyst since 2002 with all the major financial news networks. He has lent his expertise in hundreds of live radio and television broadcasts as an analyst of the oil markets on CNBC, Bloomberg US and UK and CNNfn. Dan is the author of many energy articles published in Nymex and other trade journals.
Dan obtained a bachelor of arts degree from the State University of New York at Stony Brook in 1982.