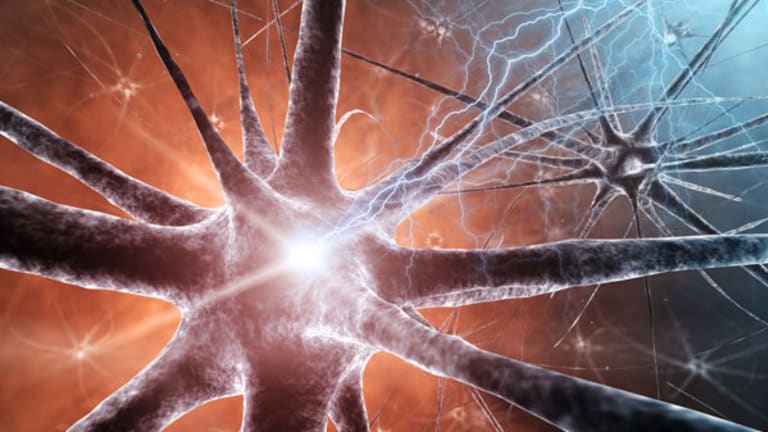 Paris (1640) (
) -- A few weeks ago, I wrote that
Human Genome Sciences'
(HGSI)
shareholders should accept
GlaxoSmithKline's
(GSK) - Get GlaxoSmithKline plc Sponsored ADR Report
$13 per share ($2.6 billion) takeout proposal, which seemed like a long-overdue life preserver for an exhausted swimmer. I still think the offer was reasonable, especially considering disappointing Benlysta sales in lupus -- a chronic, autoimmune disorder with few treatment options -- but Glaxo's aggressive tactics have surprised me. Where's the romance? Despite his knighthood, Glaxo CEO Sir Andrew Witty clearly hasn't been on a first date recently.
Since love is in the springtime air and it pains me to watch this awkward dance, I volunteer my services to Sir Andrew. (Ardent fans of Edmond Rostand's play Cyrano de Bergerac be warned: I am about to take a lot of artistic license for this reimagined version of the 1897 classic.)
CyraNate de Biotech
Let's set the scene.
Sir Andrew stands under Human Genome CEO Thomas Watkins' balcony, professing his interest in the company's assets. The coy refusal by Watkins and his Board elicits an ominous rebuttal from Sir Andrew, his face straining to project serene detachment.
CyraNate:
Guides Sir Andrew by the arm. My dear Sir Andrew, this is starting to get unseemly. We both know Human Genome wants you too. Yet she sees your fine clothes and knows you have deep pockets. (Despite a hefty debt load, Glaxo has nearly $10 billion in cash, abundant cash flow, and multiple financing options.) Let's try a gentler approach.
Sir Andrew:
Stammers with frustration. But ... Human Genome has no other possible suitors! We have already lain down together in the woods! (Glaxo and Human Genome have collaborated for years and share ownership of Benlysta. Human Genome also licensed to Glaxo a majority stake in darapladib, an orally available lipoprotein-associated phospholipase A2, or Lp-PLA2, inhibitor in Phase 3 trials for the treatment of cardiovascular disease.)
Increasingly agitated. I offered to take her from unsteady circumstances to my fortress on the mountaintop! (Glaxo's offer was 81% above Human Genome's share price at the time.) Why does she spurn me?
CyraNate:
You're right on all counts, but dreams of a brilliant future are difficult to relinquish for the realities of the present. (Darapladib could be a blockbuster if the pivotal studies work, since the cardiovascular market is so vast; Human Genome has a co-promote option and royalty rights with a net present value around $18 per share if sales reach $10 billion per year. Tantalizing, but my review suggests darapladib is unlikely to work; read the Epilogue for details.)
Sir Andrew:
Shouts towards balcony. I shall have you eventually! I shall win over your investors, replace your Board with mine own candidates, and marry you by force! (Among other tactics, Glaxo is trying to oust Human Genome's entire Board of Directors.)
Shaken by the bid -- which would mean losing his day job -- and fearing for the steadfastness of his beleaguered investors, Watkins sensibly decides he must convince Human Genome's biggest shareholders in person about the company's future. He brings with him this
somewhat unconvincing slide deck
.
CyraNate:
Slaps head in exasperation. Sir Andrew, Knight of the Boardroom Table! You have aggressively bid for Human Genome's shareholders, and might yet win the company by that route. (The tender offer expires this week. I'm guessing a slight majority of shareholders stand fast.) You clearly desire this company, and can afford to offer her a little more enticement. Don't let your stubbornness blind you.
Unfurls ancient scroll. I suggest you offer Human Genome a few more dollars per share, as well as Ye Olde Contingent Value Right -- an option on future success commonly known as a CVR -- for darapladib. That would mollify Watkins and the Board, inspire hesitant bulls, and avoid a protracted entanglement, while also providing upside compensation only for clinical and commercial success (which probably won't happen.)
Watkins returns from his meetings, his faith in his investors' resolve still shaky. Despite the predictably optimistic views of the investment bankers, Watkins also realizes no dramatically more attractive "white knight" suitor waits silently in the wings.
Sir Andrew:
Sighs and nods as he receives notification that the initial tender has failed. In my heart, I always knew it would come to this. My business instincts sought -- reasonably -- to seek advantage, but now that my initial salvo has proved fruitless, I shall endeavor to make peace.
To Watkins. My esteemed partner, in light of recent circumstances, I propose a revised offer of $16 per share and a CVR for darapladib with a net present value equivalent to $5 billion in sales (roughly $8 per share).
Watkins:
Relieved I accept.
Human Genome's shareholders applaud and finally move on to other investment opportunities.
Fin de siècle.
Epilogue
Over the last decade, a host of basic research has indicated that Lp-PLA2 plays a meaningful pro-inflammatory role in atherosclerosis. Scientists have observed increased levels of Lp-PLA2 in "rupture-prone lipid laden" atherosclerotic plaques, which -- as the name indicates -- have a meaningfully higher risk of fracturing and sending a dangerous chunk of plaque downstream. (When that plaque reaches a smaller blood vessel in the heart, it gets stuck and obstructs blood flow. Voila -- instant heart attack.) Given these findings, common sense suggests that an anti-Lp-PLA2 molecule could be an attractive therapeutic target that doesn't overlap with currently available cardiovascular drugs.
Darapladib clearly reduces plasma Lp-PLA2 levels -- by a whopping 59% in Phase II trials -- and appears to have no obvious safety signals. Based on these observations, GlaxoSmithKline has initiated two Phase 3 trials in cardiovascular disease, dubbed SOLID-TIMI 52 and STABILITY; results from the first study could be available as early as next year. (Let me pre-answer an obvious question: these are large, blinded studies and darapladib-treatment has no obvious "tell." I don't think Glaxo knows any meaningful details about the data.)
Unfortunately, there's a catch. Glaxo's 330-patient Phase 2 trial of darapladib failed completely. Despite the aforementioned reduction in Lp-PLA2, investigators noted no difference versus placebo in plaque deformability -- a somewhat subjective metric, and the study's primary endpoint, measured via intravascular ultrasound, or IVUS) or high-sensitivity C-reactive protein, a well-known marker of inflammation. Oops. Out come the data mining pickaxes.
Aside from the Lp-PLA2 reduction, the clinical "golden nugget" on which bulls have focused is the lack of "necrotic core expansion" -- an indication of unstable plaque -- observed in the darapladib group. Without other positive clinical signals, I am unwilling to read anything into this finding.
Lp-PLA2 still seems like a scientifically interesting potential drug target, but without a better explanation for the failed Phase 2 trial, I can't get that excited. (Maybe increased Lp-PLA2 in unstable plaques is a coincident finding of later-stage atherosclerosis, rather than a cause of the instability.) My skepticism explains why I think a CVR is the best solution for the Human Genome standoff; Glaxo only has to pay up if the darapladib works. I'm guessing it won't.
Disclosure: Sadeghi has no positions in any of the stocks mentioned in this article.
Follow Nathan Sadeghi-Nejad on
Nathan Sadeghi-Nejad has 15 years experience as a professional health-care investor, most recently as a sector head for Highside Capital. He has worked on the sell side (with independent research boutiques Sturza's Medical Research and Avalon Research) and the buyside (at Kilkenny Capital prior to Highside). Sadeghi-Nejad is a graduate of Columbia University and lives in New York. You can follow him on Twitter @natesadeghi.