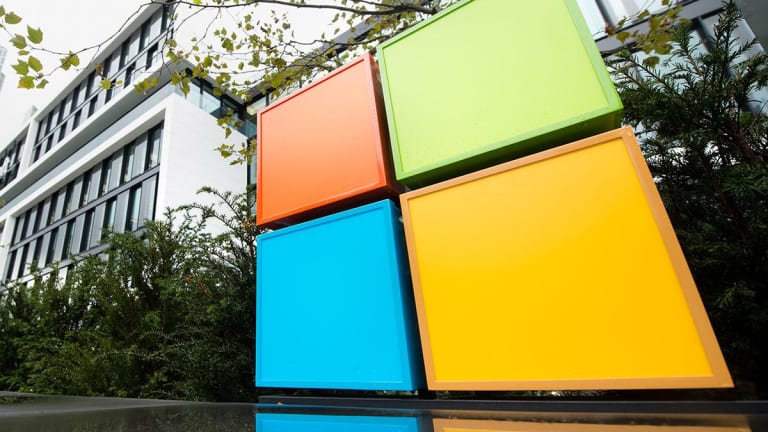 Microsoft's Azure vs. Amazon's AWS: Which One Should You Bet On?
How should investors position themselves in the cloud computing war?
The cloud is sector is becoming increasingly fragmented. While the big players target a one-size-fits-all service offering, I argue that if investors wish to participate in this hot sector, they are going to be better rewarded going with Microsoft (MSFT) - Get Microsoft Corporation (MSFT) Report over Amazon (AMZN) - Get Amazon.com, Inc. Report  . Here is why. 
How To Profit From The Cloud War?
The cloud sector is a fiercely competitive space. For now, the sector as a whole is growing at such a rapid clip that there's minimal need for the dominant players to fight for market share. That said, we have already seen how Amazon's AWS and Microsoft's Azure are attempting to position themselves with very different business models.
AWS' strategy is essentially playing off Amazon's culture. It opts for full transparency and with a strong focus on being both a rewarding and convenient experience for the end user. AWS is also determined to be a low-cost solution -- so much so that AWS has reduced prices more than 67 times since it launched. Amazon is not shy about acknowledging that some of its main customers are startups and Amazon's consumers -- not particularly enterprises with deep pockets.
The problem that Amazon has faced is that a large number of companies are going head-to-head with Amazon, and these businesses don't wish to leave their precious data in Amazon's hands. Which leads me to Azure.
Azure is not a cheap platform. However, Azure has two competitive advantages doing for it. Firstly, it has an incredibly strong distribution system already in place. It is not a huge leap for companies that already rely on Office products to start to back up their data in the cloud. Secondly, Azure is marked as a premium and reliable brand. Users have no doubts that they can trust in Azure as their foundation as they position their enterprises to compete in an increasingly digital world.
Cloud: Profit Margin Disclosures
As mentioned above, Amazon prides itself on transparency. Amazon's shareholders are fanatic about the company, for good reasons. Basically, because CEO Jeff Bezos has always come clean with its financial disclosures.
As such, we can see precisely how much revenue Amazon generates from AWS in a given year --- in 2018, it was $25.7 billion. Furthermore, investors can immediately derive from its financial statements that AWS commands operating margins of 28.4%.
On the other hand, Microsoft's financial disclosure of Azure are somewhere between the unclear and opaque. No amount of digging into Microsoft's financial statements will provide investors with a clear figure for Azure's revenue or operating profit margins.
Furthermore, presently, Microsoft acknowledges that Azure margins are not as strong as those for its traditional software business. But once Microsoft is done ramping up its operations, maybe in two to three years, Azure's operating margins could end up being similar to those of its overall Intelligent Cloud business, which are in the low 30s.  
Valuation - Where Is The Margin of Safety?
Ultimately, when investors pick a stock, they are not able to cherry-pick just AWS or just Azure. They must buy the full holding company. Thus, the problem of investing in Amazon. Amazon's retail operations, while being highly revenue generative, carry profit margins that are razor-thin in North America and largely unprofitable internationally. Hence, it's really only AWS that generates large amounts of cash, although Amazon's advertising segment is growing rapidly.
To put some numbers to it, shareholders are now paying just over 90x trailing earnings for Amazon. While this figure is substantially lower than Amazon's triple-digit earnings multiple a few years ago, Amazon's growth has slowed substantially over the last 18 months.
On the other hand, Microsoft investors are not only paying less than 28x trailing earnings, but this multiple is even lower than its historic multiple of 32x earnings. And what's more, the rest of Microsoft's operations are very cash flow generative and do not meaningfully detract from Azure's business unit.
The Bottom Line
In the long-run, fundamentals do matter. But over the short term, sometimes lasting several years, sentiment is all that matters. Investors are likely to be meaningfully better rewarded by investing in Microsoft rather than picking Amazon.
Microsoft and Amazon are holdings in Jim Cramer'sAction Alerts PLUS Charitable Trust Portfolio. Want to be alerted before Cramer buys or sells MSFT or AMZN? Learn more now.
The author has no positions in any stocks mentioned.