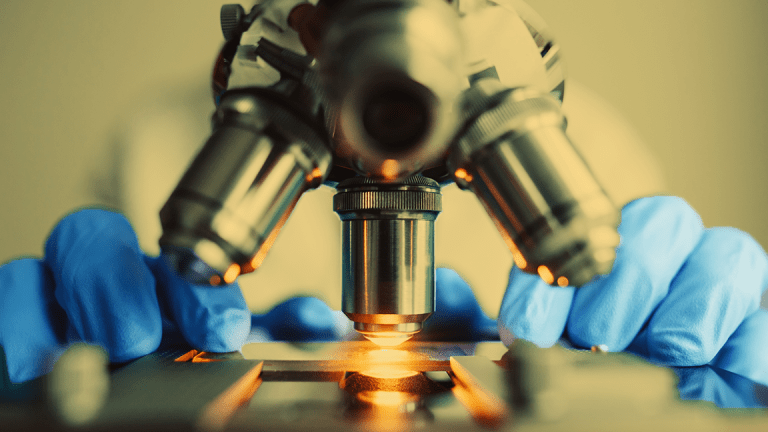 Axovant, Benetic Jump on Agreement to Develop Gene Therapy for MD
The deal is part of Axovant's strategy to focus on neurological gene therapies.
Axovant Sciences Ltd. (AXON) - Get Axon Enterprise Inc. Report knows how to kick off the week right.
Shares of the biopharmaceutical company rose 5% in early morning trading Monday after it announced it had bought the rights to a new gene therapy treatment designed for a rare form of muscular dystrophy from Benitec Biopharma Ltd. (BNTC) - Get Benitec Biopharma Inc. Report , according to a joint press release from the two companies. The treatment is known as AXO-AAV-OPMD.
Axovant rose 12 cents -- or 5% -- to $2.68 a share on news of the deal while Benitec skyrocketed $1.52 -- or 67.8% --$3.76. The two companies also entered into a research collaboration to develop five more treatments meant to target neurological disorders.
The deal is part of Axovant's goal to expand its pipeline to include more treatments for neurological diseases, Axovant CEO Pavan Cheruvu said in a conference call on Monday morning. The London-based company now has seven treatments in its pipeline that cover an array of neurological diseases including dementia, Parkinson's and Alzheimer's.
"We are methodically rebuilding Axovant's pipeline with the focus on new and potentially transformative gene therapies," Cheruvu said.
AXO-AAV-OPMD is the lead program for a new gene therapy program aimed at treating oculopharyngeal muscular dystrophy. OPMD is a neuromuscular disease that affects a person's eyelids and throat and causes severe breathing and swallowing problems, according to the National Organization of Rare Disorders. Axovant plans to have AXO-AAV-OPMD, which is in pre-clinical development, in a placebo-controlled study by 2019.
As part of the deal, Axovant will pay Benitec an upfront payment of $10 million and four future cash payments that will total $17.5 million based on the completion of four near-term milestones associated with AXO-AAV-OPMD. Benitec could earn up to $187.5 million in other incentives as part of the deal, according to the press release. 
Axovant will receive 70% of the profits from AXO-AAV-OPMD while Benitec will keep 30% once the treatment is commercialized, but Axovant will incur all costs associated with future developments.
Benitec will also receive royalties from the other treatments the two companies plan on developing together. The first gene therapy treatment the companies will investigate after AXO-AAV-OPMD will target a gene associated with amyotrophic lateral sclerosis (also known as Lou Gehrig's disease) and frontotemporal dementia.