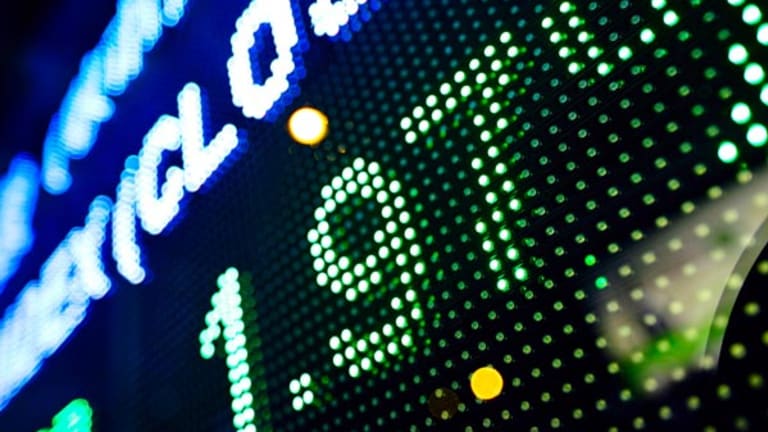 Awesome Penny Stocks Calls it Quits Amid Alleged Probe
Awesome Penny Stocks, a stock promotion firm that has been implicated in suspected pump-and-dump schemes, appears to be quitting the business
NEW YORK (TheStreet) -- Awesome Penny Stocks, a stock promotion firm that has been implicated in suspected pump-and-dump schemes that have cost investors tens of millions of dollars, appears to be quitting the business as it comes under growing pressure from law enforcement, market regulators and the estranged wife of one of its principals.
"Together, we have had an AWESOME run over the last few years," said a notice that appeared on Awesome Penny Stocks' website last month. "We have seen multiple picks soar dramatically from our initial alerts, and we have seen our members reap the profits. However, there comes a time when all things come to an end. Now is that time."
The notice goes on to say that Awesome Penny Stocks will not be releasing any future stock recommendations, which it has distributed to investors in the past through free e-mail and direct-mail newsletters.
"We have decided to shut our doors and we will not be releasing any future picks nor will we be reopening our doors at any time in the future," the statement said. "We wish our loyal members all the best, and thank you for following us since the beginning."
The apparent shutdown comes after the FBI has opened a probe into Awesome Penny Stocks. Two people with knowledge of Awesome Penny Stocks' dealings have told The Deal that they have been questioned by FBI agents since 2012.
A spokesperson for the FBI in Washington declined to comment, citing the agency's policy of neither confirming nor denying the existence of on-going investigations.
At the same time, the Quebec government's revenue division is trying to collect C$11.5 million (U.S. $11.1 million) in back taxes from John Babikian, Canadian news media reported last month. Babikian's wife linked the 26-year-old Canadian to Awesome Penny Stocks in a divorce filing last month. Babikian has recently relocated to Monaco from Montreal, according to Canadian news reports. He is said to have reported only C$47,677 as his income for 2008 to 2010.
Babikian has established citizenship in Lebanon and Nevis along with his native Canada, his wife claims in a legal filing. Babikian also holds a diplomatic passport from Guatemala and has applied to other countries, the filing claims. It also claims he has a NetJets private jet rental account through a charitable organization he controls called Vertical International Relief Fund, which makes international air travel easier.
Calls and e-mails directed to one of Babikian's lawyers, Michel Gauthier of Montreal, were not returned. Calls to Stanley Morris, an attorney who has represented Awesome Penny Stocks and Babikian in the past, were also not returned. Morris is a principal in the Santa Monica, Calif., law firmCorrigan & Morris LLP.
Meanwhile, theSecurities and Exchange Commissionhas halted trading in the last three stocks that Awesome Penny Stocks promoted: Trading in PacWest Equities Inc. was stopped in September, Pacific Clean Water Technologies was halted on Oct. 11, and Press Ventures Inc.was stopped on Oct. 30.
Based on an examination of SEC records, internal Financial Industry Regulatory Authority documents, broker-dealer trading records and interviews with SEC officials and people who have spoken with investigators, The Deal has determined that enforcement officials have been paying attention to Awesome Penny at least since July 2011. The firm has been in business since at least September 2010.
Quebec securities regulator L'Autorite des Marches Financiers (AMF) is also investigating Babikian, according to a Canadian securities official. And, in 2011, the SEC asked for AMF's assistance in identifying Babikian for an investigation of his Awesome Penny activities, AMF spokesman Sylvain Theberge confirmed in an e-mail.
Awesome Penny was named in an internal Finra document in April about a suspected pump-and-dump of the shares ofGoff Corp., which has purported to be a Medellin, Colombia-based mining company. Awesome Penny, which is also known by other names including Degroupa Tenner Morales Media Group, participated in the promotion of Goff shares.
"Degroupa has been named in numerous FINRA fraud surveillance section referral reports sent to the [Securities and Exchange] Commission for suspected market manipulation schemes," Finra's report on Goff states. "See most recentlySwingplane Ventures Inc., Carrillo Huettel LLP, AwesomePennyStocks.com FINRA matter no. 20130356762, dated March 21, 2013."
Since 2010, Awesome Penny has run a service in which penny stock investors could subscribe to receive the firm's "picks," the stocks which it was being paid to promote, according to its website and legal disclaimers on its promotions.
In all, the company participated in promoting at least 31 companies through reports posted online, e-mails sent to subscribers and hard-copy mailers. The promotions were paid for by third parties. Sometimes those parties were identified in disclosures in the footnotes of Awesome Penny's mailers. Other times they were not. The promotions generally claimed fundamental reasons why the company's earnings were likely to rise and implored investors to buy the stock.
The reports also did not mention that insiders holding shares, often purchased for a fraction of a cent, would sell those shares into the promotion driving the share price down for retail investors.
Babikian's wife Alima Beg claims in divorce papers filed in September that Babikian has amassed a fortune of more than $100 million by running a business in which "he acquires, directly and indirectly, large stakes in penny stocks, then 'promoting' these penny stocks through multiple web sites, thereby causing the price of these stocks to run up, so that he can 'dump' the stocks with enormous profits."
Shares of the stocks promoted by Awesome Penny generally plunged when the promotions were over. Great Wall Builders was at 90 cents a share the day before its promotion began in May 2012. It rose to a high of $1.80, doubling its value during the promotion. By the end of June, after the promotion had faded, the shares had dropped to 62 cents. As of Nov. 2, it trades at less than a penny.
North Springs Resources traded at 14 cents on its first day of trading in December 2011, just days before Awesome Penny began its pump. At its high point in February 2012, the shares were rolling at $1.72. When the promoter abandoned the stock, it slid to 16 cents. Today, North Springs also trades at less than a penny.
The SEC investigation of Awesome Penny was first made public in November 2012 by The DealFlow Report, a publication of The Deal. The probe was verified at the time by an SEC enforcement official and two people that had provided data to the commission in the course of the probe.
SEC officials declined to comment for this story.
Finra has investigated trading in the stocks of North Springs Resources; Goff; Sunpeaks Ventures Inc., which has since changed its name to Pharmagen Inc.; Amwest Imaging Inc., which has changed its name to InterTechSolutions Inc.; Great Wall Builders;Pristine Solutions Inc.; Swingplane Ventures Inc.;Portage Resources Inc.; VuMee Inc.; andPub Crawl Holdings Inc.All of those companies were the subject of paid promotion by Awesome Penny Stocks. Finra's investigations were handed over to the SEC for further enforcement action.
Other firms involved with Awesome Penny stock promotions are facing lawsuits filed by the SEC, administrative actions filed by Finra or are under investigation.
Since April, Finra has been pursuing sanctions against New York-based broker-dealerJohn ThomasFinancial and its CEO Tommy Belesis in connection to trading inAmerica West Resources Inc., an Awesome Penny Stocks promotion target. Finra charged Belesis and John Thomas with securities fraud and trading ahead of customer orders.
John Thomas is no longer in business.
The complaint cites John Thomas's sale of 855,000 shares of America West in February while the company was the subject of a paid promotion by Awesome Penny. The promotion caused America West shares to rise more than sevenfold, allowing John Thomas to make more than $1 million on its sales of the stock.
At the same time, the firm failed to act on orders from 15 clients to sell America West shares, according to the Finra complaint. Those orders were allegedly held until the next day or later.
While John Thomas had sold its own American West shares at an average price of $1.26 each, the 15 clients' shares were allegedly sold at prices ranging from 57 to 91 cents. Belesis and John Thomas have declined comment on the Finra action.
The SEC, meanwhile, filed a lawsuit in March accusing the San Diego-based law firm of Carrillo Huettel LLP of stock manipulation. The firm, which shut down last year, frequently represented registered shell companies that were used in reverse mergers. The public companies that were formed in those mergers were sometimes then promoted by Awesome Penny Stocks.
Awesome Penny is not named as a defendant in the SEC's suit against Carrillo Huettel. The suit accuses the law firm of drafting misleading securities filings and legal opinion letters to help another group of Canadian stock promoters hide their ownership interestsPacific Blue Energy Corp.and Tradeshow Marketing Co. while engineering pump-and-dumps in those stocks in 2010
Finra has also opened investigations into a number of offshore broker-dealers that have been linked to "timely stock trades during apparent 'pump and dump schemes,'" involving the stock of companies promoted by Awesome Penny Stocks, according to documents obtained by The Deal. Those broker dealers include Caledonian Global Financial Services Inc., Caledonian Bank Ltd. and Caledonian Securities Ltd. in the Cayman Islands; Clearwater Securities Inc. in Belize; Legacy Global Markets SA and Argus Stockbrokers Ltd. in Cyprus; CBH Compagnie Bancaire Hevetique SA and Bank Gutenberg AG in Switzerland; and Verdmont Capital SA in Panama. None of these broker-dealers responded to requests for comment.
"In our opinion Great Wall Builder could potentially break through $2 in the short-term and perhaps even see its 52-week high of $13 in the long-run," Awesome Penny stated in a direct-mail promotion for the stock last year.
The promoter also claimed that analysts had placed a $10 price target on the stock.
"Members could be looking at over 1,000% in gains," Awesome Penny stated.
As the promotion ran, Great Wall shares rose from a low of $1.22 on May 15, 2012 to $1.95 June 7. Daily trading volume climbed from as low as 100 shares before the promotion started to 35.9 million.
As of Oct. 28, Great Wall shares had fallen back to less than a cent and the company had a market cap of just $1.57 million.
In the case of Sunpeaks, the stock moved from 43 cents up to a high of $2.40 and a market cap of more than a $1 billion as the stock was promoted in March and April 2012. As of Oct. 28, the stock traded at less than a penny, giving the Silver Spring, Md.-based company a market cap of just $2.77 million.
According to an internal report from Finra to the SEC dated April 26, 2013, stocks promoted by Awesome Penny Stocks from October 2011 to April 2013 "generated collective proceeds of $132.8 million."
Others suggest that that figure may be low. George Sharp, a former stock promoter himself, is pursuing a lawsuit against Awesome Penny in California under that state's law against spam e-mail. He pegs investor losses at $2.1 billion for just 10 of the 31 stocks the firm has promoted.
While Awesome Penny has been hard to miss in the penny stock world, its offices and management are hard to find.
The company had offices in Belize, Panama and Canada, according to legal disclaimers on online promotions, but The Deal has been unable to find legal records of Awesome Penny's operations in those countries. The company's computer servers have been located in Singapore, Germany, Australia, Poland, Spain, Sweden and the Czech Republic, according to website domain records. In the past, Awesome Penny has been linked to 19 penny-stock promotion websites and as many as 72 web domains, according to Domain Tools, a company that tracks and markets online domains.
Beg's divorce filing against Babikian, filed in Quebec Superior Court, includes a detailed description of Babikian's finances and asks the court to assure that his assets are frozen. The filing names 20 different off-shore entities that Babikian allegedly controls and uses to shelter assets, including companies in the Bahamas, Guatemala, the British Virgin Islands, Belize, the Seychelles and Panama. Beg also claims that Babikian has companies or is forming entities in St. Kitts, Nevis and Hong Kong.
Babikian ran Awesome Penny Stocks from "specially encryptedBlackberrysmartphones, which he uses for a few days or weeks before destroying and replacing them," Beg claims in her filing. "He smashes his smartphones into small pieces that are disseminated in different garbage bins so that it is absolutely impossible for anyone to reconstitute the devices and have access to the information they once contained."
Beg linked Babikian to Houston attorney Leonnel Iruke of Omnisource Legal Group and Uyamadu Law Firm PLLC.
"Mr. Iruke works exclusively or almost exclusively for Babikian," Beg's filing states. "He is always available for Babikian and jumps on a plane to meet him in Monaco, Montreal or any other cities whenever he requires his presence. He is the one setting up corporate entities, helping Babikian to get different citizenships and to shelter his assets from recovery by any type of creditors."
Beg also claimed that Babikian runs cash through Iruke's trust account as a conduit for sundry expenditures and that a debt that Babikian supposedly owed Iruke was used as a basis for bankrupting a Quebec company that Babikian controlled.
Iruke did not respond to phone calls seeking comment.
With the money reaped from Awesome Penny, Babikian invested in real estate, buying a pair of homes in Los Angeles, according to a lawsuit filed by Beg in California Superior Court in Los Angeles. Babikian also invested in nine condos at the beach resort TheReefAtlantis in Nassau, Bahamas, as well as three waterfront lots in Quebec for $2.7 million, according to the Canadian injunction. He bought a condo in Montreal for $370,000 in cash and another piece of land in Quebec for $677,250 in another cash transaction.
Beg said that her husband used cash even in very large transactions. She claims that she once helped him count out $3 million to construct a home in Montreal.
Babikian also bought luxury cars, including 2010 Bentley Continent, a 2010 BMW X6, a 2010LamborghiniGallardo and a 2008 Bugatti Veyron, Beg claims.
Babikian's bankers were troubled by his accounts, according to the divorce filing. It said thatBank of Montrealclosed an account of Babikian's after he told the bank his yearly income was $24,000 but hundreds of thousands of dollars began posting to the account from odd locations and sources that were essentially untraceable.Royal Bank of CanadaandHSBCSwitzerland also told him to take his business elsewhere. On the other hand, HSBC Hong Kong, according to Beg, furnished Babikian with a device making it easier to do wire transfers from anyplace.
Beg listed accounts for Babikian in Los Angeles at Bank of America, as well as banks in Hong Kong, Monaco, the Bahamas, Belize and Malta.
Before he debarked for Monaco, it appears that Babikian's business and personal affairs took a turn. The Quebec revenue service filed documents in April that showed two businesses controlled by Babikian went bankrupt and that he sold off the 2010 Lamborghini Gallardo for C$190,000. He sold off a Range Rover in Los Angeles for $65,000 earlier this year. Beg said in a legal filing that the sale of the Range Rover, which was also in her name, was done against her wishes and that Babikian had to forge her name in order to sell the vehicle.
In June, according to Beg, Babikian removed the couple's wine collection that carried a value of $1 million as well as a pair of Arturo Di Modica bull statues worth $600,000, similar to the famed 11-foot sculpture at Bowling Green Plaza near Wall Street in New York.
While Babikian sold off the Lamborghini, he did manage to hold onto the Bugatti Veyron. According to Beg, Babikian avoided having the car seized by the tax agency by shipping it to Monaco. He had it brought back in June 2012 for the weekend of the Grand Prix Montreal. Following the race, Babikian allegedly shipped the car back to Monaco, frustrating the tax authorities who wanted to impound the car.
A Sept. 19 court filing in California shows that Beg filed a lawsuit against her husband for allegedly transferring ownership of the Los Angeles homes the couple owned to entities Babikian controlled in the Republic of Seychelles and Guatemala.
While Awesome Penny Stocks says it is out of the stock promotion business, the website Preferred Penny Stock, which has often promoted the same stocks as Awesome Penny, is trying a new strategy. The website, controlled by Belize-based Victory Mark Corp Ltd., announced on Nov. 4 that it was only going to promote stocks that are listed on theNew York Stock ExchangeorNasdaq.
"Over the last year, our team took serious notice of how the playing field is no longer level in the microcap markets," Preferred said on its website. "In order to continue bringing the best service to our subscribers, we need to change strategies."
Preferred is making an effort to disassociate itself from Awesome Penny Stocks.
"It's no secret that in the past we have been hired to alert some of the same companies as Awesome Penny Stocks, but let us assure you, there is NO affiliation," Preferred said on its website. "Our team has been watching the microcap market closely and frankly we believe the day of the penny stock newsletter has come to an end."
The promoter cited 38 microcap trading halts in the third quarter, the three Awesome Penny Stocks-promoted stocks halted in the last month and companies creating too many shares without regulatory oversight as reasons for its strategy shift.
--By Bill Meagher in Petaluma, Calif.