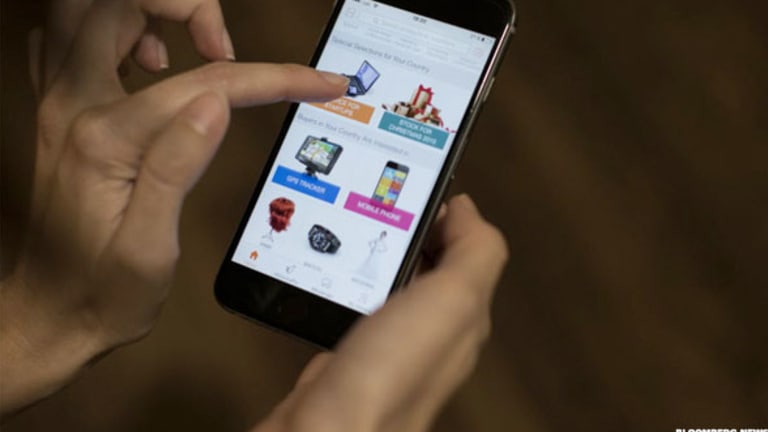 Awesome Gifts for People Who Lose or Forget Things
Have a forgetful friend, coworker or family member? Consider some of these products, which will make their life (and yours) a lot easier!
Have a forgetful friend, coworker or family member? Consider some of these products, which will make their life (and yours) a lot easier!
Searching for a gift for that special someone who seems to be a little forgetful or tends to lose everyday items such as his keys or wallet? Some of the newest technology on the market is proving to be the forgetful person's best friend as some products allow you to track and find missing items while other products can act as a reminder.
TheStreet
compiled a list of helpful "finders" and some "reminders" that could be the ideal gift for an absent-minded friend, boss, co-worker, neighbor or loved one.
Uniclife Key Finder Wireless RF Locator
Equipped with a remote control, this push-button finder gives you an advantage over everyone else at the airport luggage carousel. A simple push of the button signals the finder to sound a beep and illuminate a blinking light--you find your luggage before anyone else. Plus, the device is ideal for use on keys, pets, wallets and phones--anything you typically misplace and need to find immediately.
This locator has an expansive range of up to 30-50M and can locate your item through walls and floors. Batteries required--battery transmitter: CR2032, 3V and battery receiver: CR2032, 3V. Never lose those important (and often small) items again!
Buy Uniclife Key Finder Wireless RF Locator for $11.99 on Amazon
Justick JL-500 Justick Lite Electro Adhesion Bulletin Board
Guilty of misplacing important papers? Never lose a document again with this revolutionary "magnetic" bulletin board that allows your paperwork to "cling" to it without any tacks, glue or tape. The board surface is created from a smooth, polymer material that allows for adhesion.
Comes with a standard aluminum frame, sized at 24 x 36 inches, the Justick JL-500 uses 4 AAA batteries to stay charged (batteries not included). The board will work with an AC adaptor, which allows for greater flexibility and keeps the board charged. Ideal for any office, home or dorm room.
Buy Justick JL-500 Justick Lite Electro Adhesion Bulletin Board for $95 on Amazon
Smart Bluetooth Tracer GPS Locator Tag Alarm Wallet Key Pet Dog Tracker
Never lose your pup again with this smartphone compatible Bluetooth dog tracker. Tracks runaway pooch up to approximately 75 feet and is compatible with iPhone 5S/5C/5/3rd generation, iPad Air, iPod touch and the Android smartphone. Works with a CR2032 lithium coin battery (not included) and accommodates a variety of languages. Tracker can be used on other items including keys, wallet, laptops and more.
Although trackable up to 75 feet (without barriers), the tracker does not track through GPS via your smartphone out of range.
Buy Smart Bluetooth Tracer GPS Locator Tag Alarm Wallet Key Pet Dog Tracker for $5.48 on Amazon
Vacu Vin Rapid Ice Wine Cooler
If you know someone who notoriously forgets to chill the wine, this handy device will get him out of a pickle in jiffy! The Vacu Vin Rapid Ice Wine Cooler can ice down a single bottle of white in five minutes and keep it cold for hours. No messy ice to deal with and easy to store in your freezer, this wine chiller may end up being the most handy party item at your disposal. Lay flat in the freezer for approximately six hours to prepare the chiller for use. Easy to transport, carry and use--this is one wine chiller that makes your next party a breeze!
Buy Vacu Vin Rapid Ice Wine Cooler for $11.99 on Amazon
"Put Me Down" - Toilet Seat
Tired of falling into the toilet when you have to use the bathroom in the middle of the night? Perhaps a friendly "reminder" will help the guys in your life remember to put down the toilet seat after use. This water resistant vinyl decal fits nicely around the inside of any standard toilet seat and is quite apparent when the seat is in the upright position. Also reminds families with curious pets to put down the seat lid to reduce the likelihood animals will drink out of the bowl. Adheres with ease and provides a no-damage removal.
Buy "Put Me Down" - Toilet Seat for $7.99 on Amazon
Thumbs-Up Life Pod, Self Watering Herb Pot
If your loved one's plant life fail is based in a simple lack of water, consider giving this self watering pot as a gift to fix the problem. Easy to mount on nearly any flat surface, this handy little pot delivers a steady supply of water to your herbs or small plants so you don't have to remember on an ongoing basis.
Easy to use--add plant and water! Comes with two adhesive strips, which makes mounting easy on any smooth, clean surface. Ideal for mounting on windows so you can feed your plant with both water and light at the same time! Each set comes with two planters.
Buy Thumbs-Up Life Pod, Self Watering Herb Pot for $23.10 on Amazon
Tile (Gen 2)
Aptly referred to as a "frustration reducer", this tiny Bluetooth tracker is a small tile that attaches to anything you tend to lose. Track your keys, wallet, glasses and phone--even when your phone is on silent! App is easy to use and locates items within seconds--no battery or charging required so you literally have to remember to do nothing with this device!
Need to track an item that could potentially get wet? Tile comes with a sealed, water resistant case, which protects the device from the elements but still works just as effectively. Tracks items within a 100 foot Bluetooth range and rings with a loud melody once the item has been located. Compatible with Apple iOS and Android devices with Bluetooth 4.0.
Buy Tile (Gen 2) for $69.95 on Amazon
iRobot Roomba 650 Vacuum Cleaning Robot
Sometimes it's easy to "forget" to vacuum the floor--or sometimes you just simply don't want to do this arduous chore. Regardless of your reason, this iRobot Roomba does the work for you with a simple push of a button. Ideal for pet owners, this handy little robot goes where the dirt and hair travels, while at the same time avoiding stair or drop offs that might topple the robot.
Roomba is even small enough to fit underneath some hard to reach furniture, which provides are more complete clean. Once Roomba has done the job, it retreats back to its own charging station and recharges the batteries to prepare for its next run.
Buy iRobot Roomba 650 Vacuum Cleaning Robot for $339.00 on Amazon
Petsafe Healthy Pet Simply Feed
Sometimes human beings forget to fed their pet, which may cause some built up frustration on Fido's part. Never allow your busy schedule to get in the way of mealtime, and get the Petsafe Healthy Pet Simply Feeder.
This pre-programmable feeder can schedule up to 12 meals per day in various amounts and can feed pets at a variety of speeds. Ideal for the pet who gobbles his or her meal too fast as this feeder can dispense food slowly. Dispense the dry kibble of your choice, this feeder runs on 4D batteries (not included). Recommended for any pet owner trying to maintain or help his pet lose weight too.
Buy Petsafe Healthy Pet Simply Feed for $129.95 on Amazon
SeaThingz Flameless Candles
Forgetting to blow out candles lit in the home can be an extremely dangerous situation, possibly putting your family and home in harm's way. If you find you can be forgetful, especially if you like to light up a room with a decorative candle, consider these authentic, flameless candles. Just as illuminating, but far more interesting, the SeaThingz Flameless Candles provide elegance and set the mood without the danger of an open flame.
Runs on a tiny LED battery, simply turn on your "sea creature" candle to create ambiance. The cr2032 battery provides up to 70 hours of illumination and can be replaced, giving your brightened sea urchin even longer sea legs than any flame-based candle.