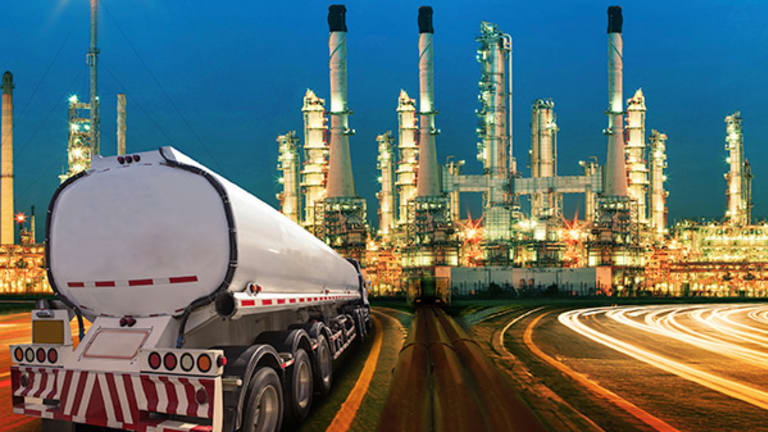 Publish date:
Avoid This One Energy Stock at All Costs
The oil exploration and production company has lost more than three-quarters of its value this year alone. Here's why investors should continue to keep away.
The oil exploration and production company has lost more than three-quarters of its value this year alone. Here's why investors should continue to keep away.
It's no surprise that the energy industry is feeling the burn right now. With prices for oil and natural gas hitting crazy lows, companies that deal in these resources are seeing their stocks crater as well.
Cobalt International Energy (CIE) has been among the hardest hit. Shares of the oil exploration and production company have crashed 75.56% in 2016 so far.
There have been several factors leading to Cobalt's spectacular slump: a spate of poor earnings, a disaster involving the sell-off of its assets in Angola, and several write-offs relating to a dry hole.
Cobalt is trying to fix its problems. However, that's no guarantee that the company's fortunes will improve. In fact, things could only get worse.
After the company's CEO and CFO exited in quick succession, Cobalt brought in a number of top professionals from BHP Billiton to help set things right.
However, Cobalt's offshore drilling business remains an expensive and risky proposition.
Unlike Exxon Mobil or Noble Energy, Cobalt lacks the cash flow or liquidity from legacy producing assets to plough back into fresh development projects.
This implies the need to raise debt or access other avenues beyond capital.
Cobalt nearly received a much-needed cash infusion when Angola's state oil company, Sonangol, agreed to buy Cobalt's assets in that country. However, raising $1.75 billion for the blocks proved an impossible task. The deal therefore fell through.
It seems Cobalt may not find buyers for the blocks at their current valuations -- and at the same time, it cannot raise debt since it's already encumbered with $2 billion in loans on its books.
And if all that weren't enough, Cobalt was forced to report a second-quarter loss of $200.4 million, driven by the write-off of the company's dry Goodfellow prospect (co-owned by France's Total).
We believe at this time only a deal for the Angola blocks can launch the slim chance of a recovery.
While management at Cobalt has indicated there's enough cash in its coffers to last till 2017, without funds the future beyond that is terribly uncertain; although bankruptcy looks far-fetched.
Many investors would probably opt for bottom fishing at this juncture. Even CEO Timothy Cutt purchased 100,000 shares for around $1 each, and CFO David Powell devoured another 100,000 shares at roughly $0.985 each recently.
We doubt if Cobalt can survive without a turnaround in the price for oil or the sale of its Angola assets. This is clearly one energy stock you need to avoid.
---
What if I told you there is a way to make $67,548 per year - or more - without stocks at all, just by following this simple step-by-step process? The trader who is sharing this secret has been right more than 8 out of 10 times, turning $5,000 into more than $5 million for himself. Click here to see how easy it is to follow his lead and collect thousands of dollars in "Free Money" every month.
This article is commentary by an independent contributor. At the time of publication, the author held no positions in the stocks mentioned.