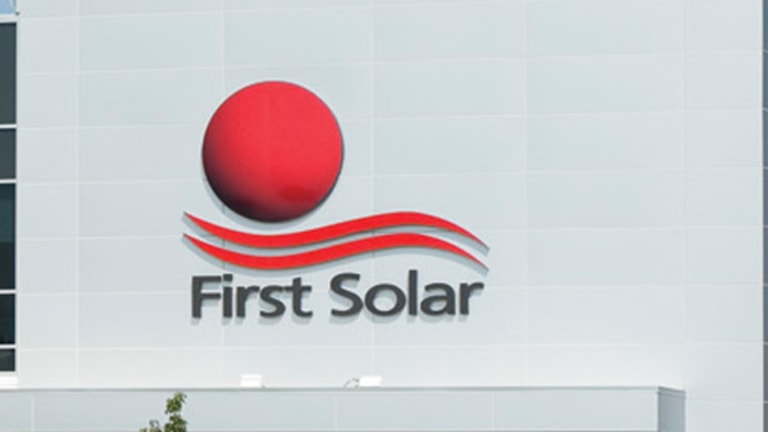 Avoid These 3 Technology Stocks
First Solar, Synaptics and Zynga have performed poorly, and that's unlikely to change in 2017.
While the broad stock market was able to swallow another interest rate hike and continue rising, investors should be on the lookout for losers that are getting picked up in the post-election bull run. Many of these companies face significant challenges, including increased competition, management problems, sluggish demand and a failure to remain innovative.
Consider the three tech companies below. They don't have much going for them and could cost investors in the next correction.
First Solar
The solar industry has had a difficult 2016 led by faltering solar panel makers like First Solar (FSLR) - Get Report . Stalling sales growth and declining earnings over the last five years combined with competition from Chinese manufacturers have cut First Solar's share price in half this year from $66 to $33.
Management said in the company's most recent earnings call that the upcoming year would, "present significant challenges". Unfortunately, the transition away from more confident language earlier in the year does not give investors confidence that the company has a grip on the changing solar energy landscape.
We're still confident in the long-term success of the solar industry as it becomes an increasingly affordable and competitive source of energy. However, First Solar's management's flip-flop on its strategy to focus on solar panel component sales and then say that they would walk away from the strategy when it isn't profitable doesn't give investors much confidence.
Synaptics
Maker of mobile-device interface software, Synaptics (SYNA) - Get Report , has also been struggling the last two years. Earnings of $2.89 in fiscal 2015 fell to $1.91 in 2016 and sales are also expected to fall compared to the previous year. Reflected in the company's share price, Synaptics is down over 31% this year from $80 to $55.
In the first half of 2016, insider trading activity by the company's officers suggested that they don't have much confidence in its future. Every stock transaction executed by the officers was either an "automatic sale," "disposition" or "option exercise," decreasing their stake in the company by a whopping 75%. That's a huge red flag and investors should look elsewhere in the highly competitive mobile-device interface software industry.
Zynga
Zynga (ZNGA) - Get Report used to be a "next wave" company riding the success and excitement of mobile games like FarmVille and Words with Friends, but no longer. The company which was only profitable in 2010 continues to show an inability to bring profits or innovate beyond the mobile game advertising business model that only worked back in 2016.
Ever since Don Mattrick (former Microsoft Xbox executive) stepped down as CEO of Zynga less than two years after his appointment, investors seem to have lost confidence in the company's ability to rebound. Bringing back cofounder Mark Pincus as CEO seemed to have provoked investors, whom they blame for many of Zynga's past problems.
Currently, Zynga does not have a title ranked among the top 30 grossing game apps on iOS or Android.
---
We've just explained which tech companies will NOT be good buys. For a better income opportunity we've found a genius trader who turned $50,000 into $5 million by using his proprietary trading method. For a limited time, he's guaranteeing you $67,548 per year in profitable trades if you follow his simple step-by-step process. Click here now for details.
This article is commentary by an independent contributor. At the time of publication, the author held no positions in the stocks mentioned.