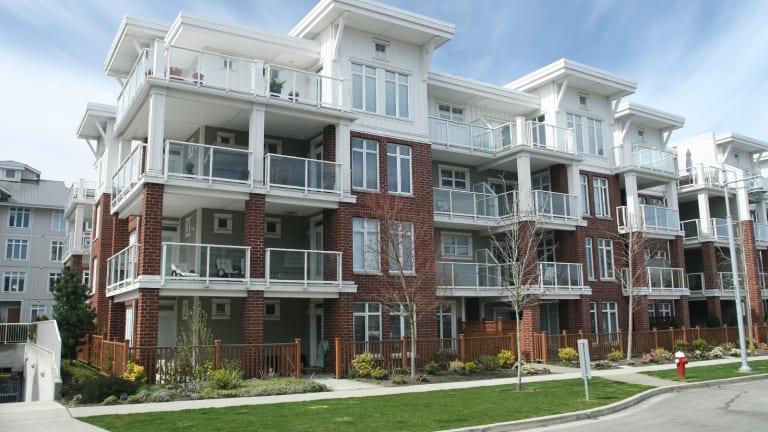 Avoid the 'REIT Rout' -- These 5 REITs Are Breaking Out Now
Real estate investment trusts have been in free-fall this month -- but a small handful of under-the-radar REITs are actually on the verge of breakout territory.
REITs are in a rout.
Since peaking back in August, real estate investment trusts, better known as REITs, have been under pressure - for instance, the SPDR Dow Jones REIT ETF (RWR) - Get Free Report has sold off more than 13% over that three-month stretch, lagging the broad market averages in a big way. And the selling in REITs has only accelerated post-election, as investors gear up for the prospect that President-Elect Donald Trump could pressure higher interest rates from the Federal Reserve.
That upward interest rate pressure has translated in a selloff for REITs, which are hugely rate-sensitive because of their huge dividend yields. If yield becomes easier to find in lower-risk assets, there's a lot less buying pressure after REITs from dividend-chasers.
At this point, it's too early to call the REIT rout over. The industry could still fall further from here - which is especially bad for anybody chasing yield, considering the fact that the REIT indices have basically unwound three years of dividend payouts in the last three months. But there's a silver lining to those black clouds. Even as REITs continue to face pressure this fall, a handful of these stocks are actually teetering on the edge of breakout territory.
Not only do the REIT breakouts we're looking at today stand to charge higher from here, they could also post some outsized returns when the broader REIT industry finds its price floor. In the meantime, we're turning to the charts for a technical look at five big REIT breakouts to buy after the election.
In case you're unfamiliar with technical analysis, here's the executive summary: technical analysis is a way for investors to quantify qualitative factors, such as investor psychology, based on a stock's price action and trends. Once the domain of cloistered trading teams on Wall Street, technicals can help top traders make consistently profitable trades and can aid fundamental investors in better planning their stock execution.
Without further ado, here's a rundown of five technical setups that are showing solid upside potential right now...
Hudson Pacific Properties
Up first is Hudson Pacific Properties (HPP) - Get Free Report, a $4 billion office REIT that currently yields 2.45%. At the same time its peers have been rolling over, Hudson Pacific has been holding up - shares are sitting on nearly 16% gains since the start of 2016, not counting this stock's dividend payout year-to-date. But don't worry if you've missed that upside move so far; the price setup in HPP signals higher ground ahead.
Hudson Pacific is currently forming an ascending triangle pattern, a bullish continuation setup that's formed by horizontal resistance up above shares at $34, and uptrending support to the downside. Basically, as Hudson Pacific bounces in between those two technically significant price setups, it's been getting squeezed closer and closer to a breakout above that $34 price ceiling. When that happens, it's time to be a buyer...
Relative strength, the indicator down at the bottom of HPP's price chart, is the additional piece of evidence for the breakout that investors should be paying attention to here. Our relative strength line, with measures this stock's outperformance versus the rest of the broad market, has been in a well-defined uptrend since February - as long as that uptrend in relative strength remains intact, HPP is statistically more likely than not to keep on outperforming. More importantly, it signals that this REIT isn't getting dragged down alongside its average peer this fall.
Redwood Trust
We're seeing the exact same price setup in shares of billion-dollar mortgage REIT Redwood Trust (RWT) - Get Free Reportright now - the big difference here is that the breakout has already happened. For Redwood Trust, the key breakout level to watch was resistance up at $14.50. Now, with that price level in the rearview mirror, more upside is the high-probablity trade.
You might be wondering exactly what makes that $14.50 level so significant for Redwood Trust? Well, it all boils down to buyers and sellers. Price patterns, like this ascending triangle setup in RWT, are a good quick way to identify what's going on in the price action, but they're not the actual reason a stock is tradable. Instead, the "why" comes down to basic supply and demand for Redwood Trust's shares themselves.
The $14.50 resistance level is a price where there has been an excess of supply of shares; in other words, it's a spot where sellers have previously been more eager to step in and take gains than buyers have been to buy. That's what makes a breakout above $14.50 so significant - the move means that buyers are finally strong enough to absorb all of the excess supply above that price level. If you decide to be a buyer of Redwood Trust here, it makes sense to park a protective stop on the other side of its most recent swing low at $13.50.
Kilroy Realty Corp.
A triangle pattern of a different type is coming together in shares of $6.6 billion commercial REIT Kilroy Realty Corp. (KRC) - Get Free Report. After rallying more than 45% off of its February lows, Kilroy has been consolidating sideways, churning in a symmetrical triangle pattern that's been constricting this stock's price range since August. Here's how to trade it:
The symmetrical triangle in Kilroy is a continuation pattern that's formed by a pair of converging trendlines. The buy signal comes on a push through that upper blue line on the chart, currently just below $72. Consolidation patterns like the symmetrical triangle are common after big moves like the one this stock started the year with - they give investors a chance to catch their breath and figure out their next step. Since Kilroy Realty started 2016 in an uptrend, it's statistically more likely to exit the price pattern to the upside too.
There's a little more to the setup in KRC than that. The constricting action of Kilroy Realty's symmetrical triangle is setting shares up for a volatility squeeze. Since volatility is cyclical, periods of very low volatility are typically followed up by a swing to high volatility. And as shares move into the tighter range of this pattern, the exit is likely to be fast - keep a close eye on KRC from here. You won't want to miss the breakout when it happens...
AGNC Investment Corp.
Good news: you don't need to be an expert technical trader to figure out what's going on with shares of mid-cap mortgage REIT AGNC Investment Corp. (AGNC) - Get Free Report. Instead, the price action in this $6.3 billion stock is about as simple as it gets. Since the end of February, AGNC has been a "buy the dips stock", bouncing its way 18% higher over that stretch - and we're coming up on our fifth buyable bounce this week...
AGNC has spent most of this year in an uptrending channel, a bullish price trend that's formed by a pair of parallel trendlines. The trendlines in AGNC's price channel have basically identified the high-probability range for shares to remain stuck within all year long. Every test of the bottom of that price channel so far has provided investors with a low-risk, high-reward buying opportunity for shares of AGNC. So, as this REIT tests trendline support for the fifth time here, it makes sense to buy the next bounce higher.
Actually waiting for that bounce is important for two key reasons: it's the spot where shares have the most room to move up before they hit resistance, and it's the spot where the risk is the least (because shares have the least room to move lower before the channel breaks, invalidating the upside trade). Remember, all trend lines do eventually break, but by actually waiting for the bounce to happen first, you're ensuring AGNC Investment Corp. can actually still catch a bid along that line before you put your money on shares.
Extra Space Storage Inc.
Last on our list of REIT breakout trades is $9.4 billion self-storage REIT Extra Space Storage Inc. (EXR) - Get Free Report. Extra Space Storage has actually been a pretty awful performer in the last few months, losing about 20% of its market value since shares peaked back in July. The good news for long-suffering shareholders is that a reprieve may be on the way. After trending lower for the last several months, Extra Space Storage finally looks "bottomy" this fall.
Extra Space Storage is currently forming an inverse head and shoulders pattern, a bullish reversal setup that signals exhaustion among sellers. The pattern is formed by two swing lows that bottom out at approximately the same level (the shoulders), separated by a lower low (the head). The buy signal comes on a move through EXR's neckline up at $77.
Remember to be reactionary here - technical analysis is a risk-management tool, not a crystal ball. In other words, a reversal in Extra Space Storage doesn't become a high-probability trade until buyers are strong enough to shove shares above $77. Once that happens, we've got our signal that the buyers are finally back in control of this REIT.
This article is commentary by an independent contributor. At the time of publication, the author held no positions in the stocks mentioned.