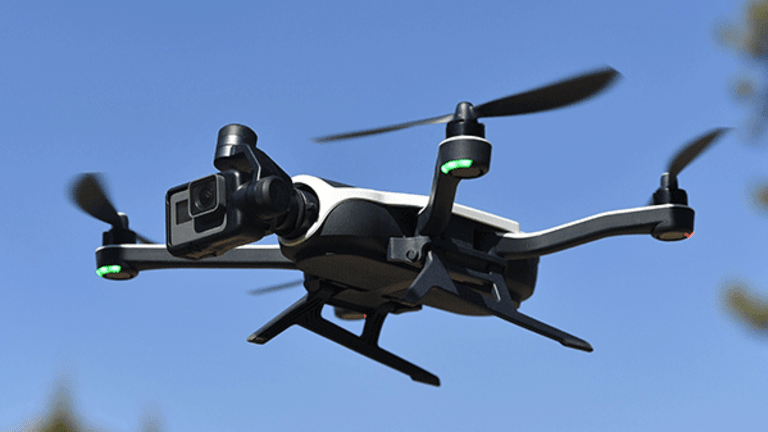 Don't Get Suckered by GoPro's Recent Momentum
The bottom line remains under pressure.
Beware of small companies that become instant Wall Street darlings by making flashy consumer gadgets. That is unless the company has a deep bench of unique products that could keep larger competitors at bay. Gullible investors could wind up with little, if any, value in their holding.
Case in point is GoPro (GPRO) - Get Free Report , which has seen its fortunes wax and wane according to the fate of its product launches. The action camera maker's stock has been on an upswing of late, but consider yourself warned: it remains a highly dangerous stock that you should avoid.
Shares of GoPro surged last week after Pacific Crest Securities raised its estimates for the company's impending operating results, citing data that indicates sales were stronger than expected during the holidays.
Another tonic for GoPro shares was the company's announcement earlier this month that it would re-launch its Karma quadcopter drone sometime later this year. The much-hyped drone had been re-called due to a series of embarrassing glitches, which included falling from the sky.
GoPro shares have declined 12% over the past 12 months but they've jumped nearly 7% over the past five trading sessions following the positive news. Has the company turned a corner?
GoPro is scheduled to release operating results on Thursday, Feb. 2. The average analyst expectation is that earnings will come in at 23 cents a share, compared to a loss of 8 cents a share in the same period a year ago. It's downhill from there, however.
Next quarter's earnings are pegged at a loss of 25 cents a share (compared to a loss of 63 cents a share last year). The full-year loss is estimated to hit $1.51 a share, compared to a gain of 76 cents a share last year. 
GoPro and its products have been a phenomenon since the company went public in 2014, but the potential of the action camera market has attracted huge competitors with greater financial wherewithal, such as consumer icon Apple (AAPL) - Get Free Report and GPS maker Garmin (GRMN) - Get Free Report .
Apple is a holding inJim Cramer's Action Alerts PLUS Charitable Trust Portfolio. See how Cramerrates the stock here. Want to be alerted before Cramer buys or sellsAAPL?Learn more now.
With a relatively modest market cap of $1.4 billion, GoPro will be hard pressed to match the engineering and marketing muscle of the giant tech firms. Notably, Garmin's new and rugged Virb Ultra 30 camera is garnering positive reviews and sales and poses a serious threat to GoPro's Hero.
The verdict: Don't get suckered by GoPro's recent momentum. The company probably is on borrowed time.
---
How many times have you heard someone on CNBC say, "I actually think the economy is fine here in the United States. Buy stocks!"? If you're like many Americans, you've probably heard it more than once. But just because they're saying it, doesn't make it true. Because I can tell you with absolute certainty it's not. America is in deep trouble. And the crisis looming on the horizon has the potential to make 2008-2009 look like child's play. The window to protect yourself is rapidly closing. I'll show you how here.
John Persinos is an analyst with Investing Daily. At the time of publication, he owned stock in Apple.