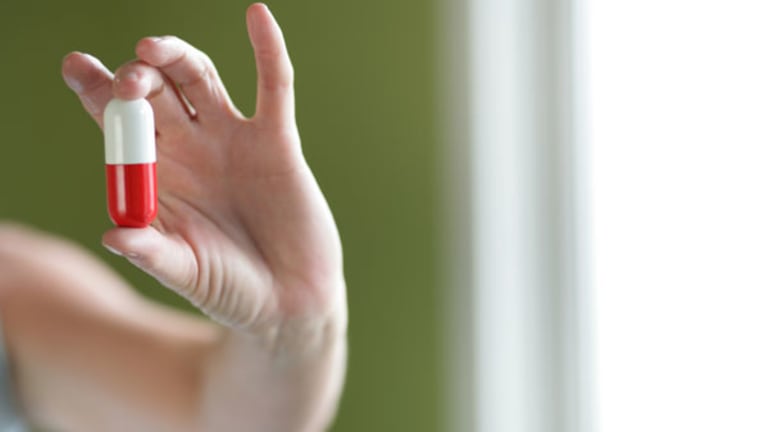 The story corrected to more accurately describe clinical trials involving Genentech's Avastin in triple-negative breast cancer patients.
CAMBRIDGE, Mass. (
) --
Aveo Oncology
(AVEO) - Get AVEO Pharmaceuticals, Inc. Report
will succeed or fail depending on the potential for tivozanib to treat triple-negative breast cancer.
For investors in Aveo, of which I am one, the wait for data from a phase II study in triple negative breast cancer (TNBC) is a long one. Results won't be ready until late 2014 or early 2015. But upon these tivozanib data, the fate of the company rests.
On a conference call Wednesday, Aveo outlined future development plans for tivozanib, which include dropping development in kidney cancer (Adam Feuerstein addressed this
prickly situation with some strong words
) and focusing instead on colon cancer and TNBC.
The ongoing phase II study in first-line colon cancer will actually be the first to report data next year, but the odds for success are low.
Over the years, a long line of small molecules (tyrosine kinase inhibitors, or TKIs) targeting VEGF have failed to show a survival benefit in colon cancer. The list of failures include vatalanib (
Novartis
(NVS) - Get Novartis AG Sponsored ADR Report
), Sutent (
Pfizer
(PFE) - Get Pfizer Inc. Report
) and Nexavar (
Bayer
/
Onyx Pharma
(ONXX)
). In contrast,
Roche/Genentech's
Avastin, a monoclonal antibody of VEGF, was approved in colon cancer. Other monoclonals such as
Sanofi's
(SNY) - Get Sanofi Sponsored ADR Report
Zaltrap also came up short, suggesting that it's not a pure TKI versus monoclonal antibody conundrum.
Aveo's tivozanib is another TKI targeted VEGF, which doesn't bode well given the general negative trend for similar drugs in colon cancer. Aveo does have a biomarker program that might be able to select patients with a greater likelihood of responding, but it's still hard to be optimistic.
Tivozanib's better chance for success lies in TNBC, defined as the absence of estrogen receptor (ER), progesterone receptor (PR) and HER2 protein expression. TNBC is aggressive and difficult to treat because commonly used therapies like aromatase inhibitors and Genentech's Herceptin aren't effective.
Approximately 15 percent of the 200,000 breast cancer patients in the U.S. are diagnosed with triple-negative disease. Globally, there are about 170,000 cases of TNBC. The only currently available treatment for TNBC is chemotherapy, but sadly patients often do not live long and progress rapidly. Progression-free survival (PFS) is estimated to be around four months in TNBC, leaving a real unmet medical need for effective new treatments.
The addition of Genentech's Avastin to paclitaxel-based chemotherapy significantly improved PFS in TNBC patients enrolled in earlier trials but the benefit was not confirmed when Genentech conducted larger trials.
Aveo might obtain a better result in TNBC than Genentech did with Avastin if the company can use its biomarker technology to identify a subgroup of TNBC patients who respond to tivozanib. That's something that Genentech has not yet been able to do with Avastin.
Whether Aveo can show tivozanib works in a subset of TNBC women with a certain biomarker in their phase II "BATON-BC" trial remains to be seen. The future of the company and its commercial success rests on this outcome. It's going to be a long wait for investors till 2014/2015.
Droppert is long Aveo.
Pieter Droppert writes the
and is a marketing strategy consultant with a focus on oncology/hematology new product development. Pieter is a Sloan Fellow from London Business School and was formerly a project manager for a major phase III drug development program at a global CRO.