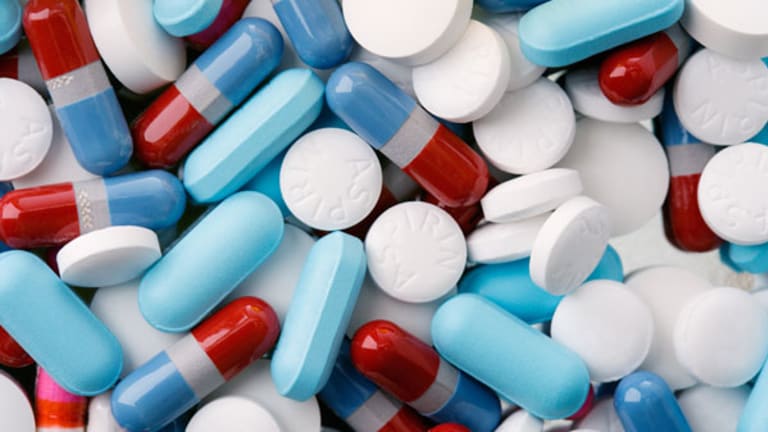 Avanir: Pump Up the Volume
Avanir Pharmaceuticals rallied on above-average volume after it said a higher dosage of its leading drug candidate met the primary endpoint of a Phase III trial.
ALISO VIEJO, Calif. (
) --
Avanir Pharmaceuticals
(AVNR)
shares rallied on above-average volume after the biotech company said a higher dosage of its leading drug candidate met the primary endpoint of a Phase III trial.
Avanir said the 30/10 mg dose of its Zenvia drug reduced episode rates of pseudobulbar affect, or PBA, by an incremental 11.9% beyond placebo, meeting the primary efficacy endpoint of a double-blind Phase III trial. The lower dose Zenvia 20/10 mg group did not achieve a statistically significant reduction in PBA episode rates compared to placebo.
"We were very pleased that Zenvia demonstrated significant improvement in PBA episodes in the
multiple sclerosis sub-population as well as encouraging proof of concept data in MS-related pain," said Randall Kaye MD, Avanir's chief medical officer, in a statement. "This is especially exciting given that the STAR trial was not powered to detect an efficacy signal in such a small number of patients."
Avanir shares were rallying sharply higher on big volume. The stock was lately rising 28 cents, or 12.1%, to $2.58. Earlier in the session, the stock touched an intraday high of $2.68. More than 1.6 million shares changed hands in the first 15 minutes of trading Friday, compared to the stock's 50-day average daily volume of 2.4 million, according to the Nasdaq.
Avanir has a 43.8 million-share float with a short interest float of 3% as of Sept. 10, according to Yahoo! Finance. More than 42% of the company's shares are held by insiders with another 11% owned by institutions.
On Wednesday, Avanir surged more than 13% after the company received a "Notice of Allowance" from the U.S. Patent and Trademark Office announcing that it intends to grant Avanir a new patent, extending the period of commercial exclusivity for Zenvia well into 2025.
Some investors posting on Internet message boards argued that the 30/10 mg dose of Zenevia should receive approval from the FDA after the "impressive" results. Others argued that the trials showed that efficacy for treating PBA was modest at best, noting that Avanir's press release said that both Zenvia groups "did not achieve statistical significance vs. placebo in this small subset of MS patients."
Read more about today's high-volume stocks in earlier "Pump Up the Volume" posts
.
-- Written by Robert Holmes in New York
.