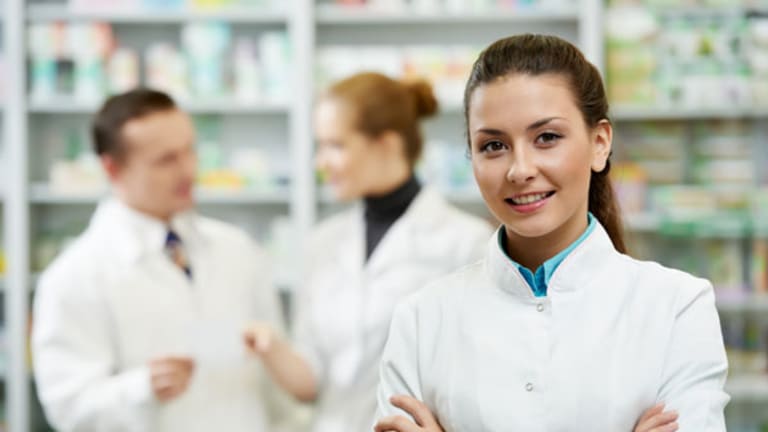 Avanir Jumps on Study Results (Update)
Avanir Pharmaceuticals says phase III tests show that its drug Zenvia can safely reduce the effects of a neurological disorder.
(Updated to include comments from Avanir's CEO and to update the stock price.)
ALISO VIEJO, Calif. (
) --
Avanir Pharmaceuticals
(AVNR)
said that a late-stage clinical trial showed that its drug, used to treat a neurological disorder that causes unprovoked emotional outbursts, successfully addressed
FDA
safety concerns.
That was enough to send shares of the company as much as 80% higher in Tuesday's early going, though the stock later backed off those advances, closing at $2.83, up 64 cents, or 30%. Volume reached more than 29 million shares. Daily average turnover is just 850,000.
In the phase III trial, Avenir said that its drug, called Zenvia, led to a 47.2% reduction in the rate of the outbursts compared to the placebo.
In the main, Avanir conducted the test to address concerns raised by the FDA back in 2006 that one of Zenvia's ingredients, quinidine, might pose cardiovascular risks in some patients if they doubled the recommended dosage in order to make up, say, for a missed allotment.
Quinidine, a common treatment for heart arrhythmia, is part of the Zenvia formula because it helps metabolize the crucial ingredient, dextromethorphan.
Avanir therefore used the trial -- its third phase III study of Zenvia so far -- to test whether a smaller amount of quinidine would still allow the drug to be effective. The company cut the quinidine amount per dosage to 10 milligrams from 30.
Reported "adverse events," or side effects, were "mild to moderate in nature," Avanir said, and occurred at about the same rate in the Zenvia patients as the control group. Dizziness, nausea and diarrhea, however, occurred at a more frequent rate in the Zenvia group.
As far as heart problems go, "there were no clinically significant" events, the company said.
Avanir plans to submit the phase III findings to the FDA in the first half of 2010.
The disorder treated by Zenvia in the study is called pseudobulbar affect, or PBA (also known as "emotional liability") which affects an estimated 2 million Americans, Avanir said in its press release announcing the results. PBA occurs alongside brain injuries or neurologic diseases such as multiple sclerosis, Lou Gehrig's Disease, or Parkinson's and "causes unpredictable episodes of crying, laughing or other emotional displays."
But according to Avanir's chief executive, Keith Katkin, a 37-year-old who came to Avanir in 2005 as a sales executive, investors may also have been reacting Tuesday to what the results portend for Zenvia's application in treatments beyond PBA.
Like many biotech and drug development firms still striving to hit commercial pay dirt, Avanir has a large component of retail shareholders susceptible to study-result announcements. With Tuesday's release, hopeful buy-and-hold investors may have realized that "we're unlocking potential not just for PBA but for a number of other conditions," Katkin said in an interview with
TheStreet.com
.
Avanir is also developing Zenvia to treat a kind of neuropathic pain associated with diabetes and multiple sclerosis. Another area of interest, Katkin said, is treating the agitation and irritability exhibited by people with dementia.
But the commercial focus, he quickly added, remains squarely on PBA, at least for now. He said a 12-week open-label study will begin once the company has digested the full data set from the just-ended trial, and that FDA approval could come as early as the second half of 2010. "We believe the new profile is approvable by the FDA," Katkin said, referring to the lower quinidine amount, "but they will be the judge and the jury."
He said the company has more than enough funds to pay for the studies and commercialization, largely from the $40 million kitty it raised when it sold shares to a group of venture capital funds in 2008. The firms include Clarus Ventures, of Cambridge, Mass., and Vivo Venture, of Palo Alto, Calif.
Katkin declined to provide revenue targets if the company actually succeeds in bringing Zenvia to market. But one analyst at a firm called Summer Street Research Partners in Boston estimates that Avanir could pull in revenue of $78 million in 2011 if its drug is used to treat a little more than 2,000 patients.
The FDA initially raised its concerns about Zenvia's safety almost three years ago, in October 2006, in a letter to the company after the first phase III trials of the drug. News of that letter led to a vicious sell-off in Avanir shares. The stock plummeted from almost $9 to less than $3 a share.
Avanir has been publicly traded since the late 1980s and has seen its fair share of stock-price booms and busts based on studies that seem to promise the elusive endgame: commercialization. At one point in 2000, the traded at more than $33.
-- Reported by Scott Eden in New York
Copyright 2009 TheStreet.com Inc. All rights reserved. This material may not be published, broadcast, rewritten, or redistributed.