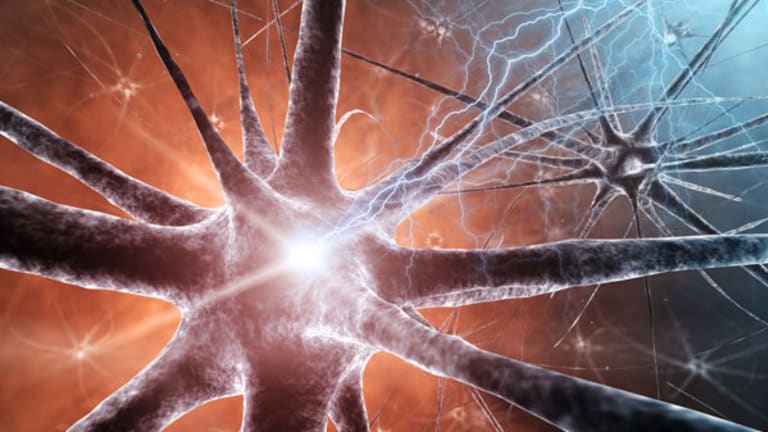 Avalanche Fails Common-Sense Test, Kicked Out of Gene Therapy Credibility Club
I wanted to slam my forehead against the desk after the Avalanche CEO repeated for the 600th time, 'The key takeaway today is that it's a positive study.'
I wanted to slam my forehead against the desk after the Avalanche CEO repeated for the 600th time, 'The key takeaway today is that it's a positive study.'
MENLO PARK, Calif. (TheStreet) -- I'm struggling to adequately describe the awfulness of Avalanche Biotechnologies' (AAVL)  performance Monday night trying to explain and defend the mediocre results of its gene therapy study in wet age-related macular degeneration (AMD).
I wanted to slam my forehead against the desk after Avalanche CEO Tom Chalberg Jr., speaking on a conference call, repeated for what seemed like the 600th time, "The key takeaway today is that it's a positive study."
Thanks, Tom, that was so helpful. Unfortunately for you, the market disagreed. While you were insisting over and over again that wet AMD patients benefited from treatment with Avalanche's AVA-101 gene therapy, the company's stock was down 25%.
When the market learned that you and a gaggle of other insiders sold Avalanche stock last week, ahead of Monday's study results, shares fell 30%. Two of the Form 4s, which shows insider trading activity, were filed with the Securities and Exchange Commission Monday night!
And when the market realized you and your fellow executives were so ill-prepared to answer questions on the conference call, the stock fell 40% as you resorted to simply re-reading the press release.
Truly awful, guys!
The painful lesson here is that Avalanche's study of AVA-101 may have achieved its primary efficacy endpoint, but the gene therapy failed the more important common sense endpoint.
Avalanche touted the improvement in visual acuity by 11.5 letters on an eye chart over one year between the wet AMD patients treated with AVA-101 compared to control patients. Investors looked deeper, however, and realized that the visual acuity in the AVA-101 patients improved by only 2.2 letters but fell by 9.3 letters in the control arm. The only reason Avalanche could claim success in this gene therapy study was because the patients not treated with gene therapy performed so poorly.
The visual acuity benefit Avalanche says is due to AVA-101 is even more questionable when looking at the negative effect on retinal thickness. Wet AMD patients suffer from thickening retinas. Effective treatments reduce retinal thickness, but not AVA-101. As announced Monday night, the retinas of patients treated with AVA-101 grew thicker over one year while retinal thickness in the control arm patients decreased.
Avalanche had no explanation at all for this incongruous result.
Finally, Avalanche went into the study hoping to show that AVA-101 could reduce significantly the number of Lucentis injections required by wet AMD patients. Mission not accomplished. At the median, control arm patients required two additional rescue injections of Lucentis compared to AVA-101 patients. That's not a clinically meaningful reduction in Lucentis injections, no matter how much the company argues otherwise. 
Healthcare investors are deeply, madly in love with gene therapy and gene therapy stocks, because the potential to cure disease with a single treatment is so exciting. But as someone on Twitter (TWTR) - Get Report observed last night, "Gene therapy is a tough gig." Avalanche went kaboom Monday night. Celladon (CLDN) blew up In April. Maybe Bluebird Bio (BLUE) - Get Report is the positive gene therapy exception, not the rule. At least that's what the remaining gene therapy bulls hope.
Adam Feuerstein writes regularly for TheStreet. In keeping with company editorial policy, he doesn't own or short individual stocks, although he owns stock in TheStreet. He also doesn't invest in hedge funds or other private investment partnerships. Feuerstein appreciates your feedback; click here to send him an email.