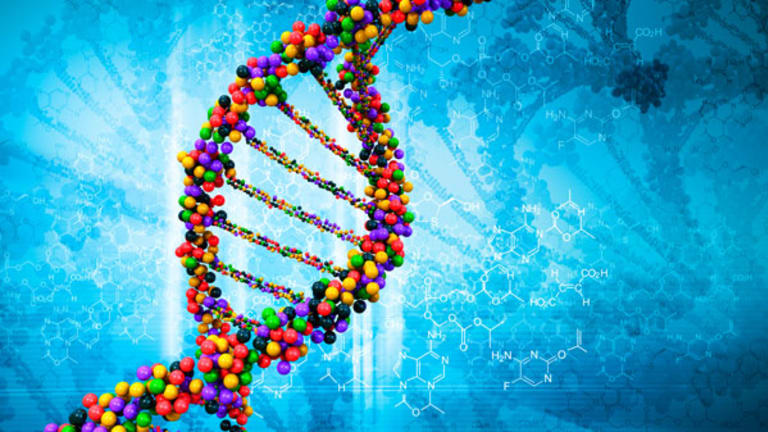 Auxilium Prediction: FDA Rejects Crooked Penis Drug
An approval decision on Auxilium's Xiaflex for Peyronie's Disease is expected on Sept. 6.
MALVERN, Penn. (
) -- Let's discuss crooked penises and the prospects for the FDA approval of a new treatment from
Auxilium Pharmaceuticals
(AUXL)
. Regulators are expected to announce their approval decision on the Auxilium drug, known as Xiaflex, on Sept. 6.
My prediction: FDA rejection, but I'm torn with indecision. My conviction level is 5-6 out of 10 -- so not much more than a toss up. The Xiaflex clinical trial data show the treatment takes some bend out of crooked penises and reduces related symptoms. Results were consistent across two phase III studies. The drug is also already FDA approved for a similar disease that freezes fingers in bent positions.
The overall Xiaflex benefit seen in the two phase III trials, however, is modest and relied on a questionable efficacy endpoint and a modified patient analysis to barely reach statistical significance. Any FDA adjustment could render the studies negative. Laser-beam straight penises? Um... no, not with Xiaflex. Side effects? Yes, some substantial including three cases of "penile rupture." You're not the only guy squirming right now.
Ladies, sympathy, please. The risk-benefit picture with Xiaflex is murky.
Auxilium shares have lost 3 percent this year and closed Friday at $18.06.
Let's delve deeper into the Xiaflex data.
Crooked penis is a real disease. It's call Peyronie's and is caused by the build up of collagen plaque on one side of the penis. This scar tissue, in turn, causes the penis to bend or curve at an extreme angle. Men with Peyronie's experience pain, embarrassment (naturally) and many have difficult engaging in sex for physical and psychological reasons. Current treatments are relatively ineffective. Surgery is an option for worse cases but outcomes aren't always ideal.
Xiaflex is an enzyme that breaks down the collagen plaques. It's injected directly into the penis. Once the plaque starts to dissolve, manual "modeling" or straightening of the penis is supposed to alleviate the bothersome curvature.
Auxilium conducted two phase III studies of in men with Peyronie's in which Xiaflex injections were compared to sham, placebo injections.
Let's go the slides. First, let's take a look at the obvious co-primary endpoint, which assessed Xiaflex's ability to straighten those crooked penises following a year of treatment.
Both studies hit this primary endpoint with strong statistical significance. In the IMPRESS-1 study, men in the Xiaflex arm had 49 degrees of bend in their penis at baseline. After 52 weeks, the bend was reduced to 31 degrees, or a 38 percent improvement. Men in the sham injection arm entered the study with penises that curved, on average, by 49 degrees. At study end, that curve was 39 degrees, or a 21 percent improvement. Results from the IMPRESS-2 study were similar, as displayed in the slide.
Does statistical significance translate into a clinically meaningful benefit? That's a tough question here given the high placebo response rate. On placebo-adjusted basis, Xiaflex only reduced penile curvature by 8 degrees. That's not much of an improvement, particularly when you factor in side effects, which I'll discuss in a bit.
Auxilium argues it's more relevant to look at individual patient results compared to their own baseline and not against the placebo injections. Fine, but even looking at just the Xiaflex arm, is reducing the bend of a penis, on average, from 49 degrees to 31 degrees, a robust-enough result to warrant approval? There are no "straight" penises at the end of this study, unlike Xiaflex's ability to fully straighten fingers in patients with Dupuytren's Contracture. Does that matter?
Next slide. This one graphs the second co-primary endpoint of the studies -- the reduction in a Peyronie's "PDQ bother" score. Auxilium developed the PDQ questionnaire to assess the overall impact on quality of life that Peyronie's has on men with the disease. Using 15 questions, the PDQ measures 1) the "bothersomness" of Peyronie's; 2) psychological and physical symptoms of Peyronie's; and 3) penile pain.
For the phase III studies co-primary endpoint, Auxilium only used responses to four of 15 questions that measure the "bother" portion of the PDQ. Here are the results:
Looking at IMPRESS-1 results, you see a 44 percent reduction in the bother score for men treated with Xiaflex compared to a 27 percent reduction for men treated with sham injections. The placebo-adjusted difference is small but still statistically significant with a p value of 0.0451. A p value greater than 0.05 would have been a negative result so this study barely passed.
The margin of victory in the IMPRESS-2 study on the PDQ bother score was even smaller, with a p value of 0.0496. If a patient sneezed at the wrong time, this portion of the study would have failed.
Obviously, the marginal Peyronie's "bothersomness" improvement attributable to Xiaflex is a worrisome issue with respect to FDA approval. Auxilium needs to demonstrate a clinical benefit for Peyronie's patients beyond just some reduction in crooked penis angles. The company chose "bother" as a co-primary endpoint but results are far from a home run. I'm sure someone at the FDA is also asking Auxilium to explain why the other two components of the PDQ score were excluded from the primary efficacy analysis of the phase III studies.
The two other components of the PDQ scale were included in the studies as secondary endpoints. Xiaflex failed to improve psychological and physical symptoms of Peyronie's compared to sham injections when the two studies were assessed individually. When Auxilium combined data from the two studies, this measure reached statistically significance.
Xiaflex did not reduce penile pain compared to sham injection when the two studies were analyzed individually or combined.
Before I finish up on the Xiaflex efficacy data, take another look at the two slides above. In the bottom left-hand corner of each, Auxilium notes the analyses were conducted on an "MITT" or modified intent-to-treat patient population.
Uh oh.
Take a look at this slide, which charts the patient disposition from the IMPRESS studies.
I'll do the math for you. Across both studies, 832 patients were enrolled and comprise the intent-to-treat (ITT) patient population. However, 220 of these patients, or 26 percent, were excluded from the primary endpoint analysis. Auxilium says a majority of these patients were excluded intentionally (and within the statistical rules of the studies) because they were sexually inactive within three months of baseline PDQ measurements. Since sexuality activity was a pre-requisite for PDQ scores, they couldn't be included in the primary analysis.
Auxilium announced top-line results from the IMPRESS 1 and 2 studies in June 2012. At that time, the company's rationalization for excluding 26 percent of the enrolled patients from the primary efficacy analysis did not go over well with investors. One benefit of Xiaflex touted by Auxilium is the ability of men to resume sexual activity. If that's true, then why would the company exclude from its efficacy analysis men who were unable to have sex at study baseline but may have started to have sex after a year of Xiaflex therapy?
Whether or not FDA is copacetic with the mITT analysis is something that will be revealed next month. Auxilium did not pursue a Special Protocol Assessment (SPA) with FDA to cover the design of the Xiaflex studies.
Xiaflex treatment causes a lot of side effects. Let's take a look at the most common adverse events reported in the two studies:
This is a list that will make any man wince: Penile hematomas, pain, swelling and hemmorrhage were all reported at vastly higher rates in the Xiaflex arm of the study compared to sham injections.
Weighed against the modest efficacy, the risk profile of Xiaflex is troublesome. Even if approved, it's hard to envision scenarios under which the drug is widely used in men with Peyronie's.
One more safety slide looking at serious adverse events (as if the list above wasn't serious?):
Note the three cases of "penile fracture" or "rupture" reported in Xiaflex-treated patients. No such fractures occurred in men treated with sham injections.
All three cases of penile fracture occurred during intercourse. One patient had sex within the 14-day period following a Xiaflex treatment when he was supposed to abstain. A second man's penile fracture was blamed on a "mis-thrust" during sex; while the third occurred during "vigorous intercourse."
All three penile ruptures were surgically repaired successfully.
The FDA approves drugs when the benefit outweighs risks. For Xiaflex, the benefit-risk equation is a tough call. Efficacy is modest at best and comes with significant side effects. Some men with Peyronie's are helped by Xiaflex, but does the drug do enough to be approved?
After looking at the data and the way the studies were conducted and analyzed, I say no. Close, but no.
-- Reported by Adam Feuerstein in Boston.
Adam Feuerstein writes regularly for TheStreet. In keeping with company editorial policy, he doesn't own or short individual stocks, although he owns stock in TheStreet. He also doesn't invest in hedge funds or other private investment partnerships. Feuerstein appreciates your feedback;
to send him an email.