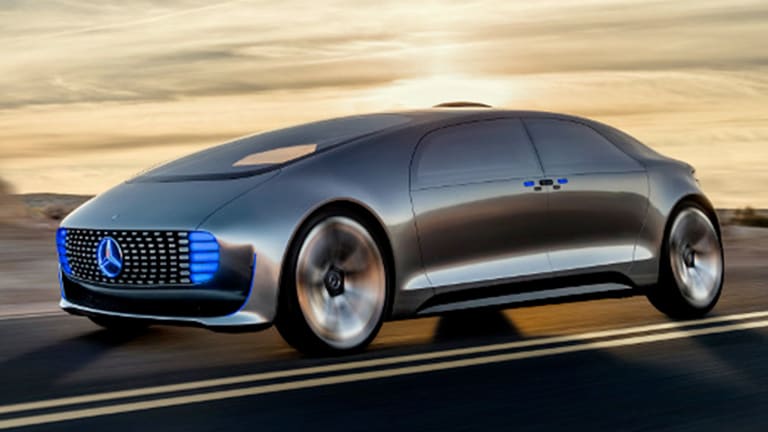 Autonomous-Driving Planes, Trains, Buses: It's More Than Just Cars
Autonomous driving goes beyond passenger cars. Think trains, buses, semi trucks and even air taxis.
Take a second ... close your eyes and picture riding in a fully autonomous vehicle.
You're probably sitting comfortably and feeling relaxed, right? Maybe taking a nap on the way home from the office, answering texts and emails on the way in or perhaps watching a movie or some Netflix, Inc. (NFLX) - Get Netflix Inc. Report .
Many of us have several pleasant visualizations of what we would do in our new-found commute time if we didn't have to be the one actually driving anymore.
While all of this should be possible one day with Level 5 autonomous driving, it goes beyond just cars. It goes beyond just General Motors Company (GM) - Get General Motors Company Report , Ford Motor Company (TSLA) - Get Tesla Inc. Report , Toyota Motors (TM) - Get Toyota Motor Corporation Report and others making self-driving cars.
Think about all of the other areas of transportation that could support autonomous transportation.
Autonomous Trucking
Autonomous trucking has many advantages. Right now, the industry is limited by having enough qualified and trained drivers. It's also impacted by driving regulation and truckers taking the necessary amount of rest breaks in between. Further, there's a big safety element to big rigs.
Autonomous driving in the trucking industry can change a lot of that, though. By having an A.I. manning the vehicle rather than a person, the machine doesn't have to worry about sleeping or resting. In theory, and when it's ready, it should also be safer.
Self-driving cars can be big business for names like Uber, Lyft or GM when it comes to getting people from Point A to Point B. But autonomous trucking will have no shortage of customers either, as companies look to move product faster and more efficiently. Expect United Parcel Service, Inc. (UPS) - Get United Parcel Service Inc. Report , FedEx Corporation (FDX) - Get FedEx Corporation Report and Amazon.com, Inc. (AMZN) - Get Amazon.com Inc. Report to be interested in this regard as well.
Through its acquisition of Otto for $680 million in 2016, Uber is now working on autonomous trucking solutions. Tesla recently introduced its concept for an electric semi truck. It's already received orders from PepsiCo, Inc. (PEP) - Get PepsiCo Inc. Report , Walmart Inc.  (WMT) - Get Walmart Inc. Report and FedEx, among others.
Rather than full-blown autonomous trucking right off the bat, the industry would likely use some form of autonomous fleet driving. In a nutshell, there would be a lead truck driven by a human. It would then be followed closely by several self-driving trucks. That way, a human is leading the charge but we are simultaneously able to leverage autonomous trucking in a more efficient manner.
There are also a number of new players in the field, highlighted by Einride, a Sweden-based company we saw a few months ago at the Detroit Auto Show.
Autonomous Air Taxi
If you think autonomous driving is a fantasy, then how about self-flying transportation. While it's true commercial aircraft utilizes plenty of autopilot controls, this is another beast altogether.
The discussion centers on self-flying aircraft in the form of a short-ranged aerial taxi service. Many of these aircraft support one or two seats and there is not a pilot on board.
That will surely be unnerving for some.
But for the brave, we may see these features sooner rather than later. Uber's project Elevate is aiming to begin testing in 2020, while Kitty Hawk -- founded by Alphabet Inc.  (GOOGL) - Get Alphabet Inc. Report (GOOG) - Get Alphabet Inc. Report  co-founder Larry Page -- has shown promise as well. A holding in Jim Cramer's Action Alerts PLUS Charitable Trust Portfolio, Nvidia Corporation (NVDA) - Get NVIDIA Corporation Reportproducts are also being used in Airbus's self-flying projects. We've seen self-flying vehicles in China and Dubai already.
This is truly a Jetsons-like fantasy, but it's becoming a reality faster than many consumers can comprehend.
Autonomous Public Transit
Automatic Train Operation, ATO for short, isn't anything new. But the automation of the public transit industry is something investors and consumers should consider as we advance the brain power of our vehicles.
Self-driving trains is a less burdensome task in many ways, because it's on a set of rails rather than navigating the open road or sky. But that's not stopping other companies from trying. A whole host of startups and universities are working on solutions, ranging from Volkswagen to Navya, a France-based startup with several partners in the U.S.
One concern about autonomous public transport, trucking and taxiing? Jobs. Millions of people around the world dependent on truck driving or driving for Uber to pay their bills. When these services become automated, what's going to happen with the jobs?
The answer is unclear and is one negative view to the outlook.
This article is commentary by an independent contributor. At the time of publication, the author had no positions in the stocks mentioned.