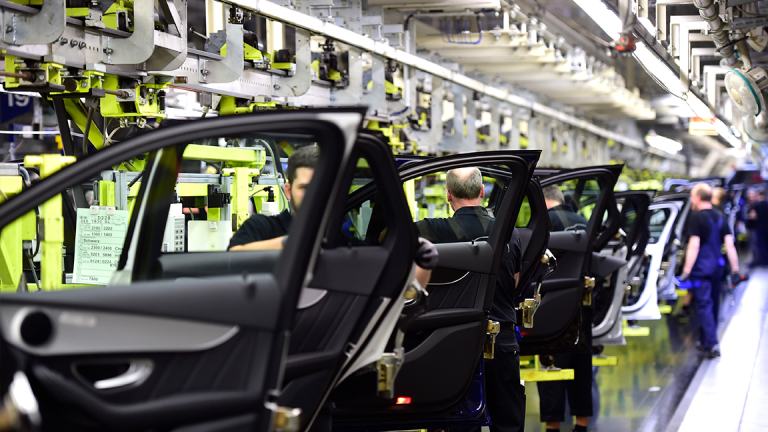 Auto Tariffs Are Having a Multi-Billion Impact on Volkswagen, Others
Tariffs are wreaking havoc on both profits and sales for German automakers.
Shares of Volkswagen (VLKAY) (VLKAF)  closed up by .91% to $171.25 after earlier dipping on Thursday after CEO Herbert Deiss opened up about the financial implications from the global trade spat.
Deiss said the biggest threat to the company's bottom line are the tariffs from the United States. Currently, the U.S. is working on hammering out a new trade deal with China and one would expect that things can be worked out between the U.S. and Europe as well. But there are worries before that happens.
Deiss called it "a pity" because the situation can't be worked out for the car industry alone. Instead, the auto market is just one piece to the massive trade puzzle. How much do the tariffs work out to? Deiss called a worse-case scenario "probably pretty close" to the estimates put out by Evercore ISI analysts, which said the tariffs could cost Volkswagen 2.5 billion euros (roughly $2.8 billion) annually, sapping 13% of the company's profits.
It's not just Volkswagen, though, as other German automakers have been under fire. This includes names like Daimler (DDAIF) and BMW (BMWYY) , and don't forget Volkswagen doesn't make just Volkswagen vehicles. It has other popular luxury brands like Audi and Porsche,  too.
It's one reason why German automakers were in Washington D.C. not too long ago, trying to hammer out a deal that could help ease the trade tension or at the very least, spare the auto industry from its impact.
What many people don't realize is how much of an impact these companies already have in the U.S. For instance, BMW and Daimler are two of the largest U.S. exporters of vehicles. It's why investors reacted so favorably in late-2018 when China announced it would temporarily tone down its tariffs on auto imports of U.S. vehicles (it was also a big benefit for Tesla (TSLA) - Get Tesla Inc Report ).
In any regard, the fact is that the German automakers were (and still are) willing to do more in the U.S. -- highlighted by Volkswagen's recent partnering with Ford (F) - Get Ford Motor Company Report -- to please Washington and relieve some of this tariff headache. But the truth is, the global trade spat has caused a number of issues for Volkswagen and its peers. Not only do they crimp the bottom line, but they hurt top-line results as well.
A tougher U.S. stance on China has derailed its high-octane economy, which has led to its slowest auto sales market in two decades. That's hurt all sort of car companies that do business in China, Germany included. China imports a lot from Europe as well -- and again, specifically from Germany -- so a weakening Chinese consumer can translate to a weakening European economy as well. We're seeing just that, with Germany's manufacturing activity dropping to its lowest level since February 2012. While intra-Europe competition was cited as one reason for lower output from the auto sector, demand is clearly an issue as well.
So what's the bottom line? German automakers like Volkswagen are feeling a painful one-two punch from the trade wars. Not only are the tariffs directly hurting the automakers' bottom lines, but they are hurting revenues as well. Earlier this month, Daimler reported that operating income plunged 22% and the automaker decided it would be best to slash its annual dividend by almost 11%. 
If the trade situation fails to improve, more news like this can be expected. On the flip side, an easing of global trade tension could bring a big relief to a number of these automakers and their stocks. 
This article is commentary by an independent contributor. At the time of publication, the author had no positions in the stocks mentioned.