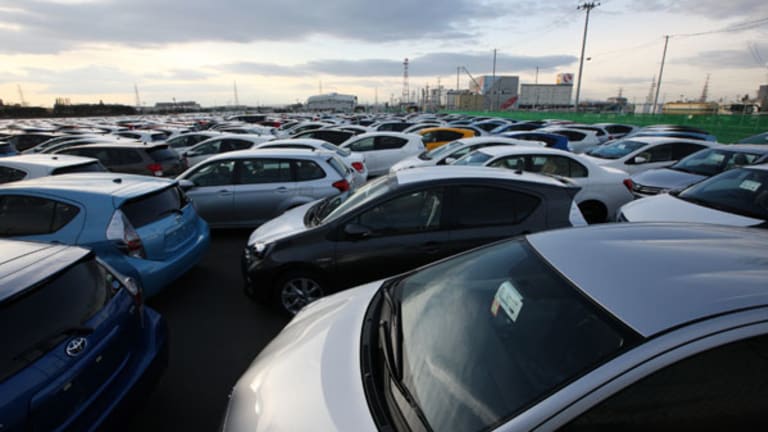 Auto Sales Keep Climbing in 2013
One auto analyst already has raised his full-year sales forecast due to strong January sales.
DETROIT (
) -- Auto sales are off to a strong start in 2013, as the strong sales pace of 2012 continues into the new year.
Industry experts are forecasting that January light-vehicle sales, which will be reported on Friday, will increase between 8% and 15% from the same month a year earlier, even though TrueCar.com said the average industry incentive fell 8.3% from a year earlier and 12.2% from December.
"January is off to an amazing start and this momentum will carry forward through the rest of the year," said TrueCar analyst Jesse Toprak in a prepared statement.
TrueCar.com and Edmunds.com projected increases of around 15%, while J.D. Power forecast a gain of 8% and Jefferies analyst Peter Nesvold forecast 10%. Nesvold said Hurricane Sandy replacements contributed to the month's sales gain.
"The global industry is looking for the United States to offset risk in Europe and potentially slower growth in the emerging markets in 2013," said Jeff Schuster, an analyst for J.D. Power affiliate LMC Automotive, in a prepared statement.
"The good news is that the U.S. market is primed to over-deliver as the recovery heats up," Schuster said. "The concern now is shifting from the continuing recovery to whether the automotive supply base will be able to keep up with hearty demand."
Because strong year-end results continued into 2013, LMC Automotive boosted its 2013 light-vehicle sales outlook by 100,000 units to 15.1 million. Nesvold estimated 15 million. At the high end, Toprak estimated 15.5 million. Light-vehicle sales rose 15% to 14.4 million in 2012.
Meanwhile, Edmunds.com analyst Jessica Caldwell said January results "reinforce the exuberance and optimism that filled the air last week at the North American International Auto Show in Detroit."
Nesvold estimated that
Ford's
(F) - Get Ford Motor Company Report
January sales will rise 1.9% to 166,000 units, with a market share at 15.9%, the same as in December, while
GM
(GM) - Get General Motors Company Report
sales will rise 4.9% to 191,000 units, for an 18.3% market share, up from 18.2% in December.
J.D. Power said January retail sales were at their highest rate in five years, with a seasonally adjusted annual rate of 12.9 million units, ahead of the expected 12.4 million annual level for the full year.
-- Written by Ted Reed in Charlotte, N.C.
>To contact the writer of this article, click here:
Ted Reed