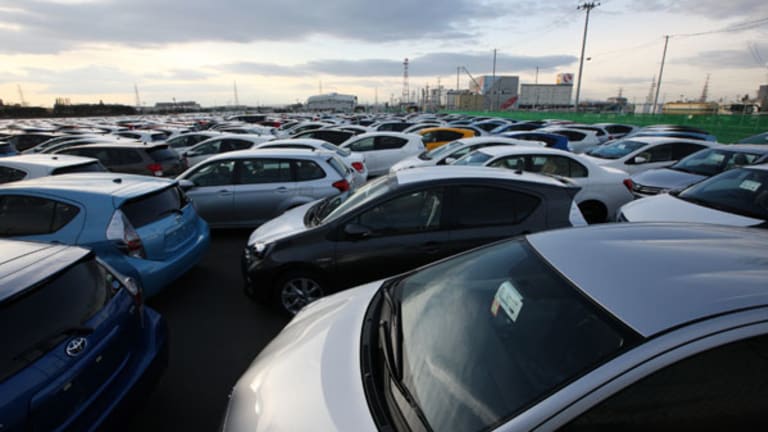 GM Sales Seen Falling for Third Straight Month: Is Weather to Blame?
Auto sales, a key economic indicator, were flat in February for the third straight month. Does that reflect harsh winter weather or is the economy slowing?
Updated with Ford and GM share prices and news on GM incentive plans.
Detroit (TheStreet) -- As the debate continues over whether the economy is slowing or simply being held in check by weather, February's auto sales numbers are unlikely to provide any clear indication either way.
Auto sales had been gaining steadily for four years but hit a rough patch this winter. Experts expect a sales gain of 1% or less in February. So the three-month trend shows December flat, January down 3% and February flat.
GM (GM) - Get Free Report sales fell in December and January and are expected to fall in February. Ford (F) - Get Free Report sales rose in December but fell in January and are expected to fall in February. Automotive News reported Thursday that next month, GM plans its second straight month of beefed-up incentives on nearly every vehicle in its lineup.
Harsh winter weather continued in many parts of the country in February and "kept a lot of people in major metropolitan areas out of dealerships for extended periods of time," said analyst Jesse Toprak of Cars.com.  Partially as a result of weather and partially as a result of seasonal trends, vehicle inventories grew.
Toprak said he expects February light-vehicle sales to gain 1% from the same month a year earlier, leading to a relatively low seasonally adjusted annual rate (SAAR) of sales of 15.4 million, also up about 1% from January. Toprak thinks retail sales will rise 5%, but fleet sales will be lower, partially as a result of the weather.
Besides weather, the stock market has long been a key factor in auto sales. Like auto sales, the S&P 500 fell 3% in January, falling to 1782 at month's end. But the index closed Wednesday at 1846, almost exactly where it began the year, meaning that January's loss was made up in February.
"One reason auto sales held (steady) is that the stock market recovered this month," said Toprak, who recently studied the correlation between the SAAR and the Dow Jones Industrial Average between January 2007 and January 2014, finding it to be 82%. In other words, in four out of five months, the SAAR and the Dow moved in the same direction. "They almost go hand in hand," Toprak said. So a rising stock market largely offset the winter weather. 
GM shares closed Wednesday at 36.83, down 9% for the year. Ford shares closed Wednesday at $15.26, down 1.6% for the year. Ford paid a dividend of 12.5 cents per share on Jan. 29.
Both the stock market and auto sales are important economic indicators. The market supposedly tells us what is going to happen in a few months, while auto sales tell us what just happened. Auto sales are a particularly good indicator because they represent most consumers' second-biggest purchase and because they are reported so quickly --- and don't need to be readjusted later.
Ford analyst Eric Merkle would not comment on February sales, except to repeat that "we did say in January that February sales would depend on the weather." In any case, Merkle noted, "We think it's going to a solid year. We expect to see growth this year, but the growth is not going to be as rapid as it was last year or in 2012.
"You have to remember, when you come off a 10.7 million sales year (Ford includes heavy and medium trucks) in 2009, of course you see a surge," Merkle said. "A recovery is more robust when it is beginning." Including heavy and medium trucks, which account for 200,000 to 300,000 sales annually, Ford continues to expect 2014 vehicle sales to be between 16 million and 17 million units, up from 15.6 million in 2013.
Looking closely at the numbers, in December, overall sales rose 0.3% from a year earlier, with GM  down 6%, Toyota (TM) - Get Free Report down 2% and Ford up 2%. In January, overall sales fell 3% as GM sales fell 12%, while Ford and Toyota sales fell 7%.
This month, according to Kelley Blue Book, Ford sales will decline 8%, with GM sales down 4% and Toyota sales down 3%. Leaders should be Chrysler, up 7%, and Nissan up 8%. 
Among vehicle segments, small SUVs like Ford Escape, Honda CRV and Toyota RAV4 are doing well, Topak said. But larger sedans and trucks are selling badly.  "The weather really puts a damper on that," he said. "Small businesses aren't buying trucks."
Like Cars.com, Kelley Blue Book expects flat sales in February. "For the second consecutive month, winter storms and unusually cold weather in many parts of the country are expected to negatively impact sales," said analyst Alec Gutierrez, in a prepared statement. "However, it is likely these purchases have only been delayed and many lost sales will be recorded in March or April."
Written by Ted Reed in Charlotte, N.C.
To contact this writer, click here.