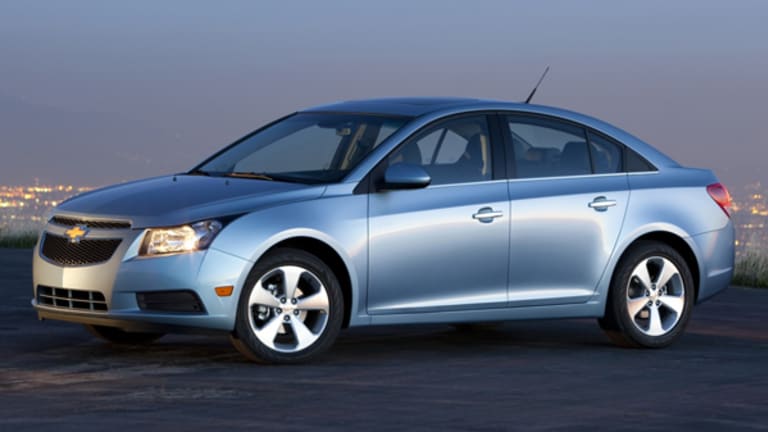 August Should Be Best Auto Sales Month in Six Years
Pickup trucks and compact crossovers are leading segments as mid-size car sales fall 2%.
DETROIT (
) -- August is shaping up to be the best month for auto sales in more than six years as the auto industry continues to provide one of the brightest spots in the recovering economy.
Experts expect sales gains ranging from 12%, the LMC Automotive estimate, to 13.6%, the Kelley Blue Book estimate. LMC said estimated unit sales of 1.5 million vehicles would be the most since May 2007.
A portion of the sales gain reflects the inclusion of Aug. 30, the first day of the Labor Day weekend, in August sales. Sales of pickup trucks and compact crossovers are leading the industry, with both segments up about 22% in August, according to Kelley Blue Book.
Both firms now expect light-vehicle sales of 15.6 million this year, up from 14.5 million in 2012. Light-vehicle sales have increased by at least 1.2 million every year since 2009, when the total was 10.3 million. LMC estimated July's seasonally adjusted annual sales rate at 16 million, while Kelley Blue Book's estimate is 15.6 million.
"U.S. auto recovery seems to be operating on auto pilot, a welcome stage of stability at a higher pace," said LMC analyst Jeff Schuster, in a prepared statement. "We do expect to see a lower selling rate in September as Labor Day is counted in August sales, but upside potential still outweighs downside risk in 2013 and well into 2014."
The weak link in August sales is the mid-size car segment, which has been hurt by a
of
Ford
(F) - Get Ford Motor Company Report
Fusions and
for
GM's
(GM) - Get General Motors Company Report
Chevrolet Malibu.
"The mid-size car segment, which had many redesigned models introduced last year, is expected to be down nearly 2% in market share and is being challenged by compact cars for the top segment, while both the large truck and compact crossover segments are seeing the most improvement, up nearly 1%," said Kelley Blue Book analyst Tim Fleming, in a prepared statement.
"The launch of the new
Toyota
(TM) - Get Toyota Motor Corporation Report
Corolla next month could provide the necessary sales for compact cars to become the leading segment in the industry," Fleming said. In August, mid-size cars had 15.8% of the market, compact cars had 15.4%, and compact crossovers and full-sized pickup trucks both had 12.7%, the firm said.
"Encouragingly, pickup truck sales appear to be outperforming again," wrote Citigroup analyst Itay Michaeli, in a recent report. "Specifically, GM's full-size pickup truck average transaction prices appear to be tracking nearly $400 higher than July's already strong results and well over $2,000 year-over-year."
GM is also touting improvements in the compact segment. It said Chevrolet's small and compact car sales rose 229% between the second quarter of 2010 and the second quarter of 2013. GM attributed the gains to its inroads among millennials, also known as Generation Y (Wikipedia said that in describing millennials, "commentators use beginning birth dates from the early 1980s to the early 2000s").
"Nearly four in 10 millennial buyers are purchasing within the compact car segment," said Dora Nowicki, Chevrolet Sonic marketing director, in a prepared statement. .
GM said millennials are buying the Cruze, the Sonic and the Spark mini-car. "Leading the segment is the Cruze, which is among the top-selling Chevrolet vehicles to those under 25," GM said. "One in four Sonic and Spark buyers are also under 25, while almost six in 10 buyers of those cars are new to Chevrolet." In July, Cruze sales rose 70% to 25,447 and Cruze was the No. 2 selling compact car after
Honda
(HMC) - Get Honda Motor Company Ltd. Report
Civic.
-- Written by Ted Reed in Charlotte, N.C.
>To contact the writer of this article, click here: