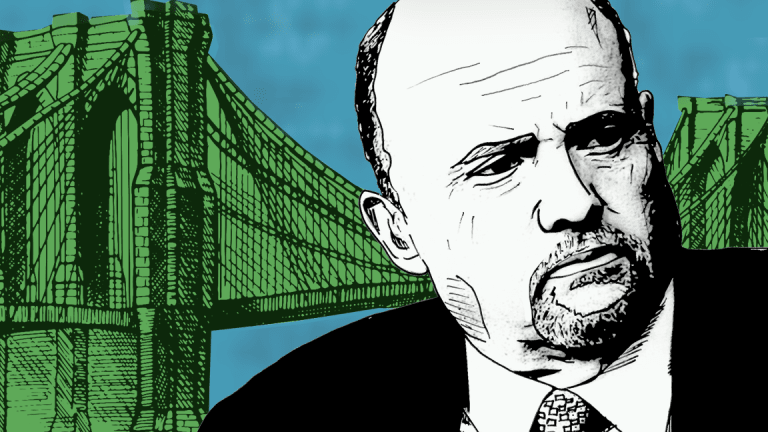 August 3: Anniversary of Cramer's Legendary 2007 'They Know Nothing' Fed Call
TheStreet's founder Jim Cramer has had scores of legendary moments on Wall Street and financial media. But none
TheStreet's founder Jim Cramer has had scores of legendary moments on Wall Street and financial media. But none
Before he created the now infamous tech stock acronyms 'FANG' and 'Cloud Kings', TheStreet's founder Jim Cramer was taking the slow-moving Ben Bernanke Federal Reserve to task in 2007 during the height of the financial crisis. 
August 3, 2018 is the 11-year anniversary of Cramer's now legendary "They Know Nothing" live TV lashing of the Fed. As a young stock analyst on Wall Street at the time watching stocks being blown up instantly amid a financial meltdown (and regulators dragging their feet), I can say Cramer's call perfectly captured the moment. 
It was a moment of fear. It was a moment of wondering whether you would have a job the next morning. It was a moment of concern that your parents house of 30 years would be taken away overnight. It was that intense, and Cramer captured the essence of it all in just a few minutes. 
Here's a quick look back.
The Call By Cramer 
Just before the Federal Reserve held its initial emergency meeting of the financial crisis in 2007, Cramer shredded Fed officials on-air with then CNBC anchor Erin Burnett:
"I have talked to the heads of almost every single one of these firms in the last 72 hours, and Ben Bernanke has no idea what it's like out there. None. And Former St. Louis Fed. President Bill Poole has no idea what it's like out there. My people have been in this game for 25 years and they're losing their jobs, and these firms are going to go out of business, and he's nuts! They're nuts! They know nothing! ... This is a different kind of market, and the Fed is asleep."
The Aftermath
Not long after the outburst, Fed officials mentioned Cramer in an official meeting:
"I believe that the correct policy posture is to let the markets work through the changes in risk appetite and pricing that are under way, but the market observations of one of my more strident conversational counterparts -- and that is not Jim Cramer laughter -- are worth sharing," said Atlanta Fed President Dennis Lockhart, according to the transcripts.
Get more investing guidance from Cramer in his Action Alerts PLUS member club. Quickly learn more here.