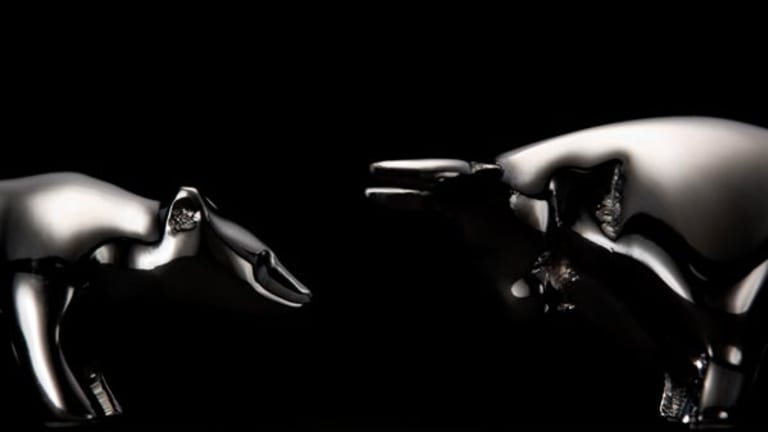 August 26 Premarket Briefing: 10 Things You Should Know
U.S. stock futures are rising by more than 1% after the last few days' steep fall, and despite further slides in Chinese and European stocks.
Updated from 7:05 a.m.
NEW YORK (TheStreet) -- Here are 10 things you should know for Wednesday, Aug. 26:
1. -- U.S. stock futures are rising by more than 1% after the last few days' steep fall, and despite further slides in Chinese and European stocks. S&P 500 futures are up 1.8%, Nasdaq futures jumping 1.92% and Dow futures heading 1.72% higher.
European stocks fell as investors resumed their selloff on Wednesday. In London, the FTSE 100 struggled to stay over the 6,000 mark and by late morning was down 1.34%. In Frankfurt, the DAX fell 1.12%, and in Paris, the CAC 40 was down 1.16%.
Asian stocks were mixed, with most Chinese indices extending losses despite Tuesday's rate cut and relaxation of banks' reserve requirements. The Shanghai Composite index closed down 1.27%. In Hong Kong, the Hang Seng closed down 1.52%. In Tokyo, stocks defeated a six-day losing streak. The Nikkei 225 jumped 3.2%, and the Topix moved in tandem to close up 3.23%.
2. -- The economic calendar in the U.S. on Wednesday includes the Mortgage Bankers' Association mortgage application data at 7 a.m., durable goods order data at 8:30 a.m., and the Energy Information Administration petroleum status report at 10:30 a.m.
New York Federal Reserve Bank President William Dudley speaks at 10 a.m.
3. -- U.S. stocks on Tuesday initially seemed ready to reclaim the ground lost in Monday's market plunge, but instead stocks slunk lower at the end of the trading day.
The Dow Jones Industrial Average (DIA) - Get SPDR Dow Jones Industrial Average ETF Trust Report fell 1.29% to 15,666.44. The S&P 500 (SPY) - Get SPDR S&P 500 ETF Trust Report closed 1.35% lower at 1,867.61. The Nasdaq (QQQ) - Get Invesco QQQ Trust Report dipped 0.44% to 4,506.49.
4. -- Chinese stocks still haven't managed to stop their steep slide, with further drops in Wednesday trading. At the close, the Shanghai Composite index had fallen 1.27% to 2,927.29. In Hong Kong, the Hang Seng dropped 1.52% to 21,080.39.
The Chinese government attempted to prop up stock prices on Tuesday by cutting interest rates and reducing requirements for bank reserves. Though the moves may have stemmed losses, they didn't reverse them.
5. -- Worries over stock markets are shifting from a focus on China to a larger sense of concern over emerging market equities and bonds. A strong dollar, weak commodities prices and a weakening Chinese economy have hurt emerging markets too. Russia and South Africa, among other countries, were feeling the pain. 
Some marketwatchers are concerned that trouble in emerging markets will eventually hurt U.S. stocks too.
6. -- As part of China's slowdown, growth in smartphone sales is expected to drop too. Analysts at IDC said that growth in smartphone sales in China was likely to be 10.4% -- substantial, but also lower than the 11.3% previously estimated and much lower than the 27.5% growth in 2014.
Companies like Apple (AAPL) - Get Apple Inc. (AAPL) Report may suffer from this slowdown, despite CEO Tim Cook's recent reassurance to TheStreet's Jim Cramer that Apple's Chinese business was healthy. Local makers like Xiaomi and Huawei are also likely to be hit.
In premarket trading, Apple stock was bouncing upward by 2.06% after a tough 16.7% decline so far in August.
7. -- Schlumberger (SLB) - Get Schlumberger NV Reportis buyingCameron International (CAM) for $12.7 billion in cash and stock. The boards of the oil services companies will both need to approve the deal, which is projected to close in the first quarter of 2016. All told, the total value of the deal is estimated to be $14.8 billion.
In premarket trading, Cameron stock is up 43.3%, and Schlumberger stock is lower by 2.29%.
8. -- Online retailer Amazon (AMZN) - Get Amazon.com, Inc. Reportis expanding its Prime Now service, which makes deliveries in an hour or two for a limited list of items in 14 cities. Prime Now is an upgraded version of Prime, Amazon's $99-a-year two-day delivery service. Amazon is also now doing grocery deliveries in 17 cities.
In premarket trading, Amazon stock was jumping by 2.99%.
9. -- Oil prices remain below the $40 mark for a barrel of West Texas Intermediate crude, the U.S. benchmark, despite an increase in prices in trading Tuesday. Since oil prices hit their peak in June, they're down more than 35%. An expected drop in demand for oil in China has hit prices hard.
The Energy Information Administration petroleum status report is released Wednesday at 10:30 a.m. Investors are expecting supplies to remain very high, with inventories expected to be about 1.45 million barrels higher than in the prior report, according to Bloomberg Business.
10. -- Earnings reports for Wednesday include Abercrombie & Fitch (ANF) - Get Abercrombie & Fitch Co. Class A Report and Express  (EXPR) - Get Express, Inc. Report before the opening bell, and Avago Technologies (AVGO) - Get Broadcom Inc. Report , Guess?  (GES) - Get Guess?, Inc. Report , Williams-Sonoma  (WSM) - Get Williams-Sonoma, Inc. Report , and Workday  (WDAY) - Get Workday, Inc. (WDAY) Report after the closing bell.