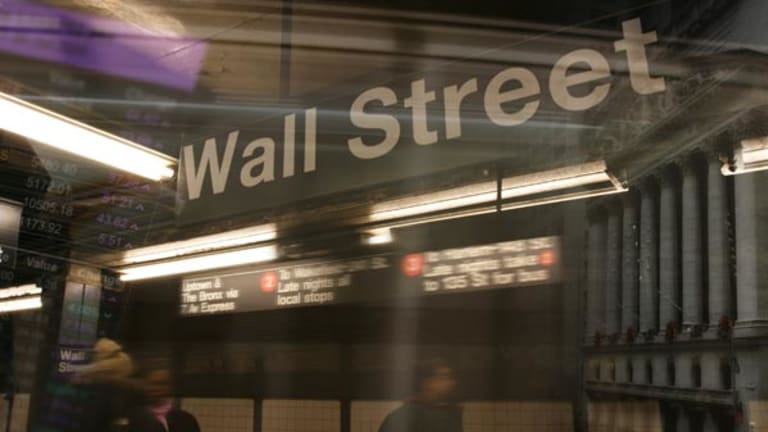 August 24 Premarket Briefing: 10 Things You Should Know
U.S. stock futures are trading more than 3% lower as investors worry about a sharp drop in Chinese stocks after Friday's falls of more than 3% for U.S. indices.
Updated from 6:57 a.m.
NEW YORK (TheStreet) -- Here are 10 things you should know for Monday, Aug. 24:
1. -- U.S. stock futures are trading more than 3% lower across the board as investors worry about a sharp drop in Chinese stocks after Friday's falls of more than 3% for U.S. indices.
European stocks were falling after an ugly day in the Chinese markets, with London's FTSE 100 down by 2.8%, Frankfurt's DAX down 2.9%, and Paris's CAC 40 lower by 2.8%.
Asian stocks were hard hit by a wave of selling. China's Shanghai Composite closed lower by 8.5% and Hong Kong's Hang Seng sank 5.8%. In Tokyo, the Nikkei 225 closed down 4.6% and the Topix fell 6%.
2. -- The economic calendar in the U.S. on Monday includes the Chicago Fed National Activity Index at 8:30 a.m. Atlanta Federal Reserve Bank President Dennis Lockhart speaks at 3:55 p.m.
3. -- U.S. stocks on Friday took a beating in the worst week in nearly four years in the market on fears over a slowdown in China.
The Dow Jones Industrial Average (DIA) - Get SPDR Dow Jones Industrial Average ETF Trust Report tanked 3.12% to 16,459.75. The S&P 500 (SPY) - Get SPDR S&P 500 ETF Trust Report slid 3.19% to 1,970.89. The Nasdaq (QQQ) - Get PowerShares QQQ Trust Ser 1 Report skidded 3.52% lower to 4,706.04.
4. -- The Dow has entered correction territory, falling 10% from its highs in May. The Russell 2000 also hit the threshold for a correction, dropping 10% since its June high. And the Volatility Index, or "fear index," rose 40% to 26.81.
On Monday morning, S&P 500 futures were dropping by 3.4% and Nasdaq futures were trading lower by 5%. Investors are bracing for big declines when the U.S. market opens.
5. -- Chinese shares have given back all of their gains for the year in a market rout that Beijing has called "Black Monday."
Big drops hit Asian stocks in Monday trading. Chinese stocks fell to erase their gains for the year, closing sharply lower. The benchmark Shanghai Composite Index fell 8.5% in China. In Hong Kong, the Hang Seng Index sank 5.8%. In Tokyo, Japan's Nikkei 225 Index closed down 4.6%.
The Chinese government, hoping to stem further selling, decided Sunday to allow pension funds managed by local governments to invest in stocks for first time. These funds could pump as much as $97 billion into the market, China's media said.
6. -- Apple (AAPL) - Get Apple Inc. Report stock is dropping by 6.4% in premarket trading after a fall of 6.1% on Friday. The maker of the iPhone and Apple Watch has seen its stock drop more than 20% since its highs in February.
Many marketwatchers see a 20% drop as a breakpoint after which a stock is in bear market territory. Apple's last bear market ran from fall 2012 to spring 2013.
7. -- Yields on the U.S. 10-year Treasury bond fell below 2% for the first time since April, recoiling from the drop in Chinese and U.S. markets as investors flee to the safety of U.S. bonds. The yield was at 1.97% early Monday.
As bond prices go up, yields decrease.
8. -- Emerging market bonds are in a rout as investors yanked $2.5 billion from emerging market bond funds last week. That's the largest withdrawal since January 2014. Developing nations like Brazil, Mexico and Russia have turned to bond sales to finance state-owned industries and government projects.
With the larger decline in markets, investors are pulling money out of mutual funds that hold the bonds, depressing their prices and putting pressure on the wider bond market. These bonds are fairly illiquid, so prices may have farther to fall if redemptions continue.
9. -- Streaming video site Netflix (NFLX) - Get Netflix, Inc. Report is considering a partnership with Japanese telecom and internet company Softbank (SFTBF) . The deal would allow SoftBank to sell Netflix subscriptions at its retail outlets, even though SoftBank already operates its own streaming service, Uula.
Netflix has already made a deal with Fuji Media Holdings to produce a local drama for the new service.
In premarket trading, Netflix stock was lower by 9.4% after a 7.6% fall on Friday.
10. -- U.S. gas prices have remained steady over the past two weeks, despite declines in the price of crude oil. West Texas Intermediate crude oil, the U.S. benchmark, traded briefly Friday in the $39-a-barrel range, a six-year low. It closed above $40.
Outages at refineries have kept retail gasoline prices higher even as crude oil drops in price.