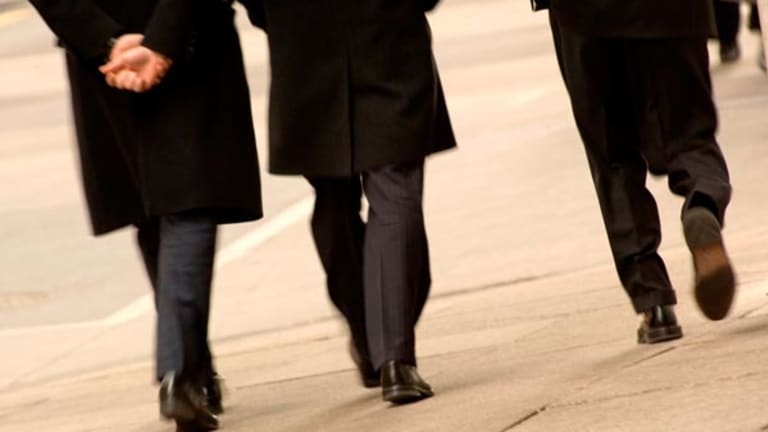 August 13 Premarket Briefing: 10 Things You Should Know
U.S. stock futures were looking sunny this morning, building on a rise in the European markets.
NEW YORK (TheStreet) -- Here are 10 things you should know for Wednesday, Aug. 13:
1. -- U.S. stock futures were looking sunny this morning, building on a rise in the European markets.
European stocks were bouncing back this morning, ignoring the geopolitical gloom and even the troubling economic climate -- for now, anyway. Germany seemed more interested in first-half results from its biggest utility E.ON (EONGY) than in the eurozone's slowing inflation rate. Some countries, including France and Spain, have even been showing deflationary tendencies.
2. -- The economic calendar in the U.S. on Wednesday includes the retail sales report at about 8:30 a.m. and data on business inventories at about 10 a.m., both from the Census Bureau.
3. -- U.S. stocks on Tuesday traded slightly down, after a period of consolidation in the afternoon.
The Dow Jones Industrial Average (DIA) - Get SPDR Dow Jones Industrial Average ETF Trust Report closed with a loss of 0.06% to 16,560.54. The S&P 500 (SPY) - Get SPDR S&P 500 ETF Trust Report closed down 0.16% to 1,933.75. The Nasdaq (QQQ) - Get Invesco QQQ Trust Report was down 0.27% to 4,389.25.
4. -- King Digital (KING) , maker of the addictive Candy Crush video game, reported weaker second-quarter revenue than analysts expected. Gross bookings fell by $30 million, or 5%. Earnings per share were 59 cents on revenue of $594 million, short of the expected $608 million.
The hand-wringing immediately began over whether the company is merely a flash in the pan. King's Chinese-market rollout and its newer video games like Bubble Witch didn't quiet the alarm much.
King stock cratered by 22.8% in premarket trading to $18.20, despite CEO Riccardo Zacconi's promise of a special $150 million dividend for shareholders and a lockup extension for existing shareholders. 
5. -- Ahead of its IPO, Chinese Internet behemoth Alibaba (to trade as BABA) restructured its relationship with payments processor Alipay, reducing Alibaba's risk in financial services but assuring it of receiving hefty fees. Alibaba is estimated to make $9.4 billion from the deal at minimum.
Alibaba is partially owned by Yahoo! (YHOO) , whose stock dropped 0.75% in premarket trading to $35.52. 
6. -- FleetCor Technologies (FLT) - Get FleetCor Technologies, Inc. Report, the fuel card and payments provider, will buy payments processorComdata from Ceridian for $3.45 billion. (Fidelity National Financial (FNF) - Get Fidelity National Financial, Inc. - FNF Group Report (FNFV) and Thomas H. Lee Partners own Ceridian.) Comdata had applied for an IPO this year, but also entertained buyout offers in the meantime.
The buyout will be financed with $2.4 billion in debt, with the remainder in newly issued FleetCor shares.
FleetCor shareholders seemed nonplussed, as the stock dropped 1.6% in premarket trading to $129.44. And Fidelity National's FNF shares were also off 0.43% to $27.91.
7. -- The SEC is looking at "alternative" mutual funds, which use hedge fund-like strategies to juice returns. Commodities trading, stock options and derivatives amplify the returns of these funds, which also own stocks -- whether to the upside or down side. For now, the SEC is looking at 15 to 20 funds, attempting to determine whether the funds have sufficient oversight and assets.
BlackRock (BLK) - Get BlackRock, Inc. Report, AQR Capital Management and other companies are among those being inspected. Investors seemed unperturbed at BlackRock, where shares rose 0.79% in premarket trading to $310.88.
8. -- China is pushing back against car dealers, claiming that companies like Audi and Mercedes-Benz are artificially increasing profits. Luxury foreign brands are now lowering prices in response. A 2008 anti-monopoly law is being invoked to reduce what government authorities call overcharging, and dealerships have been raided by government officials.
Volkswagen (VLKAY) owns Audi, which is among the most popular luxury carmakers in China. In premarket trading, the Volkswagen ADR was down 1.04% to $44.65. 
9. -- A former MIT professor and his Harvard Business School-educated son pleaded guilty to operating a scam hedge fund. Gabriel and Marco Bitran ran GMB Capital Management from 2005 to 2011. Despite their claims of success, the two simply funneled money into other funds, including funds run by Bernie Madoff.
Although the Bitrans paid themselves $16 million in management fees, they lost more than $140 million in investor money. U.S. regulators caught the Bitrans while investigating Madoff. The two face a possible five years in prison, plus fines of $4.8 million or more. 
10. -- Amazon (AMZN) - Get Amazon.com, Inc. Report says it will operate a mobile payments system to compete with Square and other payments systems. Amazon Local Register will process credit cards and payments through smartphones and tablets. The system will have a credit-card reader attachment for phones.
Amazon has taken a verbal pummeling lately over its hardball tactics on getting price concessions from publisher Hachette and Walt Disney (DIS) - Get Walt Disney Company Report. Investors don't seem too bothered, as shares for the "everything store" were up 0.31% in premarket trading to $319.12.
To submit a news tip, send an email to:tips@thestreet.com
Nora Morrison is an editor, writer and researcher on music, popular culture and business. She is an associate editor at
TheStreet
, and is on Twitter at
.