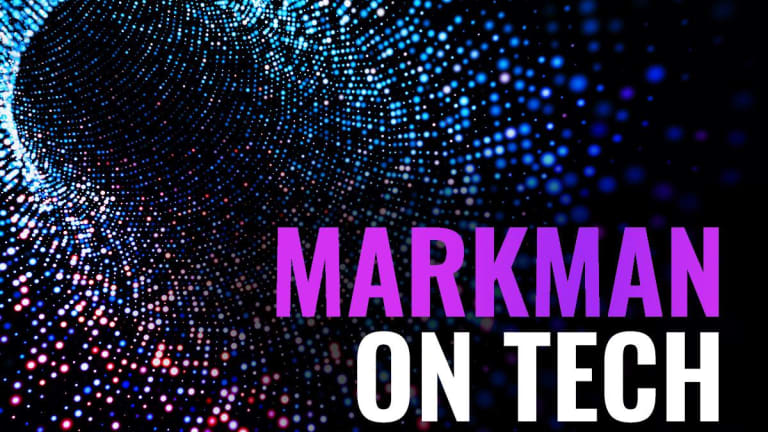 Augmented Reality, Via Google and Apple, Will Be the Biggest Star of 5G
Telecom carriers need a win. The smartphone business is stagnant. Consumers have become complacent with good enough devices. But 5G, coupled with amazing new AR experiences, changes everything.
Forget self-driving cars and smart factories. Augmented reality is the killer application for 5G and it's coming sooner than anyone thinks.
Apple (AAPL) - Get Apple Inc. Report in May settled its longstanding royalty dispute with Qualcomm (QCOM) - Get QUALCOMM Incorporated Report , a leading producer of 5G modems. Bloomberg reported Qualcomm will get at least $4.5 billion and a six-year supplier deal.
The iPhone maker has big plans for those 5G modems. They begin with AR.
Cupertino is not top of mind when most tech-savvy people think about AR. That title goes to Google (GOOGL) - Get Alphabet Inc. Report .
Mountain View engineers have already incorporated nifty virtual signage inside Google Maps. And the next Pixel smartphone will reportedly kick things up a notch with a TrueDepth sensor on the rear camera module and the remnants of Project Soli, a miniature radar technology that should bring air usable gestures to smartphones.
It's cool, but let's face it, it's Google and probably too nerdy for the general public. Apple on the other hand, does mainstream extremely well.
Apple engineers are rumored to be working on augmented-reality glasses. The editors at MacRumors imagine a set of stylish specs used for reading more information in museums and to identify landmarks in the physical world. But you can do all that less conspicuously with a smartphone.
The killer application is mobile AR gaming.
5G makes AR more immersive. Graphics are faster and more spectacular. Lower latency dramatically improves game play.
In summer 2016, Pokemon Go became an international phenomenon. The AR game used the sensors on a normal smartphone to send players into the real world to collect, train and battle virtual creatures. The title was ultimately downloaded more than 1 billion times. At its height of its popularity Pokemon Go attracted 147 million monthly active users, spinning off $3 billion in sales.
The technology was created by Niantic, a gaming business inside Google. The idea came about, according to a Google blog post, when Nintendo (NTDOY) - Get Nintendo Co. Ltd ADR Report and Google collaborated on an April Fool's Day Pokemon challenge inside Google Maps.
Niantic has since moved onto the next big thing: 5G AR gaming.
Phil Keslin, Niantic's chief technology officer, says 5G will enable a new level of game play. The technology will bring a 1000 times improvement in bandwidth and a 10 times reduction in latency, or lag. To prepare, the company is planning complex new games and partnering with wireless carriers to ensure bandwidth.
Carriers need a win. The smartphone business is stagnant. Consumers have become complacent with good-enough devices. But 5G, coupled with amazing new AR experiences, changes everything.
Apple CEO Tim Cook began talking publicly about AR in 2016, after Pokemon Go launched. He told analysts that the platform could be huge and that Apple would invest accordingly. Since then Cupertino filed numerous patents, bought startups, hired new managers and launched ARKit, its AR software developer kit.
The newest iPhones are being launched in early September. The three-camera setup on the back will feature a laser-equipped 3D camera capable of sensing depth for AR, according to a Bloomberg report. Given past iPhone launches, this new feature should take center stage at launch. And expect the presenters to make AR seem easy to use and indispensable.
When the company does launch 5G devices in 2020, all the planning will make perfect sense.
Apple shares trade at only 16.4 times forward earnings and 3.7 times sales. The market capitalization is $961 billion. Given the prospect of a new iPhone product cycle, the shares are attractive into weakness.
To learn more about Jon Markman's recommendations at the crossroads of culture and technology, check out his daily investment newsletter Strategic Advantage. To learn about Markman's practical research in the short-term timing of market indexes and commodities, check out his daily newsletter Invariant Futures.
The author of this column owns shares of Alphabet, parent of Google.