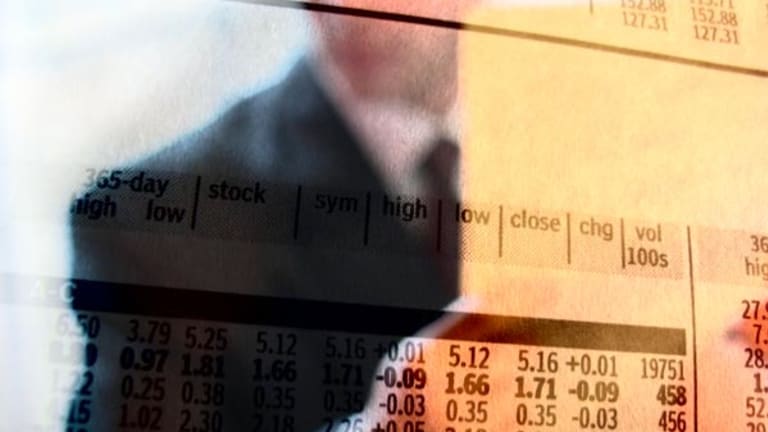 Aug. 28 Premarket Briefing: 10 Things You Should Know
U.S. stock futures slip ahead of GDP data; FBI investigates hacking of JPMorgan, other banks; judge rejects Apple bid to block sale of Samsung phones.
U.S. stock futures slip ahead of GDP data; FBI investigates hacking of JPMorgan, other banks; judge rejects Apple bid to block sale of Samsung phones.
NEW YORK (TheStreet) -- Here are 10 things you should know for Thursday, Aug. 28:
1. -- U.S. stock futures were lower Thursday ahead of data on U.S. economic growth in the second quarter.
European stocks fell on Thursday as Ukraine claimed Russia had stepped up its involvement in the country's civil war and data suggested the eurozone's economic recovery remains tentative.
Asian shares ended the session mostly lower.
2. -- The economic calendar in the U.S. on Thursday includes weekly initial jobless claims at 8:30 a.m. EDT, the second estimate of second-quarter GDP at 8:30 a.m., and pending home sales for July at 10 a.m.

3. -- U.S. stocks on Wednesday flitted in and out of positive territory throughout the entire trading session and the S&P 500I:GSPC ended almost where it was after Tuesday's closing -- just above 2,000. The markets were trading indecisively throughout the day, catching their breath in the absence of any new economic catalysts.
The Dow Jones Industrial Average I:DJI closed up 0.09% to 17,122.01. The S&P closed flat at 2,000.12. The NasdaqI:IXIC fell 0.02% to 4,569.62.
4. -- The FBI is investigating a computer-hacking attack on JPMorgan Chase (JPM) - Get Report and as many as four other banks, The Wall Street Journal reported, citing people familiar with the probe. The attacked was described as a significant breach of corporate computer security.
Cybersecurity experts began probing the possible JPMorgan breach earlier this month, according to people familiar with the investigation.
Those people said the evidence gathered so far suggested hackers were able to make a significant foray into the bank's computer system, the Journal reported. People with knowledge of the investigation said it appeared between two and five U.S. banks may have been affected. The names of all targeted banks couldn't be immediately determined, the Journal said.
JPMorgan isn't seeing considerable fraud related to the attack, a person familiar with the matter said. 
The attack appears to have been caused by malicious computer code, known as malware, according to a person familiar with the matter, the Journal reported.
5. -- A federal judge rejected Apple's (AAPL) - Get Report attempt to block the sale of several older Samsung smartphones that copied features in the iPhone.
The rebuff on Wednesday comes nearly four months after a jury awarded Apple $119 million in damages for Samsung's infringements on technology used in the iPhone. The amount was well below the $2.2 billion in damages that Apple had been seeking in the latest round of legal wrangling between the world's two leading smartphone makers since the tussle began four years ago.
Apple wanted U.S. District Judge Lucy Koh in San Jose, Calif., to issue an order that would have prevented future U.S. sales of nine Samsung phone models that infringed on the iPhone technology.
6. -- Dollar General (DG) - Get Report , the nation's largest dollar-store chain, is expected by analysts on Thursday to report second-quarter earnings of 83 cents a share on revenue of $4.77 billion.
Dollar General is involved in a bidding war for rival Family Dollar (FDO) . Earlier this month, Dollar General bid about $8.95 billion for Family Dollar in an attempt to trump Dollar Tree (DLTR) - Get Report , which agreed to acquire Family Dollar for $8.5 billion in July.
7. -- Wall Street expects retailer Abercrombie & Fitch (ANF) - Get Report  on Thursday to report second-quarter profit of 11 cents a share on sales of $909.2 million.

8. -- Microsoft (MSFT) - Get Report CEO Satya Nadella is set to visit China in late September, a source familiar with the matter told Reuters, as the Chinese government conducts an antitrust investigation into the software giant.
It is not clear if Nadella will meet with any Chinese government representatives as part of his visit, or try to resolve issues with the State Administration for Industry and Commerce, one of China's antitrust regulators.
A company spokesman wouldn't confirm the visit, saying the company does not comment on executive travel plans, Reuters reported. 
9. -- Williams-Sonoma (WSM) - Get Report , the home furnishings retailer, posted on Wednesday a 5% increase in second-quarter profit but issued a weak outlook for the fiscal third quarter and fiscal year.
Williams-Sonoma said it expects third-quarter earnings of 58 cents to 63 cents a share, below analysts' forecasts of 65 cents. It expects revenue of $1.1 billion to $1.13 billion for the fiscal third quarter. Analysts forecast third-quarter revenue of $1.13 billion.
10. -- Ford (F) - Get Report began building the sixth generation of its 50-year-old Mustang sports car Thursday at a Michigan plant that will export it to more than 120 countries, Bloomberg reported.
For the first time, a right-hand-drive version will be made, for sale in more than 25 markets such as the U.K., Australia and South Africa, Ford said. The 2015 Mustang starts at $24,425, a 4.7% increase from this year's base model.
To contact the writer of this article, click here:Joseph Woelfel
To submit a news tip, send an email to:tips@thestreet.com.
Copyright 2014 TheStreet.com Inc. All rights reserved. This material may not be published, broadcast, rewritten, or redistributed. AP contributed to this report.