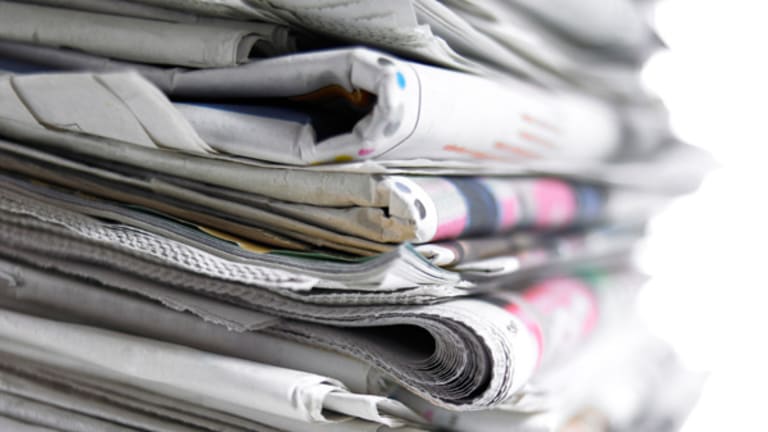 Aug. 27 Premarket Briefing: 10 Things You Should Know
U.S. stock futures rise as equities push further into record territory; Snapchat gets a $10 billion valuation; Allergan calls special meeting for Dec. 18; Tiffany to report earnings.
U.S. stock futures rise as equities push further into record territory; Snapchat gets a $10 billion valuation; Allergan calls special meeting for Dec. 18; Tiffany to report earnings.
NEW YORK (TheStreet) -- Here are 10 things you should know for Wednesday, Aug. 27:
1. -- U.S. stock futures rose but European stocks traded flat despite record highs in New York.
Asian shares finished Wednesday's trading session slightly higher. Tokyo's Nikkei 225 Index rose 0.1%.
2. -- The economic calendar in the U.S. on Wednesday includes the MBA Mortgage Index for the week ended Aug. 23 at 7 a.m. EDT.

3. -- U.S. stocks on Tuesday pushed further into record territory, with the S&P 500 hitting new highs and finishing above 2,000 for the first time and the Dow Jones Industrial Average reaching new records of its own.
The Dow rose 0.17% to 17,106.70, after touching a fresh intraday high of 17,153.80. The S&P 500 advanced 0.11% to 2,000.02, trading up to 2,005.04 on Tuesday. The Nasdaq increased 0.29% to 4,570.64.
4. -- Venture-capital firm Kleiner Perkins agreed to invest in message service Snapchat at a valuation of close to $10 billion, people with knowledge of the matter told The Wall Street Journal.
Snapchat, which has talked to several potential investors in recent months, is in the process of raising a large investment round that would make it one of the world's most valuable private tech startups despite virtually no revenue, the Journal noted.
Kleiner committed to invest up to $20 million in May, one of the people said. At least one strategic investor has also committed to invest in the round, which isn't yet closed, two of the people told the newspaper.
5. -- Allergan (AGN) - Get Report , which is fighting off a $49 billion hostile bid from Valeant Pharmaceuticals (VRX) and Pershing Square Capital Management, said it scheduled a special shareholders meeting for Dec. 18, when Pershing Square's Bill Ackman and other shareholders will get the chance to oust the board of the Botox maker.
Allergan consented to the meeting after more than 30% of its shareholders voted in favor of holding the meeting.
Valeant's battle to acquire Allergan has been waging since April.
6. -- Luxury jewelry retailer Tiffany (TIF) - Get Report is expected by Wall Street on Wednesday to report second-quarter earnings of 85 cents a share on revenue of $987.9 million.
7. -- Payments provider Square is in the process of raising capital at a $6 billion valuation, CNBC reported, citing sources familiar with the matter.
The San Francisco-based company, led by Twitter co-founder Jack Dorsey, is aiming to reel in about $200 million, with part of it coming from the Government of Singapore Investment Corporation, the sources told CNBC. 
8. -- Analysts expect Williams-Sonoma (WSM) - Get Report , the home furnishings retailer, to post second-quarter earnings of 53 cents a share on revenue of $1.05 billion.
9. -- Shares of Orbitz Worldwide (OWW) fell 4.6% on Tuesday after American Airlines (AAL) - Get Reportannounced it would withdraw its fares from the service.
US Airways fares also be pulled from Orbitz.
The actions by the airlines follow a long-running dispute over fees that the travel company charges to list and sell the flights.
Corporate customers of the airlines will still be able to book travel through Orbitz.
10. -- Christine Lagarde, chief of the International Monetary Fund, has been placed under formal investigation by French magistrates on Wednesday for her alleged role in a long-running political fraud case, a source close to the former French finance minister told Reuters.
The source said Lagarde, who earlier was questioned by magistrates in Paris under her existing status as a witness, considered their decision to investigate her for alleged "negligence" was unfounded and would appeal it. A French judiciary source also confirmed the step, Reuters reported.
The inquiry into tycoon Bernard Tapie has embroiled several of former president Nicolas Sarkozy's cabinet members including Lagarde.
To contact the writer of this article, click here:Joseph Woelfel
To submit a news tip, send an email to:tips@thestreet.com.