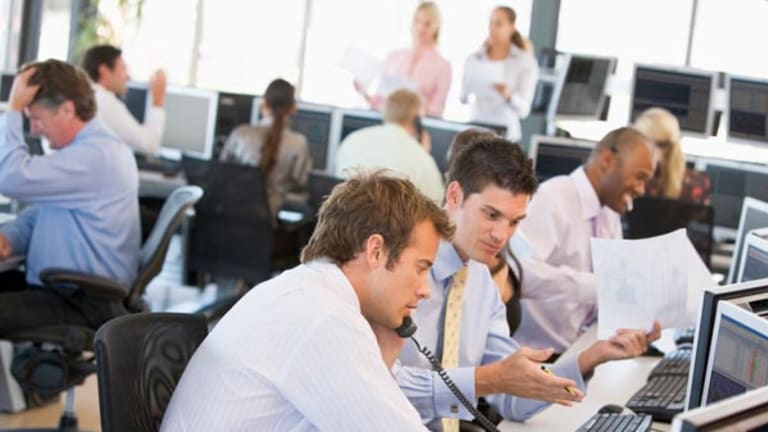 Aug. 25 Premarket Briefing: 10 Things You Should Know
U.S. stock futures rise; Burger King in talks to buy Canada's Tim Hortons; Roche to buy InterMune for $8.3 billion; Sony's PlayStation hit with cyber-attack.
NEW YORK (TheStreet) -- Here are 10 things you should know for Monday, Aug. 25:
1. -- U.S. stock futures rose Monday following European stocks higher after European Central Bank President Mario Draghi signaled late on Friday that central bankers were prepared to tweak monetary policy if needed.
Asian stocks ended Monday's session mostly higher.
2. -- The economic calendar in the U.S. on Monday includes new home sales for July at 10 a.m. EDT.

3. -- U.S. stocks on Friday finished flat on Friday but settled higher for the week.
The markets got what they were looking for in a speech from Federal Reserve Chief Janet Yellen on Friday - she stuck to the script on U.S. labor slack and her dovish outlook.
TheDow Jones Industrial Average declined 0.22% on Friday to 17,001.22. The S&P 500 fell0.2% to 1,988.40. The Nasdaq rose 0.14% to 4,538.55.
4. -- Burger King (BKW) is in talks to buy Tim Hortons (THI) , the Canadian coffee-and-doughnut chain, and form a new publicly listed company based in Canada.
The two fast-food companies announced Sunday that Burger King majority owner 3G Capital would continue to own the majority of shares of the new company, with the remainder held by shareholders of Tim Hortons and Burger King.
The two companies would continue to operate as separate brands but would share corporate services.
The Wall Street Journal first reported the news and said there's no guarantee a deal will happen.
A combined Burger King and Tim Hortons would have 18,000 restaurants in 100 countries with about $22 billion in sales. The companies said that would make it the world's third-largest fast-food restaurant company.
5. -- Roche (RHHBY) announced Sunday an $8.3 billion acquisition of InterMune (ITMN)  and its idiopathic pulmonary fibrosis drug Esbriet.
The all-cash deal values InterMune at $74 a share, or a 38% premium to Friday's closing stock price. Roche said the acquisition will be neutral to 2015 earnings and accretive in 2016.
InterMune's Esbriet is approved in Europe and is expected to be approved in the U.S. by Nov. 23 , based on the positive results of a phase III study.
6. -- Goldman Sachs (GS) - Get Goldman Sachs Group, Inc. Report  agreed to a settlement worth $1.2 billion to resolve claims that it misled U.S. mortgage giants Fannie Mae and Freddie Mac about risky mortgage securities it sold them before the housing market collapsed in 2007.
The Federal Housing Finance Agency, which oversees Fannie and Freddie, announced the settlement Friday with Goldman, the Wall Street brokerage.
Goldman sold the securities to the companies between 2005 and 2007.
7. -- McDonald's (MCD) - Get McDonald's Corporation Report is losing its luster with younger consumers, according to data compiled for the Journal by restaurant consultancy Technomic.
Customers in their 20s and 30s are defecting to competitors, in particular so-called fast-casual restaurants like Chipotle Mexican Grill (CMG) - Get Chipotle Mexican Grill, Inc. Report and gourmet-burger chain Five Guys.
The percentage of people age 19 to 21 in the U.S. who visited McDonald's monthly has fallen by 12.9 percentage points since the beginning of 2011, according to Technomic, while the percentage of customers age 22 to 37 visiting monthly during that period has been flat.
8. -- Sony (SNE) - Get Sony Corp. Report said its PlayStation Network was unusable from Sunday until Monday afternoon after being flooded by an online attack.
Sony Computer Entertainment spokesman Satoshi Nakajima said Monday that the problems were fixed.
Separately, he said an American Airlines flight carrying Sony Online Entertainment President John Smedley from Dallas to San Diego was diverted to Phoenix about the same time as the attack.
An individual or group called Lizard Squad claimed through a Twitter account there might be explosives on the plane. The account also claimed responsibility for the attack on PlayStation Network.
9. -- Engine Capital LP, which along with a partner controls more than 1% of Ann (ANN) stock, believes a strategic or private-equity buyer would be willing to pay between $50 and $55 a share for the women's retailer, 47% above Friday's closing price of $37.52 at the high end, the Journal reported, citing people familiar with the matter.
The investors have been in talks with Ann Taylor's management for a few weeks but plan to launch a public campaign because they don't believe the company is moving fast enough, the people told the Journal.
10. -- "Guardians of the Galaxy" became the summer's top-grossing movie at the North American box office with a $17.6 million weekend.
Following its fourth weekend of release, the Marvel space adventure passed "Transformers: Age of Extinction" to become the summer's biggest domestic hit with a cumulative total of $252 million.
The film was released by Walt Disney (DIS) - Get Walt Disney Company Report .
To submit a news tip, send an email to:tips@thestreet.com
Copyright 2014 TheStreet.com Inc. All rights reserved. This material may not be published, broadcast, rewritten, or redistributed. AP contributed to this report.