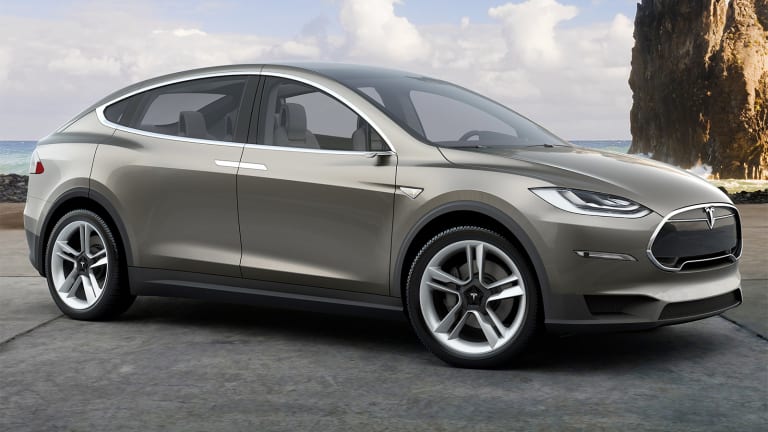 DOJ Isn't the Only One: Audi, BMW, Mercedes Are Gunning for Tesla Too
The Audi E-tron, Mercedes EQC and BMW iX3 are all coming for Tesla. Can the California automaker hold up?
Shares of Tesla (TSLA) - Get Tesla Inc Report are rebounding slightly Wednesday, but still down after a report Tuesday said the Justice Department is investigating the company. 
Some are saying that this is the beginning of the end for Tesla and CEO Elon Musk. Others are defending the company after the automaker released a statement saying it was cooperating with the DOJ following a voluntary request.
Either way, the news isn't good for Tesla. And as it turns out, the DOJ isn't the only one chasing Tesla. Specifically, German automakers on its tail, too.
Not that Daimler DDAIF, BMW (BMWYY) or Volkswagen (DDAIF) (owning brands like Audi and Porsche) aren't the only players entering the electric vehicle (EV) game. But they are the ones that many consider to be legitimate competition against Tesla.
Daimler-owned Mercedes-Benz has committed to launching 10 electric vehicles by 2022. Earlier this month it announced the EQC all-electric SUV, while just this week we saw the official unveiling of the Audi E-Tron. BMW just began taking orders for its electric SUV, the iX3. The Porsche Taycan is looking good, too, slated for a late-2019 release.
So where does this leave Tesla?
Tesla vs. Germany
Tesla got its start with the Model S, a sedan that burst onto the scene with impressive performance, a solid driving range and a great-looking body. It then introduced the Model X SUV and the Model 3, a less-expensive sedan to compliment the Model S.
Since the E-tron, EQC and others aren't out yet, we don't have a true apples-to-apples comparison. That's particularly true when it comes to driving range from the German automakers.
For Tesla's Model X SUV, the base version starts at $71,300 and can travel almost 240 miles per charge on its 75 kWh battery. It can accelerate from 0 to 60 miles per share in 4.9 seconds and hit a top speed of 130 mph.
Mercedes management says the EQC will be able to achieve a driving range of 280 miles, but we don't yet know the starting price. However, most expect it to start well over $55,000 and likely closer to $70,000, while many EV experts expect that driving range to be lower, possibly by 40 to 50 miles. Like the base Model X, it can accelerate from 0 to 60 mph in 4.9 seconds, but tops out at "just" 112 mph.
The driving range for the Audi E-tron isn't confirmed either, but management says it should surpass 248 miles. It accelerates from 0 to 60 mph in 5.5 seconds and tops out at 124 mph. For this SUV, we know the starting price, which is $74,800.
The E-tron is expected to go on sale in the U.S. in the second quarter of 2019, while the EQC will be available in 2019, with mass production of the vehicle coming later in the year.
All of this is to say that, for all the worry that some investors have drummed up over luxury competition, Tesla stacks up pretty nicely. Keep in mind, the comps above are for the base Model X, which has a comparable price to the offerings from Audi and Mercedes. But if buyers are willing to pay more, they can get vastly better performance and range from the 100 kWh Model X or the 100 kWh Performance (P100D) version of the Model X.
That said, now that Tesla has hit the 200,000 vehicles sold mark, its $7,500 federal tax credit incentive will start to decline. At the end of the year, it will fall from $7,500 to $3,750, where it will remain for six months. After June 2019, it will decline another 50%.
For Mercedes, Audi and others, the full credit will be available to buyers. How that affects buyers' mindset remains to be seen.
For Tesla bulls, it's promising that German luxury automakers aren't exactly eating Tesla's lunch. From a price perspective and a performance perspective, Tesla is at least as good or even better in some cases and now that production is becoming more streamlined, Tesla has a fighting chance. That's as competition won't really be an issue until mid- to late-2019 and more realistically in 2020 and beyond.
This article is commentary by an independent contributor. At the time of publication, the author had no positions in the stocks mentioned.