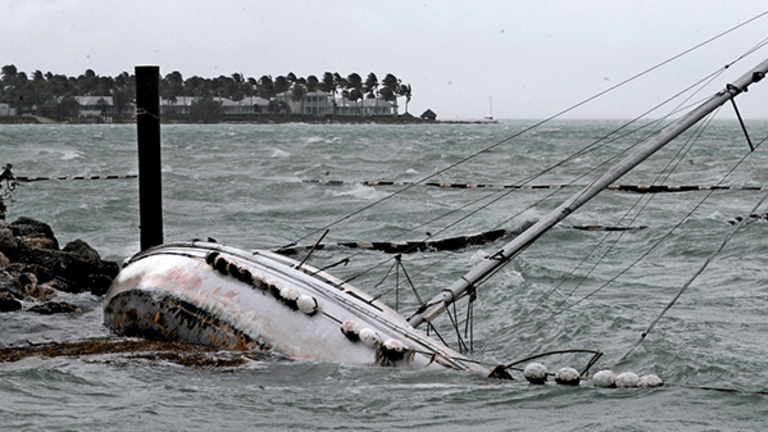 Attorneys General Investigate Thousands of Hurricane Price-Gouging Claims
Ken Paxton of Florida and Pam Bondi of Texas, as well as members of Congress, criticized everyone from airlines to convenience stores for raising prices during Hurricanes Irma and Harvey.
As the storm flood waters recede, state attorneys general are now wading through thousands of cases of price gouging before and during Hurricanes Irma and Harvey.
Texas attorney general Ken Paxton on Tuesday, Sept. 12, accused three businesses in the state of illegal price gouging as Hurricane Harvey hit Houston last month.
The three businesses are a Robstown Enterprises Inc., a Best Western hotel which allegedly tripled its normal room rate during the hurricane; Bains Brothers, which own Texaco-branded gas stations in the Dallas-Fort Worth area, two of which allegedly charged $6.99 per gallon of regular unleaded gas despite displaying prices of $3 to $4; and Encinal Fuel Stop, a Chevron Corp. (CVX) - Get Free Report station outside Laredo which allegedly charged $8.99 to $9.99 per gallon of regular unleaded gas, far above the current average price there of $2.50.
"It's unconscionable that any business would take advantage of Texans at their most vulnerable - those who are displaced from their homes, have limited resources, and are in desperate need of fuel, shelter and the basic necessities of life," Paxton said in a statement, adding that his office's Consumer Protection division had received 3,321 Harvey-related price gouging accusations to date.
Under Texas law, it's illegal to charge "exorbitant prices for necessities" during a natural disaster. Violations can carry penalties of up to $20,000 per violation, with additional fines up to $250,000 if the victims were seniors.
Florida is sorting through similar complaints in the aftermath of Hurricane Irma. The office of Attorney General Pam Bondi said Saturday, before the storm had even hit the mainland, that Florida's price-gouging hotline had received more than 8,000 complaints, with more expected. The Sun-Sentinel newspaper, for instance, reportedly received a reader photo of an Orlando Shell (RDS.A) station selling $5.99 a gallon for regular gas, which currently sells there for an average of $2.71. 
Bondi told ABC News that 7-Eleven locations in Tampa, which allegedly sold cases of bottled water for $30, were one of the callers' main targets. Twitter followers cited $20 a case as a far price for the water.
Bondi also praised Amazon.com Inc.'s (AMZN) - Get Free Reportresponse to cases of water selling for $99.
In Florida, where price gouging is defined as emergency prices with a "gross disparity" from average prices, civil penalties carry a fine of $1,000 per violation, with up to $25,000 for multiple violations in one 24-hour period.
Averting potential PR nightmares, several airlines capped prices in response to the impending hurricane. For instance, Delta Air Lines Inc. (DAL) - Get Free Report said in a Sept. 8 statement that it would cap fares on all one-way flights to and from southern Florida through Sept. 13 at $399. JetBlue Airways Corp. (JBLU) - Get Free Report and American Airlines Group Inc. (AAL) - Get Free Reportcapped some Florida flights at $159 and $99, respectively.
Senators Richard Blumenthal and Edward Markey of Connecticut and Massachusettsurged Secretary of Transportation Elaine Chao to investigate airline price gouging accusations during Irma, while Florida Congressman Charlie Crist complained in his own letter to Chao that his constituents were being gouged by United Continental Holdings Inc. (UAL) - Get Free Report , whose United Airlines was "advertising pre-storm evacuation tickets for 10 times more than routine flights."
More of What's Trending on TheStreet:
Editors' pick: Originally published Sept. 13.