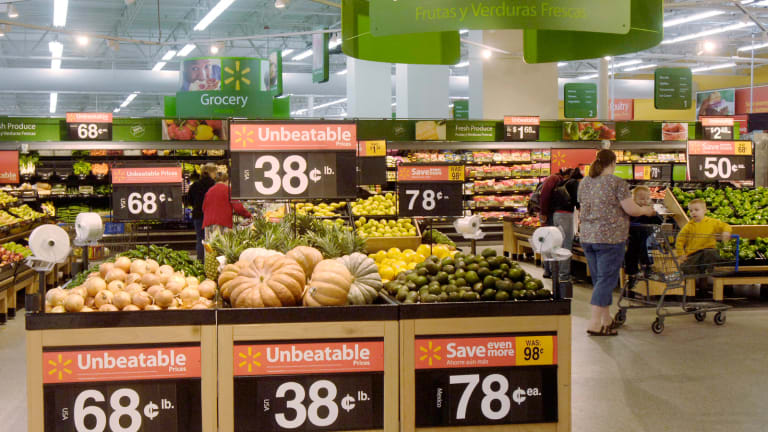 Attention, Amazon! Walmart Is Crushing All Takers in Online Groceries
Online grocery will be available to more than 2,000 stores next year.
You've probably heard by now that Wal-Mart Stores, Inc. (WMT) - Get Walmart Inc. Report is on fire.
The world's biggest retailer reported 50% year-over-year growth in e-commerce during its third quarter. If its developments in online grocery are any indication, Walmart's digital sales are primed to go up, up, up. Walmart executives highlighted grocery delivery as a leading factor for its sky-high online growth. The 50% increase, in fact, beats Amazon.com Inc.'s (AMZN) - Get Amazon.com, Inc. Report third-quarter sales uptick of 28.8%, which accounts for only its product sales. 
In the third quarter, the Bentonville, Ark.-based chain explanded online grocery pickup and tested same-day grocery deliveries, according to CEO Doug McMillon. Online grocery is now available in more than 1,100 stores and will expand to another 1,000 locations next year, he added.
"Customers have become advocates for popular initiatives like online grocery and free two-day shipping, and as a result, new customers, suppliers, and partnerships are coming to Walmart," McMillon said in the pre-recorded earnings call. 
Same-day or next-day shipping is available in New York and other major cities thanks to Walmart's acquisition of Parcel, which closed in the end of September. Grocery delivery is also now available in Mexico, Canada, the U.K. and China. In the latter, Walmart's partnership with JD.com Inc. JD provides one-hour grocery delivery in certain locations.
Since Amazon announced that it was buying Whole Foods for $13.7 billion in June, major grocers scrambled to develop their own online grocery channels. That's good news for third-party companies like Instacart, which offers grocers a delivery service without having to cook up their own. 
When the deal was announced, "we heard from every important grocery retailer in the country," Instacart CEO Apoorva Mehta told TheStreet earlier this week. "Everyone wanted to figure out a way to come online and meaningfully accelerate their e-commerce."
Instacart's retail partnerships grew by more than five times, from 30 in the beginning of 2017 to 165, since the deal. Walmart is not a client, Mehta said. Walmart's explosive growth in e-commerce is its own making. Since purchasing Jet.com for $3 billion and tapping its CEO, Marc Lore, to head Walmart's e-commerce platform in September 2016, the chain has reported continued surges in online sales.
Its stock value grew by more than 30% this year, but industry sources say it's poised for more growth, thanks to many new developments. The 55-year-old retailer, they say, is pretty much running itself like a startup. In some ways, Walmart already holds an edge over e-commerce giant Amazon in innovation and experimentation, said Jonathan Opdyke, the chief strategy officer for commerce marketing platform Criteo.
"It was a reset for Walmart.com to bring in new talent," Opdyke told TheStreet last month.
Walmart shares are up more than 8% Thursday morning. 
Wondering what Amazon-owned Whole Foods is doing for the holidays? 
More of What's Trending on TheStreet:
Editors' pick: Originally published Nov. 16.