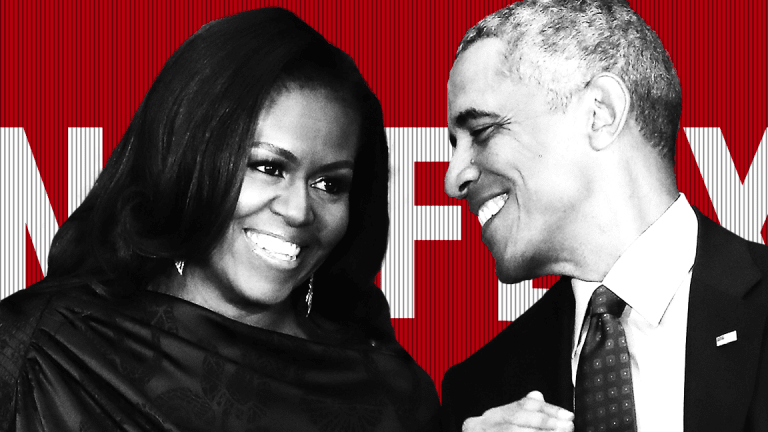 Not Even AT&T-Time Warner Merger Approval Can Slow Netflix's Roll
The streaming giant's stock has almost doubled so far this year, and it's up another 5% on Wednesday despite a judge's decision that could create a larger rival.
The streaming giant's stock has almost doubled so far this year, and it's up another 5% on Wednesday despite a judge's decision that could create a larger rival.
Can anything slow Netflix Inc. (NFLX) - Get Report down?
The streaming giant has been signing big stars left and right to exclusive content deals and keeping up strong subscriber growth. And despite appearances, the merger of telecom and media giants AT&T (T) - Get Report and Time Warner (TWX)  might not do anything to halt its momentum.
"You're taking two dinosaurs in a mostly outdated business and trying to get them to adopt to a new model," said DA Davidson director of institutional research Gil Luria. "Netflix is native to that model and has a huge head start."
Luria said that as other deals involving The Walt Disney Company (DIS) - Get Report and 21st Century Fox's (FOXA) - Get Report entertainment assets remain on the horizon, the platform's strength now lies in its burgeoning collection of original content, that started with programs such as "House of Cards" and "Orange Is the New Black."
"No one thought they could replicate that success," Luria said. But after years of growing subscribers and adding new content to the platform, Netflix has recently signed deals with the likes of television host David Letterman, former U.S. President and First Lady Barack and Michelle Obama, and just this week adding Barbra Streisand as the company plans to spend $7.5 billion to $8 billion on content in 2018.
"Part of the reason Netflix is so focused on buying directly from producers and generating content directly... is that they don't want to be beholden to those large media companies," Luria said. "They want to make sure they have enough content to support their current subscribers [if large media companies pulled their content from the platform]."
Deals like the AT&T/Time Warner deal could be beneficial for Netflix, Luria said. As traditional media companies consolidate, they tend to focus more on cost-cutting and reorganizing rather than content creation or distribution, resulting in "large, distracted companies losing more ground," he said.
Still, the streaming video giant has not yet become profitable, burning through cash at a rapid rate, Wedbush analyst Michael Pachter previously told TheStreet. Pachter, a longtime Netflix bear, said that the company should focus on investing in "low-cost, long-lived original content" like the Stranger Things series that will be more profitable in the long run. But Luria said that Netflix still has an expansive runway to grow.
"Right now, the numbers don't have to add up," Luria said.
Some analysts seem to agree, including Goldman Sachs' Heath Terry. This week Terry hiked his price target on Netflix stock to a Wall Street analyst high of $490, implying an upside of more than 34% from Tuesday's closing price of $363.83. He wrote that Netflix's revenue growth is beginning to outpace its content spending growth. 
Netflix shares were rising 4.6% to $380.69 Wednesday afternoon; shares have almost doubled since the start of the year.